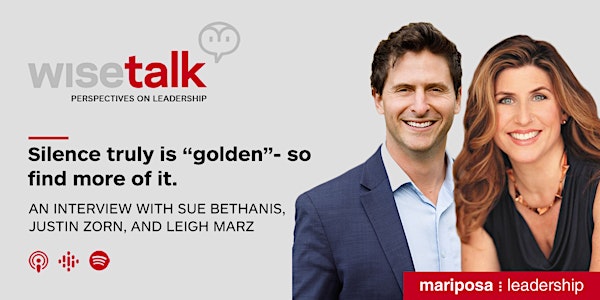 WiseTalk: Silence truly is "golden"
Sue Bethanis hosts Justin Zorn and Leigh Marz on Thursday, August 25, 2022, at 2 pm PT.
About this event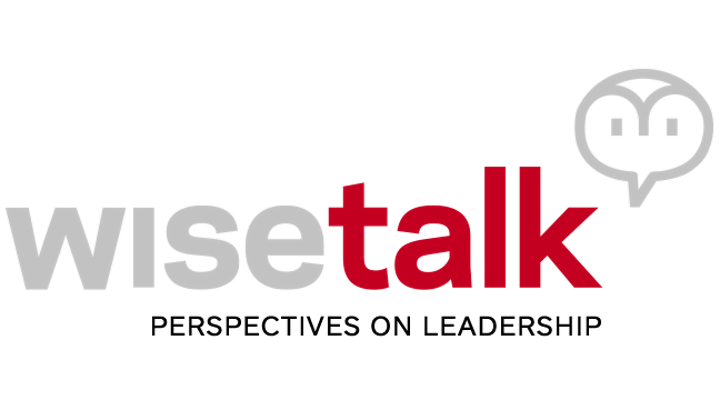 WiseTalk is Mariposa Leadership's FREE monthly leadership podcast hosted by Mariposa Founder/CEO Sue Bethanis. Every month, Sue speaks to thought leaders in leadership, tech, design thinking, and human resources.
Join us for our next WiseTalk on Thursday, August 25, 2022, at 2pm Pacific as Sue hosts hosts Justin Zorn and Leith Marz, co-founders of Astrea Strategies and co-authors of the new book, GOLDEN: The Power of Silence in a World of Noise. Drawing on lessons from neuroscience, business, spirituality, politics, and the arts, Justin and Leigh explore why auditory, informational, and internal silence is essential for physical health, mental clarity, ecological sustainability, and vibrant community.
This month, Sue, Justin, and Leigh discuss:
The multiple aspects of silence and its importance to us individually and collectively.
Specific strategies to reclaim and find silence in every day.
How teams can find more silence together to reduce burnout and enhance creative problem solving.
Justin Talbot Zorn has served as both a policymaker and a meditation teacher in the U.S. Congress. A Harvard- and Oxford-trained specialist in the economics and psychology of well-being, Justin has written for the Washington Post, The Atlantic, Harvard Business Review, Foreign Policy, and other publications. He is cofounder of Astrea Strategies, a consultancy that bridges contemplation and action, helping leaders and teams envision and communicate solutions to complex challenges. He lives in Santa Fe, New Mexico, with his wife and three children.
Leigh Marz is a collaboration consultant and leadership coach for major universities, corporations, and federal agencies as well as a longtime student of pioneering researchers and practitioners of the ritualized use of psychedelic medicines in the West. In her professional work, she has led diverse initiatives, including a training program to promote an experimental mindset among teams at NASA and a decade-long cross-sector collaboration to reduce toxic chemicals in products, in partnership with Green Science Policy Institute, Harvard University, IKEA, Google, and Kaiser Permanente. She is the cofounder of Astrea Strategies. Leigh lives in Berkeley, California, with her husband and daughter.
Missed last month's WiseTalk? No problem…just click here to gain access to all of our archived WiseTalk teleconferences.