Description
Sponsored by Dig In: Real Food Solutions and YogaLife Institute of New Hampshire.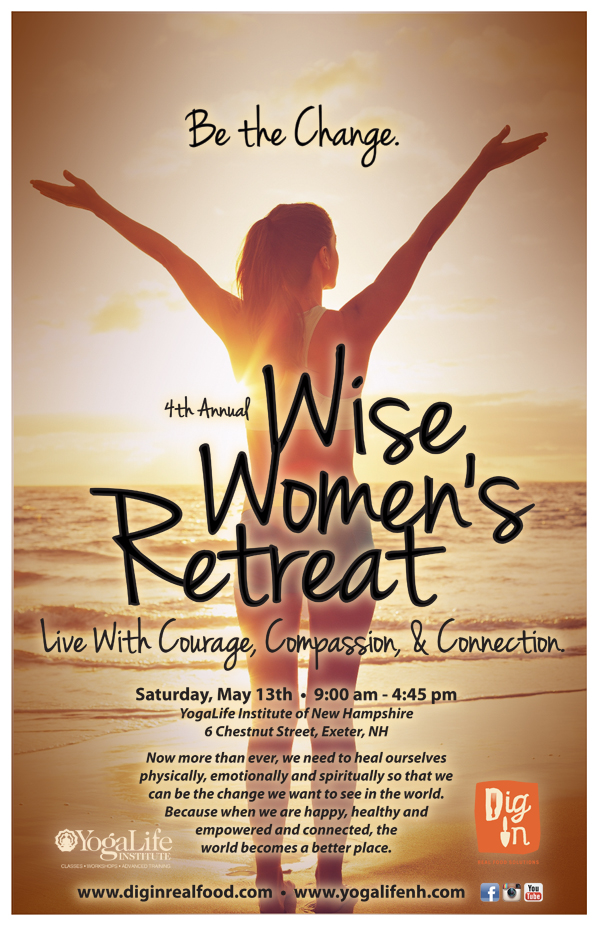 Building your reserves of happiness and love starts from the inside, with conscious self-care and attention. Now more than ever, we need to heal ourselves physically, emotionally and spiritually so that we can be the change we want to see in the world. When we are happy, healthy, empowered and feel a sense of connection, the world becomes a better place.
We've created a day to help you reflect on how to become an incredibly powerful source of love for yourself and others. Join us as we share tools for self care, awareness, movement and expression.
We need to be the change, and to be the change we need to:
Be accountable for our health

Live more mindfully and consciously

Feel connected in our community

Support each other on our journey

Express out true nature and authentic self.
Presentations:
Shame, Blame & the Same: Hindrances to Your Health: Tracey Miller, Integrative Nutrition Coach, Yoga instructor and co-founder, Dig In: Real Food Solutions
Our health is our most precious commodity, but how many times have you put your health on hold or told yourself you didn't have the time to take care of you or blamed it on circumstances. Tracey will unbundle the hindrances many women face to health and provide a new equation for empowered health.
Tap into Your Passion: Kath Gallant, Owner, Blue Moon Evolution
Kath Gallant will explore living each day to its fullest, fueled by our individual passion. She'll share some tales from the trenches, explore what gives you energy and what depletes you, and create a mantra for living our best day.
JourneyDance: Denise Costello, co-founder, Chrysalis Meditation Center, JourneyDance Guide
JourneyDance™ is a dynamic conscious dance form that combines freestyle and structured movement to inspire you to get out of your mind and into your body.
Stress & Self-Care: Alice Bentley, Yoga Therapist and Certified Yoga Instructor
When we're stressed out, self-care often takes a back seat. Understanding how stress affects our body, and how we can manage our stress through difficult or hectic periods is critical to a balanced and fulfilling life. It starts by looking inward.
Emotional Freedom Techniques: Activating Your Health, Julie Farrell: Licensed Marriage and Family Therapist and Usui Reiki Master.
By stimulating the body's energy flow via gentle tapping on key meridian points on the face and upper body, emotional and physical issues (pain, phobias, traumas and minor upsets) can be released and resolved, sometimes in minutes. Julie will show you this tapping technique based on the ancient Chinese system of acupuncture so you can practice at home or with friends and family members.
Express Spirit Through Sound & Song: Eve Kornhauser, Yoga Instructor, Professional singer and voice teacher.
Eve believes deeply that all of us CAN and SHOULD sing as a natural expression of our creative force within. There is virtually no ancient culture that does not incorporate song and dance to express both joy and sadness. In this workshop, we will have the opportunity to issue sound, vibration and spirit through our voice.
Speaker Bios:
Denise Costello: Nurse, Air Force Veteran, entrepreneur, food blogger, yogi, Journey Dance Guide and dedicated mom Denise Costello co-founded Chrysalis Meditation Center in response to the ever-intensifying mental health needs of 21st-century families. Her enjoys sharing her practical whole-being approach to wellness and healing through nutritious food, movement, mindfulness and a fun, active lifestyle. She will lead you through Journey Dance a dynamic conscious dance form that combines freestyle and structured movement to inspire you to get out of your mind and into your body.
Julie Farrell: Julie is a Licensed Marriage and Family Therapist practicing in Portsmouth, N.H., where she works with families, couples, and individuals on a variety of emotional, psychological and behavioral issues. She is an Emotional Freedom Technique (EFT) practitioner, a Usui Reiki Master and an ardent student of alternative healing practices. She blends mind-body and energy psychology techniques with traditional psychotherapy to help clients achieve significant improvement in their lives.
Kath Gallant: Kath is owner of Blue Moon Evolution restaurant and has been committed to providing seasonal, organic fare since 1995 to the seacoast of New Hampshire. A pioneer in the local food movement, Kath has been connecting with farmers through food, community and education. She has won numerous awards and was named one of New Hampshire's "remarkable women of cuisine" for all her great work to bring good food to the seacoast community in 2013! She also won the "Spirit of the Seacoast" award from the United Way for her commitment to the local teen center by inspiring teens and demonstrating the connection between the earth and their food with cooking classes and gardening. Kath also co-founded Dig In: Real Food Solution.
Eve Kornhauser: A long time yoga practitioner, Eve has been teaching yoga since 2003. She considers her background to be eclectic, from her interest in yoga, Buddhism and various bodywork techniques such as the Alexander Technique. As a professional singer and voice teacher for over forty years, she has found her singing greatly enhanced through yoga – its principals of alignment, mindfulness, and philosophy.
Tracey Miller: Tracey is an Integrative Nutrition Health Coach and Co-Founder of Dig In: Real Food Solutions. She is also a freelance writer and has more than 25 years of experience promoting environmental, health and social issues, both globally and locally. She teaches cooking and wellness classes emphasizing seasonal foods and has worked with hundreds of moms to help them create healthier menus for their families. She is also a certified yoga instructor and Raw Food Educator.
Fore more details go to:
https://www.diginrealfood.com/retreats/