Description
Visit Our Site For More Information: www.WiseWomensCircleRetreats.com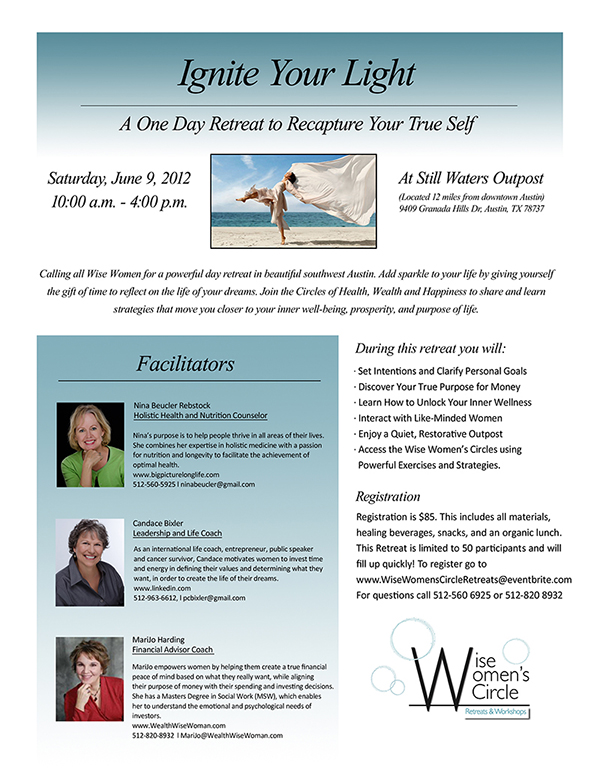 Day Flow:
We will start and end the day together. We will divide into 3 smaller groups for a more intimate setting and to assure your questions get answered. After breaks you will rotate to another session.

Living Well is an Art ( Nina)

Discovering Your True purpose for money ( MariJo)
Creating the Life of Your Dreams (Candace)
10:00 - 10:20 Meet and greet
10:30: Session One: Groups of 10 to 15 will attend one of the 3 sessions
11:45 -12:45 Lunch- Delicious, fresh, local fare
1:00 Session Two: Groups of 10 to 15 will rotate to the next session.
2:00 - 2:25 Break with time to visit, reflect, move around
2:30 Session Three: Groups of 10 to 15 will rotate to their final session.
3:30 - 4:00 Closing gathering (All groups back together) Enjoy Local homemade desserts, connecting and sharing.
*Registration fee is applicalble to our next retreat in the event you can not attend.

Organizer of WISE WOMEN'S CIRCLE RETREATS PRESENTS: IGNITE YOUR LIGHT! RECONNECT TO YOUR VISION AND RECAPTURE YOUR TRUE SELF
Nina Beucler Rebstock - Nutrition Counselor
MariJo Harding - Financial Coach
Candace Bixler - International Life Coach
www.Impactleadershipcoach.com (being updated)