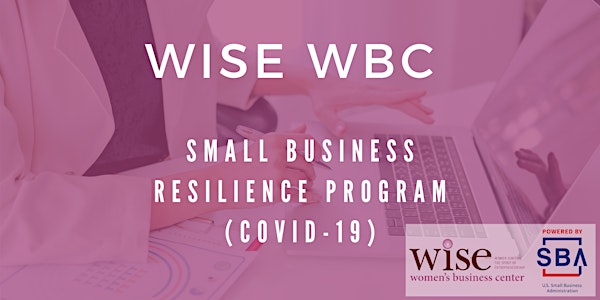 WISE WBC Small Business Resilience Program (COVID-19)[English]
Free online course helping small business owners respond and adapt to the impacts of the pandemic
About this event
Take one or as many modules as needed!
The WISE WBC Small Business Resilience Program (COVID-19) is designed to help women small business owners prepare and respond to the economic impacts of a pandemic and its effect on their workplace, their employees, and their customers. It's free and available in both English and Spanish.
The course covers:
Workplace safety & preventing transmission
Addressing cash flow issues
Access to capital & financial support programs
Avoiding COVID-specific cyber threats
Managing employees remotely
Engaging with customers with gratitude
Dealing with travel bans and supply chain implications
How to Register and What to Expect
These training modules are self-paced and accessed easily online through downloadable PDFs. Powerpoint versions of the modules with voiceover are also available upon request.
To Register:
Step 1: Register here
Step 2: Follow link to online event page in email from Eventbrite
Step 3: Download the course PDFs or slide decks and continue the course on your own timeline
What to Expect:
• Each training module was designed to help your business thrive throughout the challenges we face due to Covid-19
• Allow approximately one hour to for each module
• You will have access to all 7 modules when you register
Please visit WISECenter.org and follow us on Instagram, Facebook, and LinkedIn for additional resources for your business and to stay up to date on our latest training modules.
Course Modules
1. How To Protect Your Workplace, Employees, and Customers During Covid-19
This module will provide resources and tools to help you plan and prepare your small business for safe reopening. It will also cover tips for managing workplace fatigue and stress.
2. How to Manage Remote Work
This module will discuss best practices for managing your business remotely. It recommends technology you can consider now along with tips for engaging and communicating with employees and customers so you can telework into the future.
3. How To Access Capital From Federal, State, and Private Loan Programs
This module helps to demystify the many funding options available right now for your small business. It also addresses how to prepare your company for a capital infusion and identifies the resource partners in our community who can assist you with loan applications and financial projections so you don't have to go at it alone. It's all about relationships!
4. Addressing the economic impact, including cash-flow problems
This module uncovers important considerations for your business as you work hard to mitigate the economic impacts of a pandemic such as COVID-19. It identifies lessons learned from fellow women business owners and discusses best practices for building a resilient business.
5. The Risk and Management of Cyber Threats For Small Businesses
This module unpacks why Cyber Security is essential, even for the smallest of businesses. It follows a case study, possibly a business just like yours, to help you understand the threat and the steps you can take to protect yourself.
6. Engage Your Customers with Purpose and Gratitude
This module provides important resources and tips to consider as you reflect on the new normal of customer service for your small business. Customer engagement & marketing insights are shared both through the eyes of the customer and real stories of success for CNY and national small business owners.
7. The Effects of Reduced Travel and Events on Small Businesses
COVID-19 has impacted where and when we can travel as small business owners. It has impacted our supply chains. It has cancelled major events. This module will discuss best practices for mitigating the effects of outside activities on your business so you are in a stronger position for both the short and long-term of your business.
Meet the instructor:
Jen Liddy is a business development coach teaching women entrepreneurs how to grow their businesses with the clarity, focus, and ease they deserve.