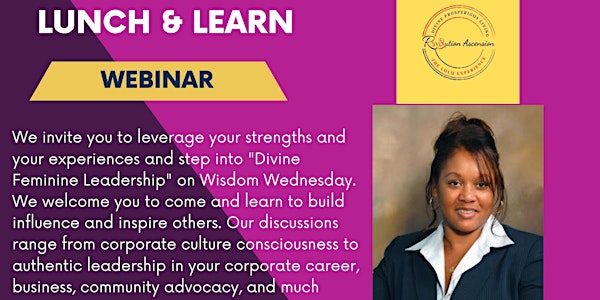 Wisdom Wednesday - Lunch & Learn "Divine Feminine Women in Leadership"
We invite you to leverage your strengths and experiences and step into "Divine Feminine Leadership" on Wisdom Wednesday.
About this event
Change comes with deliberate intention and with force!
If RADICAL TRANSFORMATION and Culture Consciousness in your life, career, or business sound like the KEY ingredients you want to add to your powerful arsenal, SIGN UP for the Revolution Ascension's Wisdom Wednesday Lunch & Learn every Wednesday at noon EST.
"YOUR" next level of "Empowerment and Ascension" is waiting for you.
You will be guided by world-class empowerment consultant, coach, mentor, retired Technology executive, and business leader Jacqueline Lulu Brown. You will unleash the Divine Feminine Leader inside you and "Ascend" to Your "Limitless" place.
Become empowered to flourish in your own "limitless greatness" for a life filled with joy and grace, centered around freedom, abundance, wisdom, and most importantly, the whisperings of their inner heart. 
FAQs 
 How can I contact the organizer with any questions?
The organizer can be contacted via email at jacquelinelulu@revolutionascension.com or 203-309-8836.