Wisdom and Wonder- a retreat day dancing in nature.
About this Event
We will explore the theme of wisdom and wonder throughout the day. Will listen in to the wisdom within our bodies by using the dance to drop down out of the brain, coming in close to our somatic sensations, seeing what is happening within us. We will come into wonder by getting present to the great grace of the living world around us. We will let nature nurture us: recharging, refreshing, renewing ourselves with shared time outdoors.
We will begin with a morning 5 Rhythms dance session out on the land. There are no dance steps to learn and nothing to "get right", just a willingness to dive deeply into the dance and to be with our own experience. Dance sessions will take place using "silent disco" headsets so that there is no noise pollution to the surrounding environment -with music and gentle guidance delivered through the headsets. We will then walk the large land-labyrinth there- listening in deeply to own wisdom.
For lunch we will have a delicious farm-to-table shared feast together in the EarthRise restaurant.
In the afternoon we will start with a simple-sharing circle in the shady oak grove; finishing up with another deep-dive dance session out under the cover of the trees, coming back in to close contact with what is wise and wonder-filled, within us and around us.
The day is facilitated by accredited 5 Rhythms teacher, moving meditation guide and accomplished dance producer Tess Howell, whom has been running these highly popular events in the UK and world-wide since 2012. Tess leads these events with warmth, vitality, humour and depth; skillfully using the dance to guide us back towards what matters most in life.
About the venue: Earth Rise is a retreat centre with 200 cares of spectacular private land with rolling hills, circling hawks and rooted oaks. It is located in San Antonio, just two minutes off junction 467 North on Highway 101, roughly 40 minutes out of San Francisco.
The centre was founded by Dr. Edgar Mitchell's, one of the Apollo astronauts whom witnessed the earth rise from space and was completely awestruck and wonder-filled by its beauty. On his return to earth he co-founded the retreat centre to create a daily reminder of the life-changing moment when he (and then through those infamous "earth rise in space" photos -all of humanity)— witnessed the majesty of our beautiful blue planet emerging from the darkness. We can't think of a better place to spend the day coming back to the wisdom and wonder of it all.
Earth Rise Retreat Centre, 101 San Antonio Rd, Petaluma, CA 94952
Date: Sunday June 9th from 1030 am to 5pm.
Super early bird rate: $85 by 1st May, early bird $105 by 26th May, full price $125. There are a limited number of concession/reduced price bursary places available- please private message us for info and we will
Price includes delicious farm to table lunch at the EarthRise restaurant.
Free parking on site.
Cancellation Policy:30 days in advance: $15 cancellation fee. 14 days in advance: $40 cancellation fee. No refunds can be issued less than 14 days from the start of a workshop.
Suitable for ages 18 to 108!
"One morning you might wake up to realize that the knot in your stomach had loosened itself and slipped away, and that the pit of unfulfilled longing in your heart had gradually, and without your really noticing, been filled in—patched like a pothole, not quite the same as it was, but good enough. And in that moment it might occur to you that your life, though not the way you planned it, and maybe not even entirely the way you wanted it, is nonetheless—persistently, abundantly, miraculously exactly the way it is."- Lynn Ungar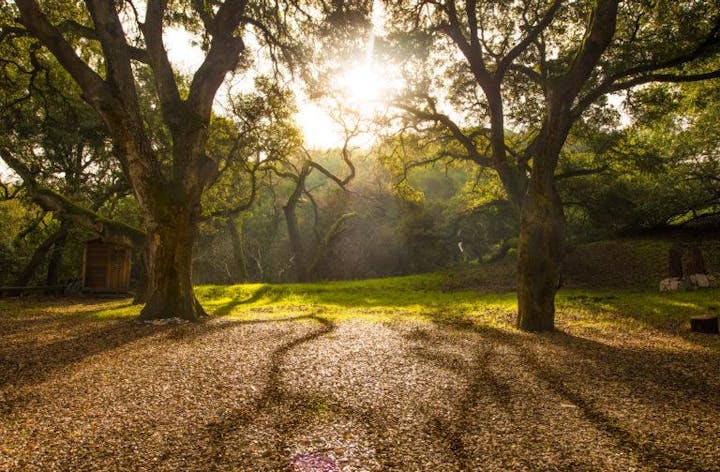 The Oak Grove spot for our afternoon session.