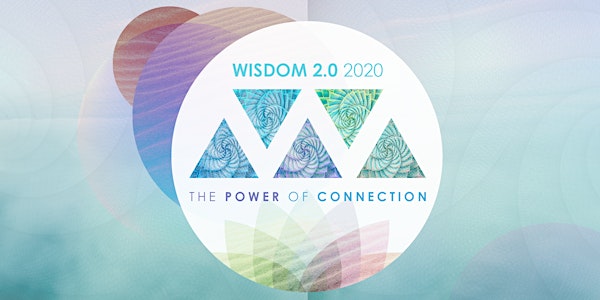 Wisdom 2.0 2020
When and where
Location
Hilton San Francisco Union Square 333 O'Farrell Street San Francisco, CA 94102
Description


Join us in San Francisco for our 11th Annual Wisdom 2.0!
Save by registering early!
*Tickets are available until the date listed or when the category sells out, whichever comes first.
Ticket includes:
Main Stage Sessions with wisdom teachers, changemakers, and top business leaders

Focused Breakouts

Access to intimate Q & A Sessions

Expanded community space: mingle in the spacious, well-lit conference venue, join in expanded community meet-ups and practice lounges.

Yoga & Meditation

Dinners & Parties

Connect with 2500+ people from over 30 countries!
2020 Sunday Intensives:
Sunday Intensives are a full day to focus on various topics including: The Power of Showing Up; The Inner Work of Racial Justice; Cultivating Energy and Consciousness for Healing and Awakening, and Wisdom 2.0 in the world and more led by some of your favorite teachers. We'll have solid information to share later this month and you'll be able to add that to your existing ticket order at any point in the future until they reach capacity.
About Wisdom 2.0
Wisdom 2.0 addresses the great challenge of our age: to not only live connected to one another through technology but to do so in ways that are beneficial to our own well-being, effective in our work, and useful to the world. Through our series of conferences, meet-ups, workshops, social media conversations, and think-tank style gatherings, Wisdom 2.0 strives to bring this conversation to the world in an accessible, innovative, and inclusive way.
What Others are Saying:
"When I think of Wisdom 2.0, I think of the most powerful teachers in the world, that are gathered in one place."
— Byron Katie
"This is my favorite conference!"
— Arianna Huffington
"Founders from Facebook, Twitter, eBay, Zynga, and PayPal, and executives and managers from companies like Google, Microsoft, Cisco ... in conversations with experts in yoga and mindfulness."
— The New York Times
Cancellation Policy:
All tickets are non-refundable. The name on the ticket must be the name of each individual attendee.

February 1st, 2020 is the final date by which you are eligible to transfer your ticket to someone else. Transfers must be completed by the original purchaser directly through their Eventbrite portal by February 1st, 2019.
We do not support partial ticket-swaps or ticket sharing of any kind; nor do we prorate ticket costs if you are only able to attend certain conference days; nor can you apply the cost of a ticket to future events.
After February 1st, 2020 all tickets are non-transferrable.
We suggest you consider investing in travel insurance, in case an extenuating event prevents you from attending. In the unlikely event that the conference is canceled, we will refund all tickets. We will not, however, be able to refund flight, hotel, or other purchases people may make.
All listed speakers are confirmed -- however, sometimes life events such as sickness or death in the family prevent them from making it at the last minute. Speaker cancellations do not affect the cancellation policy. Purchase of a ticket indicates that you have read and agree to comply with this cancellation policy.
This policy is subject to change; all registered attendees will be notified of any changes.