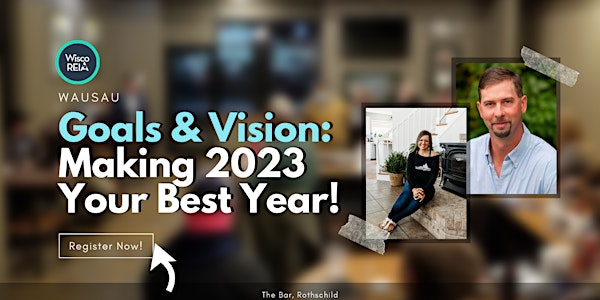 WiscoREIA Wausau: Goals & Vision - Making 2023 Your Best Year!
Register at wiscoreia.com/event-4993507 to save your seat!
When and where
Location
The Bar - Wausau 10302 Market Street Rothschild, WI 54474
About this event
Goals & Vision - Making 2023 Your Best Year!
Goals and vision are vital in determining your investing path moving forward! These operate as your roadmap, making it much easier to help you decide what to do each day, and how your year-long outlook should be approached. $/hr activities are just one way to measure this, but there are many more!
In this month's meetup, we will discuss about creating your own Life and Business Vision that answers the questions below:
What could I be EVEN MORE grateful for right this minute?
What purpose do you want to fulfill at this moment?
Do you want to direct your own destiny?
What if you could quit your job in a year?
What will actually move the needle in your business and life?
Relationships - the best return you will ever get
Reverse Engineering your day/year (the tools may be useful here since you have them already, lets use them)
Living your vision depends on you taking MASSIVE ACTION NOW!! 80% of success in anything is psychological, other 20% is mechanics (how you get there)
Where do you fit?
Make sure to pre-register for this event! By pre-registering, you will receive the following tools by email that you will be working with during the meetup:
A live calendar (an automated spreadsheet for you to fill out to describe your ideal day)
A vision tool (a document that you can fill out before or during the event)
Be sure to have a laptop or a tablet ready to fill these out!
Our Wausau hosts will also be going over their current vision to share with you. Don't miss out on this networking opportunity!
Speaker: Derek Dombeck & Ashely Lang
Derek Dombeck
Derek has been a successful Investor since 2002. He's been through the ups and downs of the markets and has the scars to prove it. Derek has been involved in hundreds of transactions in his career. He's done wholesaling, flipping, landlording, lending and countless other investment strategies throughout the years.
Derek loves negotiating with sellers. He loves to put together creative solutions for sellers that few other investors can put together. Derek loves giving back to the real estate community. Derek is also a coach and mentor who has a passion for helping others be successful too.
Ashley Lang
Ashley Lang is a real estate investor and owner of Clear Trail Properties. She currently owns and operates 6 short term rental properties in northern Wi and Upper Michigan, with 2 more coming on in the next 2 months. She has been in the hospitality industry for several years and thoroughly enjoys the science behind providing an unforgettable experience for her guests. Everything from where you buy your property to where you place your dinnerware is very important in the process of setting up the perfect short term rental.
When she is not working in her business, Ashley can be found coaching people about health, mountain biking, hiking, traveling and spending time with her boyfriend Buck, their son Korbin and their 3 english bulldogs.
Additional Meeting Information:
Meeting Location:
The Bar
10302 Market Street
Rothschild, WI 54474
6:30 pm - 7:00 pm - Networking
7:00 pm - 9:00 pm - Speaker Presentation
You can stay after the meeting as well to network! Remember to bring your deals!
Members are always FREE! Your first meeting with WiscoREIA is FREE! After your first meeting, Non-Members are $20
WiscoREIA's Wausau Main Meeting Always Meets on the 3rd Monday of the Month from 6:30 pm - 9:00 pm!
Hosted by: Derek Dombeck and Ashley Lang