Wisconsin's Best Bloody Mary Fest - Madison
We are on the continuous search for Wisconsin's Best Bloody Mary and we are coming back to Madison!
About this event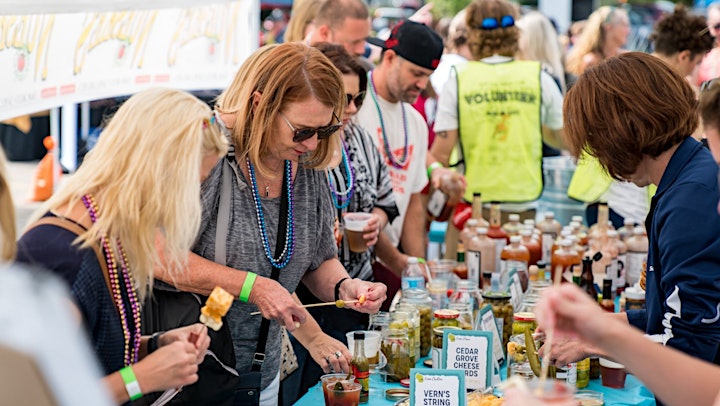 WE ARE SO EXCITED TO BE BACK TO OUR ORIGINAL EVENT! Who's coming?
Join us Saturday, September 18 at Yahara Bay Distillers for a day filled with bloodies, beer, music, food, gear, games, old friends, new friends, and some fantastic shenanigans.
WHAT IS WI'S BEST BLODDY MARY FESTIVAL?
Our festivals are one way we bring Bloody Mary lovers and small businesses together to have a good time and celebrate the Bloody Mary. Bars from all over the state congregate to whip up their best Bloody Mary. Participants taste, vote, play games, dance, eat, and of course create at one of the gourmet build you own Bloody Mary Bars.
 The day begins at 10am for Premium Ticket holders and invited judges. All other Bloody Mary lovers join in at 12pm and continue with the fun until 4pm.
WI's Best Bloody Mary Fest is brought to you by 100 Mile Sauce Co., Yahara Bay Distillers, Metcalfe's Market, and Silver Spring Foods.
 Here are all the details for you….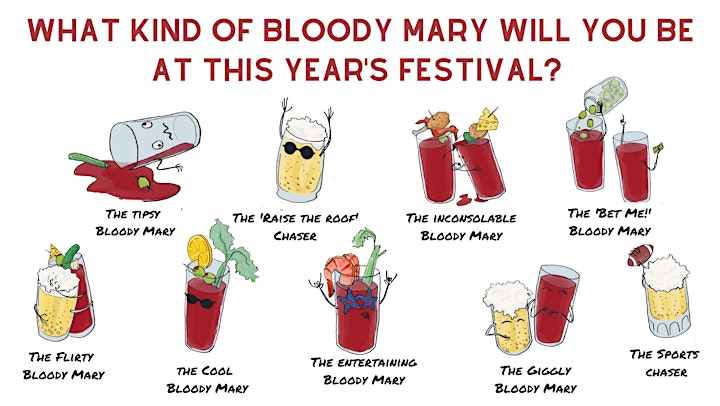 TIMELINE:
10am – 12pm: Invited Judging and Premium Tickets only
12pm – 4pm: Everyone
TICKETS:
·PREMIUM TICKETS (Limited amount available)–  Early Bird ($70) After July 19th ($80) *Any order after July 31st will not include a t-shirt*
Ticket includes: Unlimited Bloody Marys and beer, early admission, access to both indoor and outdoor lounges, access to the special beer in lounges, catered lunch, and an official festival t-shirt. T-shirts are only available on ticket until July 31.
·GENERAL ADMISSION TICKETS – Unlimited Bloody Marys and beer with access to beer bullpen at 10am.
***Early Bird: $50 (There are limited numbers of these and they close on July 19)
***Regular price: $60
***Day of price: $65
Until July 31, you can add on an official festival shirt for $20
·DESIGNATED DRIVERS -  $20 and includes n/a drinks and a t-shirt
***Every ticket includes a bag of Slide Gourmet Potato Chips.
REGISTRATION:
Early registration will be on Friday September 17 from 5pm – 7pm. Locations will be Announced in July
Day of registration will be available at Yahara Bay Distillers and begin at 10am. We will have a holding pen with local beer for participants to prime themselves before diving into the festival.
HOTELS:
Thank you to the Verona Hotel Group for partnering with us again this year. You can get deals at the following hotels:
·Holiday Inn Express & Suites Madison – Verona
515 West Verona Avenue | Verona, Wisconsin 53593 | 608.497.4500 | 608.497.4501 Fax
·Fairfield Inn & Suites by Marriott Madison – Verona
613 West Verona Avenue | Verona, Wisconsin 53593 | 608.845.3000 | 608.845.3008 Fax
FOOD:
Premium tickets include a catered lunch in the Premium Lounges. Local food carts will be serving all day.
Every ticket includes a bag of Slide Gourmet Potato Chips.
MUSIC:
DJ PAIN 1 will be on stage from 12pm - 4pm.
COMPETITORS:
Competitors will begin being announced in June. If you are interested in competing, please email Gregg@projectkinect.com
GOODMAN CENTER:
Goodman Community Center is the organization we support with this event. A donation will be made. Additionally. Pretzel Necklaces will be sold to raise money for the Goodman Center.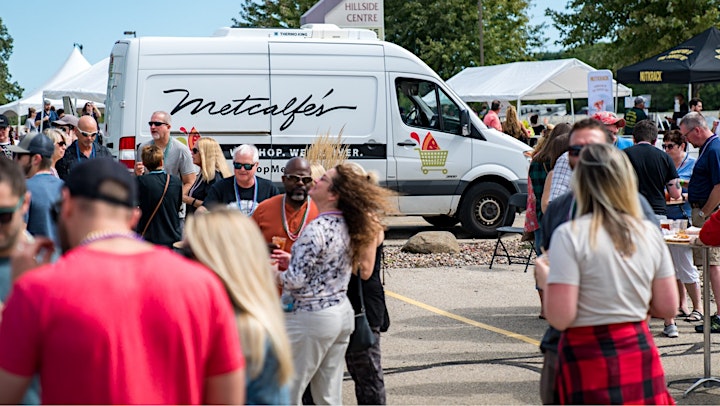 AND REMEMBER.....
***No outside food or drink brought into the event please. ***Service animals only. ***Reminder, this is a 21+ event. Yes we will be checking IDs. ***We reserve the right to eject anyone too intoxicated to function.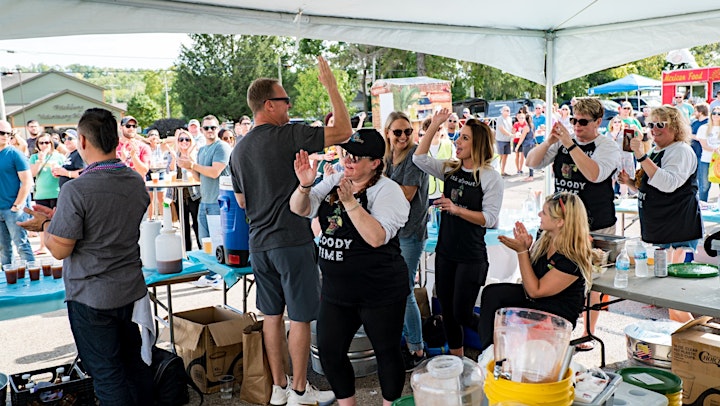 Organizer of Wisconsin's Best Bloody Mary Fest - Madison
100 Mile Sauce Company is a sauce company that sources 95% of its ingredients from Wisconsin farmers.  We found a way to extend the amazing Wisconsin produce seasons by turning the freshest vegetables into sauces and mixes that are sourced, produced, and sold in the great state of Wisconsin. 
To highlight a Wisconsin staple, the bloody Mary, we started a festival called Wisconsin's Best Bloody Mary Fest.  We are using bar crawls around the state to help identify the best Bloody Mary's in Wisconsin. Any bar that participates in these crawls is given free entry to compete in Wisconsin's Best Bloody Mary Fest competition that takes place every September. If you're a bloody fan, this is where you get the best of the best.