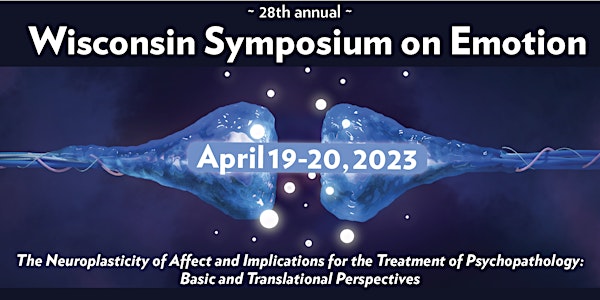 Wisconsin Symposium on Emotion 2023
Lively discussions led by leading neuroscientists exploring the complex relationship between mind, body, emotions, and health
By HealthEmotions Research Institute
Date and time
April 19 · 7:30am - April 20 · 1pm CDT
Location
Wisconsin Institute for Discovery 330 North Orchard Street Madison, WI 53715
About this event
1 day 5 hours

Mobile eTicket
Wisconsin Symposium on Emotion
The Neuroplasticity of Affect and Implications for the Treatment of Psychopathology: Basic and Translational Perspectives
April 19 & 20, 2023
University of Wisconsin-Madison | Discovery Building
(Hybrid Event - Option to Attend via Zoom)
The Wisconsin Symposium on Emotion is an annual conference exploring the frontiers of affective neuroscience. For the past 28 years, the symposium has provided an intellectual container for researchers, clinicians, trainees, students, and others to learn about and discuss the biological mechanisms underlying mental health.
Founded and hosted by two world renown scientists at the University of Wisconsin, Drs Ned Kalin and Richie Davidson, the symposium is a long standing tradition that supports communication across disciplines to further cultivate our collective understanding of the relationship between mind, body, emotions, and health. Each year participants report that this meeting, where experienced scientists make a special effort to connect with student researchers, has helped forge enduring collegial relationships. 
As always, the symposium offers an outstanding lineup of leading scientists presenting their research, along with in-depth discussions. The symposium offers five 1-hour presentations, each followed by a 45-minute in-depth discussion. Additionally, the symposium includes breakout discussion sessions, reception and Poster Session, and opportunities to connect with a variety of participants from programs across the country.
We are thrilled to offer this year's symposium in hybrid format! The event will take place in-person at the Wisconsin Institutes for Discovery on the University of Wisconsin-Madison campus, and all registered attendees will have the option to attend some or all of the talks virtually. Additionally, all talks will be recorded and distributed to registered attendees after the event.
We hope you can join us as we deliver lively discussions on the origins of psychiatric illnesses and provide creative insights into potential new treatments.
Registration includes:
Option to attend talks in-person or via livestream
Breakfast + Coffee/Tea both days
Poster Session & Reception (light refreshments will be served)
Breakout Discussions
Recordings of each talk
Opportunities to connect with world renown experts, researchers, and students training in affective neuroscience and related fields of study
2023 Presenters:
---------------------------------------------------------------------
FAQ
Masks are optional per Dane County and UW Campus Policies
This is a hybrid event: all conference activities will be held in-person at the Wisconsin Institutes for Discovery (UW-Madison), and all registered attendees will have the option of attending any or all of the talks via livestream
Note: at this time, we are unable to offer the Poster Session and breakout session virtually - these can only be attended in-person. However, you can view the posters and abstracts at healthemotions.org
There is no "virtual only" registration option. Simply complete your registration (as a student, faculty, or general admission) and you will automatically have the option to participate via livestream.
Partial registrations are not available. If you are only interested in one of the talks, you must still register for the entire conference.
Virtual Q&A will be offered! Both the in-person and virtual audiences are invited to ask questions. Livestream attendees will have the ability to submit questions to presenters during the 45-minute post-talk discussions.
All talks will be recorded and distributed to registered attendees after the event
CME credits are not available
Breakfast Menu: (TBA)
Reception Menu: (TBA)
PARKING: Lot #20, Lot #80 (Union South), and Lot #17 - see UW Interactive Map
Zoom Webinar link will be shared with all registered attendees by Wednesday morning 4/19/23 – please check your inbox for an email from Eventbrite.
All talks will be recorded and shared with registered attendees (assuming there are no technical hiccups :)
----------------------------------------------------------------
Note: all times listed are CST
Wednesday, April 19, 2023
7:30am: Check-in & Breakfast
8:15-8:30am: Welcome— Ned Kalin, MD & Richard J. Davidson, PhD
8:30-9:30am: Chiara Cirelli, MD, PhD "The Burden of Wake and the Reasons for Sleep"
9:30-10:15am: Discussion
10:45-11:45am: Rebecca Price, PhD "Synergistic, Bio-behavioral Interventions to Leverage Neuroplasticity Windows and Improve Emotional Disorders"
11:45am-12:30pm: Discussion
2:30-3:30pm: Julian Thayer, PhD "Stress, Resilience, and Mental Health: A Neurovisceral Integration Perspective"
3:30-4:15pm: Discussion
4:30-6:30pm: Poster Session and Reception
Thursday, April 20, 2023
7:30am: Check-in & Breakfast
8:30-9:30am: Nolan Williams, MD "Directed ACC signaling patterns as MDD biomarker"
9:30 – 10:15am: Discussion
10:15 – 11:15am: Student Breakout Discussion Sessions
11:15 – 12:15am: Molly Crockett, PhD "Imagining worlds anew: social neuroscience, master narratives, and the cultural evolution of morality"
12:15 – 1:00pm: Discussion
1:00pm: Closing Remarks – Ned Kalin, MD and Richard J. Davidson, PhD
----------------------------------------------------------------
Talk Details
https://healthemotions.org/presenters/
--------------------------------------------------------------------------------
For additional information and complete program details, please visit: www.healthemotions.org 
World-renowned scientists Ned Kalin, MD and Richie Davidson, PhD formed the HealthEmotions Research Institute (HERI) at the University of Wisconsin in 1995 to investigate the complex neurobiological relationship between mind, body, and emotions. This video explores the origins of their early collaborations on the frontiers of affective neuroscience and the formation of the "Wisconsin Symposium on Emotion"-- an annual conference which, for over 25 years, continues to bring together world class scientists and student researchers to investigate the neuromechanisms underlying emotions, stress, and wellbeing.
About the organizer
The HealthEmotions Research Institute at University of Wisconsin seeks to use state-of-the-art scientific methods developed for the study of illness to study the relationship between emotions and health. Understanding how states of mind influence the body is part of the next great frontier in brain research. The results will have profound consequences for our understanding of the biology of emotion, our concept of health, the prevention of disease and the promotion of resilience.