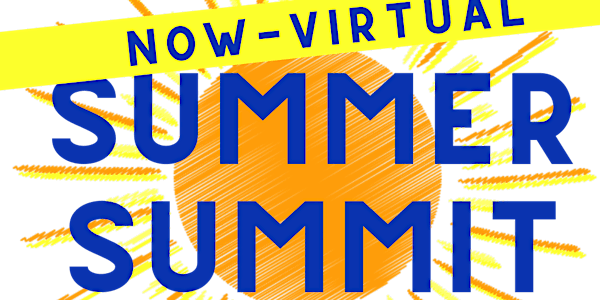 Wisconsin Public Education Network Summer Summit 2020
When and where
Location
Online! Sun Prairie, WI 53590
Refund Policy
Refunds up to 30 days before event
Description
UPDATE: The 2020 Summer Summit will be entirely virtual using the Run the World online conferencing platform! The online Summit will include plenary and breakout sessions and plenty of opportunities for networking - all online! REGISTER NOW for Wisconsin's public education event of the year!
Run The World is a "revolutionary all-in-one online events platform that enables engaging online experiences through videos. We bring hallway conversations, fireside chat, cocktail parties, and roundtable online to engage and connect relevant people worldwide. Run The World enables a new type of online event where attendees can actually socialize, meet new people, and have those serendipitous experiences." An entirely optional overview will be provided the week before the event for those who want it - look for an email after you register!
Join parents, community members, educators, board members and school leaders from around the state for an action-focused day of learning, connecting and strategizing on what's best for the 860,000 kids attending Wisconsin's public schools!
2020 Summer Summit theme: Public Education and Democracy
Strong public schools are the heart of a strong democracy and public education is a fundamental human and civil right. How do we best protect these rights and ensure that every child in every public school has equal opportunity to receive an equally excellent public education? How do we preserve local control of local schools? How do we ensure that those we elect to represent us make decisions in the best interests of the children and communities they serve? How do we know where candidates stand on the issues that matter most to kids? How can we organize our communities to take a strong stand in support of local students? What does "civic engagement" really mean - in the classroom and in the community? How can we work together in 2020 and beyond to demand and deliver the change our kids deserve? Let's dig deep into all of these questions and get inspired to take action!

JOIN US on Friday, July 24, 2020 for our sixth annual ALL-STATE ** VIRTUAL ** CONVENING of Wisconsin PUBLIC EDUCATION ADVOCATES and SUPPORTERS!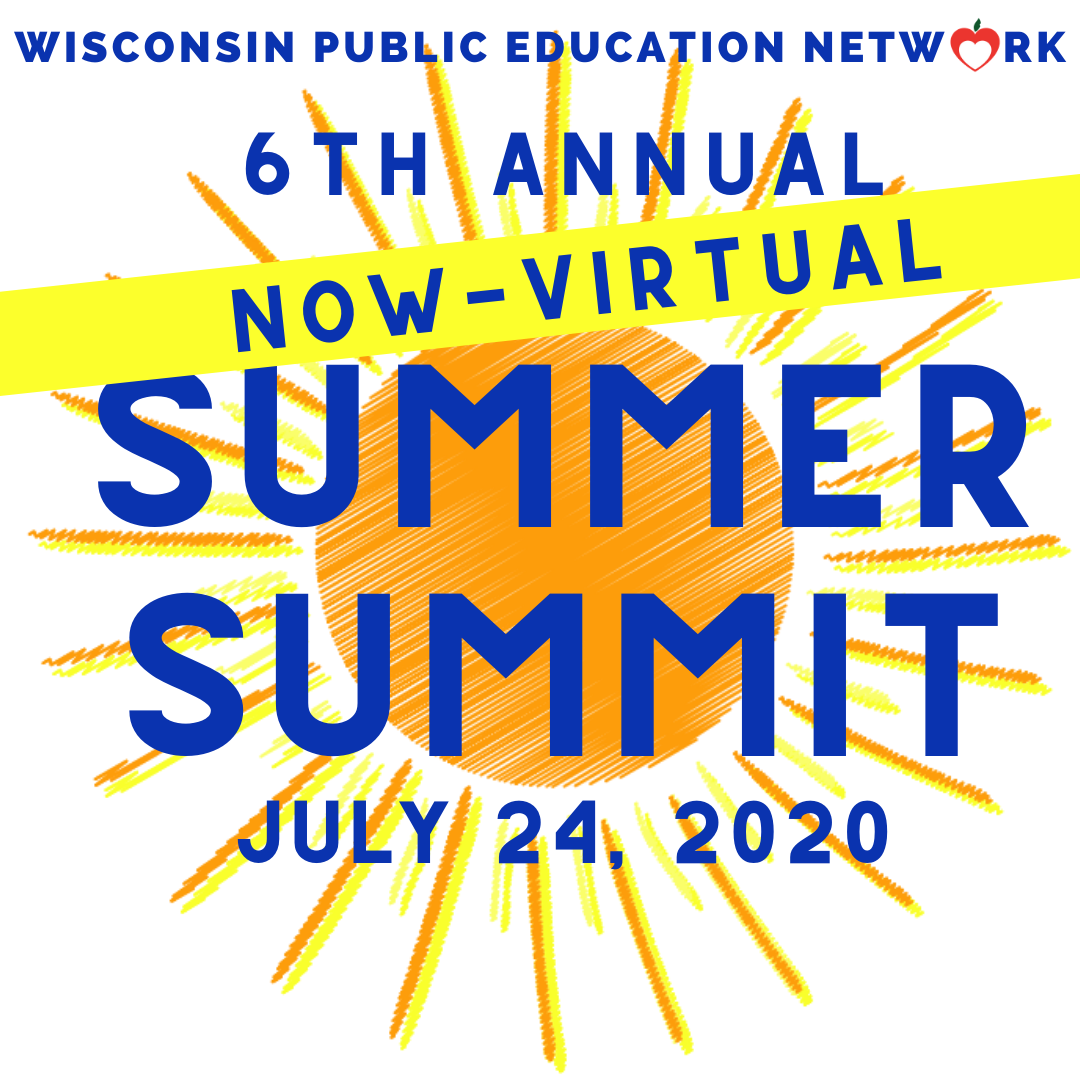 WHAT: A full day of motivating presentations, action-focused strategy sessions, and informational breakouts led by Wisconsin public education advocates and experts. Our sixth annual Summer Summit will include:
NOTE: AGENDA has been modified to an ALL-ONLINE EVENT and our invitation to Keron Blair has been postponed until he can visit us in person. All in-person events including the dinner and July 23 opening reception have been cancelled.
Summer Summit Schedule at-a-glance:
8:00-9:00 Book Study Breakfast with Dr. John Diamond (for book study participants only)
9:00-9:30 Morning Mingle! Networking and Event Overview in the "lobby"
9:30-10:00 Morning Meeting featuring Superintendent Carolyn Stanford Taylor and Governor Tony Evers
10:00-10:45 Featured Panel: Public Opinion, Public Education and Democracy
10:45-11:00 Morning Networking Break
11:00- 12:00 Breakout 1 (live, concurrent breakout sessions)
12:00-12:45 Cafeteria Conversations: Networking Lunch Break
12:45-1:45 Breakout 2 (live, concurrent breakout sessions)
1:45-2:00 Afternoon Networking Break
2:00-3:00 Keynote Conversation: Despite the Best Intentions: a conversation with Dr. John Diamond and Dr. Gloria Ladson-Billings
3:00-4:30 POST-SUMMIT SOCIAL and NETWORKING EXTRAVAGANZA
featuring special remarks from Sen. Tammy Baldwin
Highlights:

Morning Meeting features Governor Tony Evers, Superintendent of Public Instruction Carolyn Stanford Taylor, a welcome from the Sun Prairie team, including Superintendent Brad Saron and school board president Steve Schroeder, and Wisconsin Public Education Network

Panel discussion: Public Education, Public Opinion & Democracy moderated by Julie Underwood featuring Angela Lang (Executive Director of BLOC, Black Leaders Organizing for Communities) and Charles Franklin (Marquette University pollster).

Keynote Conversation with UW-Madison's Dr. John Diamond, author of Despite the Best Intentions: How Racial Inequality Thrives in Good Schools and Dr. Gloria Ladson-Billings (BONUS! The 270 people signed up to join the pre-Summit book study will also attend a special book-study only session with Dr. Diamond).

Relevant and engaging breakout sessions & workshops with school leaders, educators, experts and experienced organizers on school funding, local level organizing, issues facing our students and schools, current legislative issues, and much more!
Breakout sessions include the following LIVE sessions:

Democracy, Public Education & Privatization: What it all means to Wisconsin students

, Julie Mead

(UW Madison)

Wisconsin School Funding 101,

Bob Soldner and Dee Pettack

(DPI)

Unifying a School Community Through LOVE,

Lexi Vanden Heuvel

(Northside Elementary, Sun Prairie School District Principal), Natalie Draves (Instructional Coach Northside Elementary), Mizzier Campbell(Greatness Coach Northside Elementary) and Kayla Patrick (Social Worker Northside Elementary)

The Urgency For Globally Competent Teaching,

Chris Gleason,

Wisconsin Teacher of the Year and Sun Prairie Schools Instrumental Music Educator

Engaging in social/racial justice campaigns to restore our democracy,

John E Havlicek

(Teacher and president, La Crosse Education Association) and Kevin Colburn (Central HS Social Studies Dept Chair and AVID Coordinator)

Vote Public: From Referenda to School Board to Fair Maps to President...all politics is local!

Carlene Bechen

(Wisconsin Voices Fair Maps Organizer), Tara LeRoy (Palmyra-Eagle school board member), Donna Pahuski (disability rights advocate/parent)

Back to School With a Backpack full of Questions: What's Next for Wisconsin Kids in 2021?

A conversation with educators and policy experts. Rick Erickson (Bayfield educator), Amy Miller (Shorewood educator), Barb Van Doorn (school counselor, Lake Holcombe), Joanna Rizzotto (educator, South Milwaukee) and Chris Thiel (legislative policy manager, Milwaukee Public Schools)

From Worst to First: How to put priority needs first in advocating for students with disabilities, English Language Learners, and students in poverty

, Martha Siravo

(Miss Wheelchair Wisconsin, member of the

Madtown Mommas & Disability Advocates

), Beth Ivankovic (Eau Claire Area Special Education PTA)
Organizing 101: How to get organized, where you live, to support our students and their public schools,

Sandy Whisler

(Citizen Advocates for Public Education), Mary Young ( SOS-Wauwatosa), and Katie Schierl(Fox Cities Advocates for Public Education)

Organizing 102: Strategies and Lessons Learned for Growing and Supporting Your Team.

Marcia Engen, Patti Clark-Stojke, James

Bowman (Fox Cities Advocates for Public Education)

We Have Heart: Every Student, Every Day.

How to build a positive school culture. Jocelyn Buxton

(Spence Elementary - School District of La Crosse, 2nd Grade Teacher), Michelle L. Powell (PreK teacher, PBIS Tier 1 coach, School District of La Crosse), Katie Jeseritz (School Counselor, PBIS Tier 2 coach, School District of La Crosse)

Advancing Nutrition Equity Through Youth Organizing,

Leen Bnyat

(Hunger Task Force Child Nutrition Program Organizer) and Natalie Czarkowski​ (Field Organizer, Hunger Relief Federation)

Using Lesson Design to Scale UDL Across Grade Levels

, James Ackley

(Sun Prairie Area School District, Royal Oaks Elementary Principal), Mary Loeffler (Instructional Coach, SPASD), Kari Reneau (1st Grade Teacher, SPASD), and Amy Wiley (4th Grade Teacher, SPASD

You Don't Need A Charter for That,

Joel Block

with members of the Sun Prairie Cardinal Heights Upper Middle School "E House" team

Teaching for Social Justice,

Tasha O'Malley

(Sun Prairie Area School District Teacher and Equity Team member)

Black Lives Matter at School: How Can Our Institutions Be Part of the Movement to End Institutional Racism; Ryeshia Farmer, Rights for All Campaign Coordinator, ACLU-Wisconsin

Local-level Action, Statewide Impact: How School Board Advocacy Can Change Futures, Steve Schroeder (President, Sun Prairie School Board), Tricia Zunker (President, Wausau School Board), Savion Castro (Madison School Board), Laurie Cooper-Stoll (President, La Crosse School Board)
Plus: ALL DAY ON DEMAND -- PREMIERE of special pre-recorded sessions put together just for our Summer Summit that participants can watch any time!
Social Justice Unionism: Labor Can Make Change! Ronald Duff Martin (President of WEAC and Treasurer of WAES), Peggy Wirtz-Olsen (WEAC Vice President) and Kim Schroeder (WEAC Secretary-Treasurer)
Community Schools: A Framework to Promote Equity and Community Engagement , Gavin Luter (UniverCity Alliance Managing Director), and Ryan Hurley (United Way of Milwaukee, Milwaukee Community Schools Partnership Director)
Self-Care for Activists, Aly Lynch (Steeping Wellness Director of Marketing and Operations), Kalise Horst (CEO & Wellness Adviser, Steeping Wellness) and Pam Klein (Director of Education & Corporate Programming, Steeping Wellness)
Debunking Baseless Education Research, Dr. Gretchen Dziadosz (Great Lakes Center for Education Research and Practice, Executive Director) and Ronald "Duff" Martin (President Wisconsin Education Association Council)
Service-Learning & Civic Engagement in Schools: How to do it right, Gavin Luter (UniverCity Alliance, UW-Madison Managing Director)
Growing a Global Education, Becki Balus (Sun Prairie Area School District Spanish/World Languages Teacher) and Angie Jimenez (Spanish Teacher, SPASD)
In Their Own Words: Early Career Educators, Peggy Wirtz-Olsen (WEAC Vice President) and Jesse Martinez (Early Career Educator, La Crosse), Elizabeth O'Leary (Early Career Educator, Madison), and Molly Walsh-Anderson (Early Career Educator, Madison)
---
The theme of this year's summit is Public Education and Democracy.

Our sessions, led by state and national education experts, local level organizers, and leaders in education advocacy, will reflect on this theme in many ways:
The role our public schools play in preparing students to be productive, contributing members of a healthy democracy
What democracy means to strong public schools
How the glaring inequities and challenges get in the way of achieving our goals for students and schools
#VotePublic 2020: What "local control" really entails; the importance of electing strong advocates for public schools, and holding them accountable; how partisanship disrupts our common value of the public school and complicates its place as a cornerstone of democracy
Best practices and hard lessons on all of the above!
Action-focused strategies for collaborating to demand the schools our children deserve so that every student has equal opportunity to succeed!
WHO: All parents, students, educators, administrators, school board members, and community supporters of Wisconsin public schools and their students are invited to attend. This is an opportunity to get connected, learn from each other, and be a part of the growing movement to support our public schools and the students they serve. Our goal is to create opportunities for local-level actions that have a state-level impact. Your voice is needed in this conversation!
Whether you're new to education advocacy or a veteran school leader, our Summer Summit provides opportunities for productive, meaningful conversations about how to achieve together the change our children deserve. Come to learn, come to listen, come to lead! Don't miss Wisconsin's public education event of the year!

SPACE IS LIMITED! Click "REGISTER" to register now!
UPDATE: PRE-SUMMIT BOOK STUDY is at capacity with 270 participants!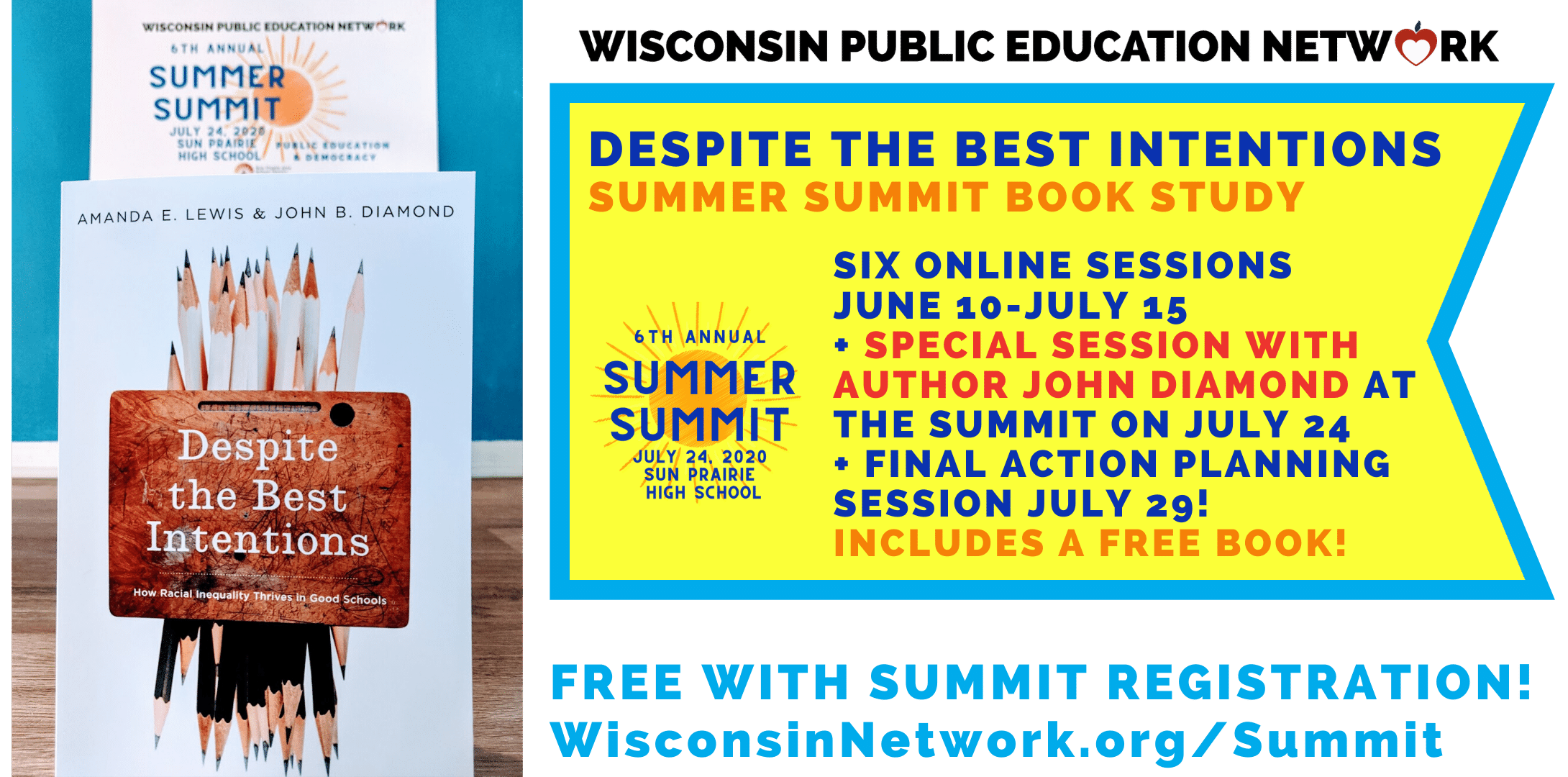 ---
Back by popular demand: Silent Auction! Bid on treasures and goodies from districts around the state!

Donations needed! We challenge local teams and individuals to help support our schools by donating a big-ticket item or basket that represents the community they serve. To donate a basket or item for the auction, contact Jenni at jenni@WisconsinNetwork.org.
---
VOTE PUBLIC and GO PUBLIC merchandise (t-shirts, bumper stickers, pins, buttons and more!) will also be available for sale at the event!
---
Registration fees:
BLUE RIBBON PARTNER VIP PACKAGE! Join the Network with a tax-deductible contribution of $100 and get a FREE T-SHIRT with one-year Wisconsin Public Education Network individual partnership! Join the Network at the Blue Ribbon level and support the work we do year-round!
EARLY BIRD RATE! Register by March 1, 2020 for just $25! ($40 after March 1; $45 at the door)
Student Rate - Summit only (student and struggling activist rate; includes lunch): $15
Scholarship option is available to those who cannot attend without financial support. Those who wish to donate to the scholarship fund may also do so by making an additional donation of any amount at checkout.
Sun Prairie Educators and Staff: FREE! Thanks to the generous support of the Sun Prairie Area School District, all district staff and educators are invited to register for free.
Madison Teachers Inc Members: Bring a parent or community partner and BOTH of your tickets are on MTI! Have your companion's name/email ready and use the MTI Teacher/Parent pass to register!
Monona Grove Educators and Staff: FREE! Thanks to the generous support of the Monona Grove School District, all district staff and educators are invited to register for free.
Oregon School District Educators and Staff: FREE! Thanks to the generous support of the Oregon School District, all district staff and educators are invited to register for free.
Green Bay Education Association members: FREE to the first 20 members who register!
DISTRICT DISCOUNT RATE for educators. If your district would like to sponsor educators/staff/others to attend and receive professional development points, let us know! We'll charge the Early Bird Rate ($25 person AND your staff can join the Book Study as well!) The best PD package you'll find anywhere! Contact hdb@WisconsinNetwork.org to learn more about setting up a district rate ticket.
Please note that a handling charge from Eventbrite will also be added to your order.
Scholarships & Reduced Price Tickets: It is important that all who wish to be part of these important conversations are able to attend, and we have priced our tickets to cover actual costs. A reduced price ticket is available at the "struggling activist" rate, and full scholarships are available to those who could not otherwise attend due to costs.

To sponsor a scholarship or make an additional donation to WAES, please add your donation to the "donation" field on the order form. Your contributions make possible our efforts to unite communities in support of public schools!
---
Tabling and Vendors:

We usually have tables for teams, but are rethinking how we can do this virtually in 2020. If you've got ideas, please let us know!

---
TRAVEL, LODGING and more: no longer needed for 2020 but thanks to Hilton Garden Inn and Quality Inn and Suites for their help with group reservations. If you need to cancel lodging, please contact the hotel directly at the links below:
Hilton Garden Inn, 1220 S Grand Ave, Sun Prairie, WI 53590. Conference rate: $149/night (double queen). Two ways to reserve:

1. To book online please visit www.madisonsunprairie.hgi.com
Enter date(s)
Enter group code 72320
2. To make reservations by phone, call the Hotel Front Desk at 608-856-4500 and ask for the group "WI Public Education"

Quality Inn and Suites, 105 Business Park Drive, Sun Prairie, WI, 53590, US. Conference rate: $125/night (double queen). To book, call (608) 834-9889
---
THANKS TO OUR LOCAL HOSTS
This year's Summer Summit is hosted by our friends at the Sun Prairie Area School District and Sun Prairie Education Assocation, with partnership from Support Sun Prairie Schools and Sun Prairie Action Resource Coalition (SPARC). Many thanks to the members of the local planning team for their hospitality, hard work and support!

---
THANKS TO OUR 2020 SUMMER SUMMIT SPONSORS
This event is made possible by the generous donations of our sponsors, including:
Supporters:
Association of Wisconsin School Administrators (AWSA)
Edgewood College School of Education
J.H. Findorff & Son Inc.
Foundation for Madison's Public Schools
Kobussen Buses Ltd.
WEAC Region 6

Red Apple Sponsors:
Brey Architects
Buck & Honey's
Salvatore's Tomato Pies
Sun Prairie Area School District
Wisconsin Education Association Council
Monona Grove School District
Green Bay Education Association
Oregon School District
Anthology Madison
Rethinking Schools
---
JOIN THE LIST OF SPONSORS & SHOW YOUR SUPPORT FOR STUDENTS & SCHOOLS!
Organizations wishing to sponsor the event or place an ad in our program are invited to contact Heather DuBois Bourenane at hdb@WisconsinNetwork.org or (608) 572-1696.
---
Connect. Learn. Take Action.
Join the growing movement to support Wisconsin public schools. Click REGISTER today!
We encourage you to bring a friend, community member, parent, educator or board member from your district with you to the Summit! Help us widen our reach and ensure that all voices are heard at our tables!