Description
Don't miss Wisconsin's public education event of the year!
Join parents, community members, educators, board members and school leaders from around the state for an action-focused day of learning, connecting and strategizing on what's best for the 860,000 kids attending Wisconsin's public schools!
2020 Summer Summit theme: Public Education and Democracy
Strong public schools are the heart of a strong democracy and public education is a fundamental human and civil right. How do we best protect these rights and ensure that every child in every public school has equal opportunity to receive an equally excellent public education? How do we preserve local control of local schools? How do we ensure that those we elect to represent us make decisions in the best interests of the children and communities they serve? How do we know where candidates stand on the issues that matter most to kids? How can we organize our communities to take a strong stand in support of local students? What does "civic engagement" really mean - in the classroom and in the community? How can we work together in 2020 and beyond to demand and deliver the change our kids deserve? Let's dig deep into all of these questions and get inspired to take action!

JOIN US at Sun Praire High School on Friday, July 24, 2020 for our sixth annual ALL-STATE CONVENING of Wisconsin PUBLIC EDUCATION ADVOCATES and SUPPORTERS!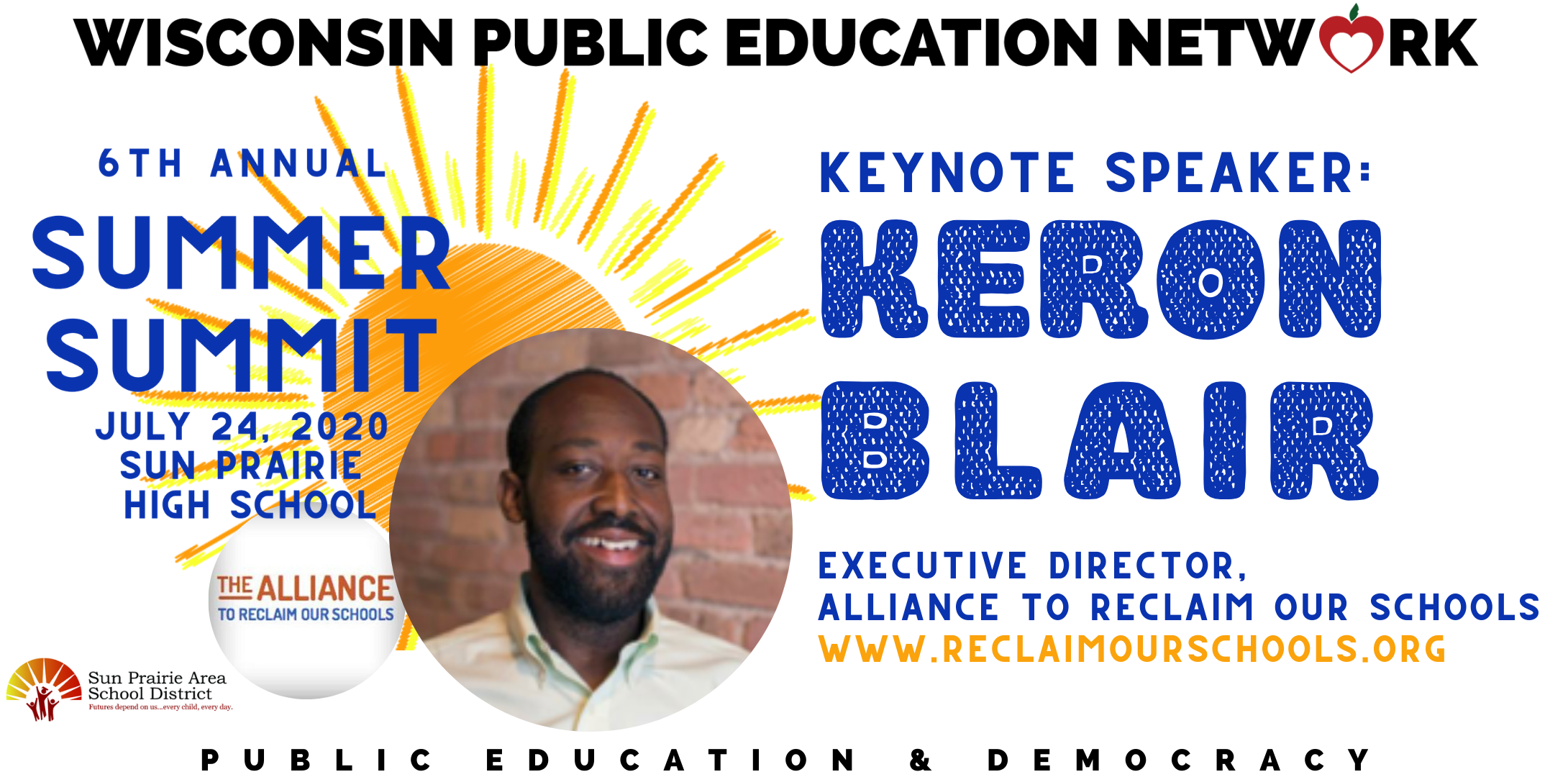 WHAT: A full day of motivating presentations, action-focused strategy sessions, and informational breakouts led by Wisconsin public education advocates and experts. Our sixth annual Summer Summit will include:
Keynote conversation with Keron Blair, Executive Director of the Alliance to Reclaim Our Schools

Morning Meeting (Auditorium) featuring Governor Tony Evers, Deputy Superintendent of Public Instruction Mike Thompson, a welcome from the Sun Prairie team, including Superintendent Brad Saron and school board president Steve Schroeder, and annual & team reports from Wisconsin Public Education Network

Panel discussion: Public Education, Public Opinion & Democracy moderated by Julie Underwood featuring Angela Lang (Execuitve Director of BLOC, Black Leaders Organizing for Communities) and Charles Franklin (Marquette University pollster).

Relevant and engaging breakout sessions & workshops with school leaders, educators, experts and experienced organizers on school funding, local level organizing, issues facing our students and schools, current legislative issues, and much more! Click here to submit a panel or workshop proposal! (Deadine for proposals: Feb. 15, 2020). Don't want to present but have an idea for a session you'd like us to offer? Click here!

Lunch, light breakfast/coffee, and afternoon refreshments are all included with registration

Immediately following the event, join us for an optional dinner reception featuring a special guest (tba), with a special menu prepared by 2016 Chef of the Year Patrick DePula of Salvatore's at The Loft at 132 (132 Market Street, Sun Prairie, WI 53590). This year's dinner includes entertainment & other fun surprises! "Dinner only" tickets available to those who cannot attend the full day! Add dinner to your ticket for just $40!
Thursday, July 23: Welcome Reception at the Barrel Room, Buck & Honey's (804 Liberty Blvd, Sun Prairie, WI 53590). Appetizers and your first drink are on us thanks to our generous sponsors! Free and open to all!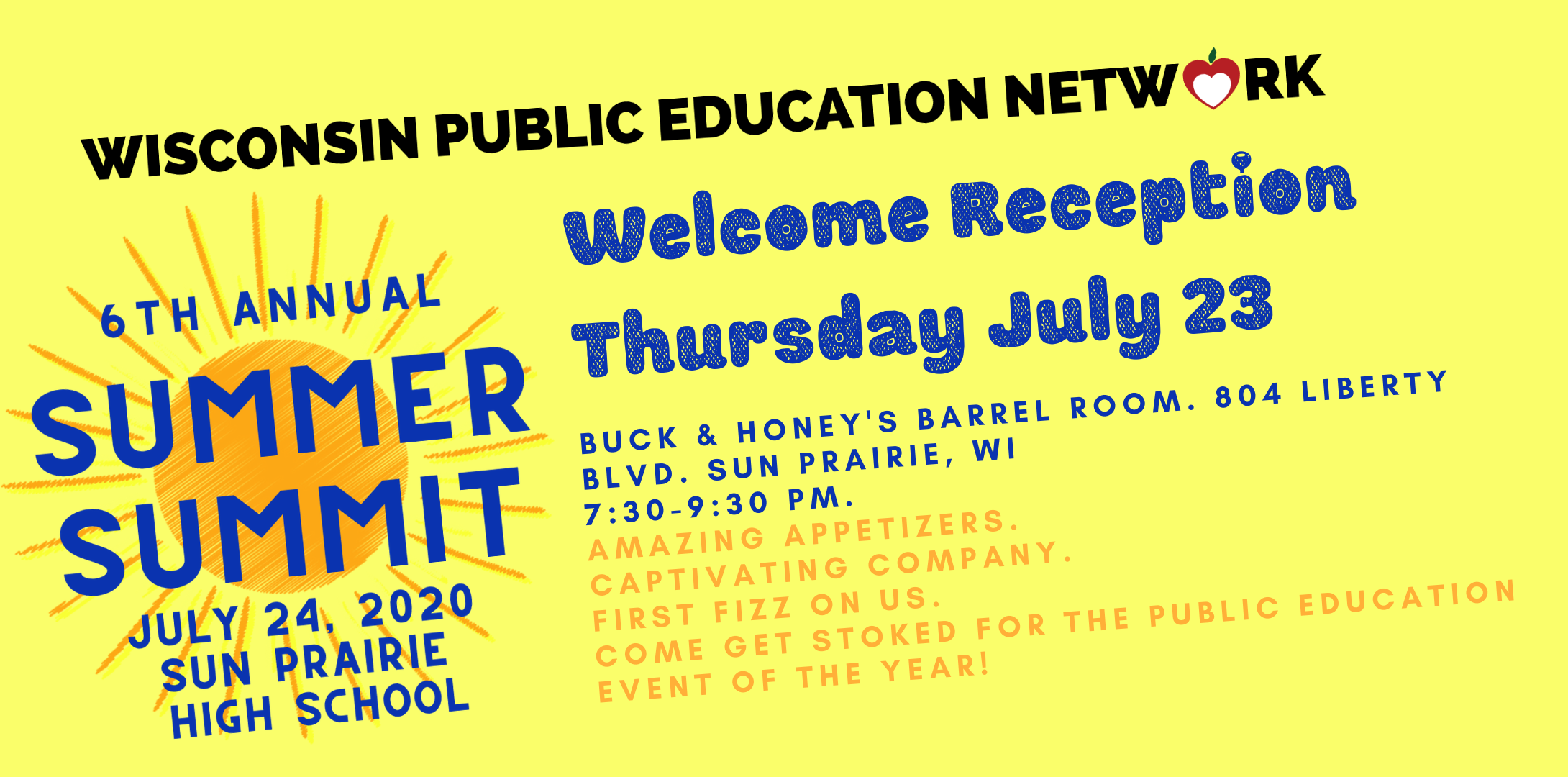 ---
The theme of this year's summit is Public Education and Democracy.

Our sessions, led by state and national education experts, local level organizers, and leaders in education advocacy, will reflect on this theme in many ways:
The role our public schools play in preparing students to be productive, contributing members of a healthy democracy
What democracy means to strong public schools
How the glaring inequities and challenges get in the way of achieving our goals for students and schools
#VotePublic 2020: What "local control" really entails; the importance of electing strong advocates for public schools, and holding them accountable; how partisanship disrupts our common value of the public school and complicates its place as a cornerstone of democracy
Best practices and hard lessons on all of the above!
Action-focused strategies for collaborating to demand the schools our children deserve so that every student has equal opportunity to succeed!
WHO: All parents, students, educators, administrators, school board members, and community supporters of Wisconsin public schools and their students are invited to attend. This is an opportunity to get connected, learn from each other, and be a part of the growing movement to support our public schools and the students they serve. Our goal is to create opportunities for local-level actions that have a state-level impact. Your voice is needed in this conversation!
Whether you're new to education advocacy or a veteran school leader, our Summer Summit provides opportunities for productive, meaningful conversations about how to achieve together the change our children deserve. Come to learn, come to listen, come to lead! Don't miss Wisconsin's public education event of the year!

SPACE IS LIMITED! Advanced Registration includes lunch. Click "REGISTER" to register now!

---
Lunch included with registration highlights the culinary excellence of the Sun Prairie Schools nutrition program, which is putting together a taco bar luncheon with the following menu items:
Entree options: Beef Taco meat, Chicken Fajita meat, Fiesta Bean and Rice (vegetarian option)
Whole Grain options: Soft shell flour tortillas, edible tortilla bowl, bagged tortilla Chips
Shredded cheese, fresh lettuce, diced tomatoes, corn salsa, salsa, taco sauce and sour cream condiments
Hand friendly fruit
Assorted dessert bars
---
Dinner (optional) follows for an additional charge of $40. Continue the conversation at The Loft at 132 (132 Market Street, Sun Prairie, WI 53590) over a gourmet buffet catered by Salvatore's custom-created for the event by award-winning chef Patrick DePula (including vegetarian and gluten-free options)! Dinner will also feature a guest speaker, entertainment & more! Stay tuned for confirmation and details!
---
Back by popular demand: Silent Auction! Bid on treasures and goodies from districts around the state! Bring your checkbooks! Credit cards also accepted.
Donations needed! We challenge local teams and individuals to help support our schools by donating a big-ticket item or basket that represents the community they serve. To donate a basket or item for the auction, contact Jenni at jenni.hofschulte@gmail.com
---
VOTE PUBLIC and GO PUBLIC merchandise (t-shirts, bumper stickers, pins, buttons and more!) will also be available for sale at the event!
---
Registration fees:
BLUE RIBBON PARTNER VIP PACKAGE! Join the Network with a tax-deductible contribution of $100 and get FREE lunch, dinner and a T-SHIRT with one-year Wisconsin Public Education Network individual partnership! Join the Network at the Blue Ribbon level and support the work we do year-round!
Summit Only: EARLY BIRD RATE! Register by March 1, 2020 for just $25! ($40 after March 1; $45 at the door)
Student Rate - Summit only (student and struggling activist rate; includes lunch): $15
Summit + Dinner: $80

Dinner only: $40
Scholarship option is available to those who cannot attend without financial support. Those who wish to donate to the scholarship fund may also do so by making an additional donation of any amount at checkout.
Sun Prairie Educators and Staff: FREE! Thanks to the generous support of the Sun Prairie Area School District, all district staff and educators are invited to register for free. Includes lunch! If you'd like to join us for dinner, please add BOTH the "Sun Prairie Educator" ticket and the optional "dinner only" ticket to your registration.
Madison Teachers Inc Members: Bring a parent or community partner and BOTH of your tickets are on MTI! Have your companion's name/email ready and use the MTI Teacher/Parent pass to register!
Please note that a handling charge from Eventbrite will also be added to your order.
Scholarships & Reduced Price Tickets: It is important that all who wish to be part of these important conversations are able to attend, and we have priced our tickets to cover actual costs. A reduced price ticket is available at the "struggling activist" rate, and full scholarships are available to those who could not otherwise attend due to costs.

To sponsor a scholarship or make an additional donation to WAES, please add your donation to the "donation" field on the order form. Your contributions make possible our efforts to unite communities in support of public schools!
---
Tabling and Vendors
CONNECT! Advocacy teams, event sponsors, and non-profit public education organizations wishing to display brochures, sign up lists, etc (specify needs at check-out) are welcome to set up a table in our exhibition space free of charge. You can request your table space at check-out.

There is also limited space for select vendors and other exhibitors. Tables are $250 each to vendors upon approval (use ticket option VENDOR TABLE at checkout to apply - fees will be refunded if the application is not accepted).
---
TRAVEL, LODGING and more
HOTEL
We have reserved blocks of rooms for both Thursday July 23 and/or Friday July 24 at two excellent Sun Prairie hotels to accommodate out-of-town travelers. The Summit rate is guaranteed at both hotels through June 23, 2020 and as availability allows after that.
Hilton Garden Inn, 1220 S Grand Ave, Sun Prairie, WI 53590. Conference rate: $149/night (double queen). Two ways to reserve:

1. To book online please visit www.madisonsunprairie.hgi.com
Enter date(s)
Enter group code 72320
2. To make reservations by phone, call the Hotel Front Desk at 608-856-4500 and ask for the group "WI Public Education"

Quality Inn and Suites, 105 Business Park Drive, Sun Prairie, WI, 53590, US. Conference rate: $125/night (double queen). To book, call (608) 834-9889
STAY LOCAL! We may be able to match you with a local team member willing to provide lodging for out of town guests. If you'd like to stay with a local host, please select the "need lodging" option when you register for the Summit and we'll be in touch. These rooms are available on a first-come, first-served basis. Local folks: there's also an option to let us know if you can put up a guest on Thursday or Friday night.
---
THANKS TO OUR LOCAL HOSTS
This year's Summer Summit is hosted by our friends at the Sun Prairie Area School District and Sun Prairie Education Assocation, with partnership from Support Sun Prairie Schools and Sun Prairie Action Resource Coalition (SPARC). Many thanks to the members of the local planning team for their hospitality, hard work and support!

---
THANKS TO OUR 2020 SUMMER SUMMIT SPONSORS
This event is made possible by the generous donations of our sponsors, including:
Supporters:
Association of Wisconsin School Administrators (AWSA)
Edgewood College School of Education
J.H. Findorff & Son Inc.
Foundation for Madison's Public Schools
Kobussen Buses Ltd.

Red Apple Sponsors:
Brey Architects
Buck & Honey's
Salvatore's Tomato Pies
Sun Prairie Area School District
Wisconsin Education Association Council

---
JOIN THE LIST OF SPONSORS & SHOW YOUR SUPPORT FOR STUDENTS & SCHOOLS!
Organizations wishing to sponsor the event or place an ad in our program are invited to contact Heather DuBois Bourenane at hdb@WisconsinNetwork.org or (608) 572-1696.
---
Connect. Learn. Take Action.
Join the growing movement to support Wisconsin public schools. Click REGISTER today!
We encourage you to bring a friend, community member, parent, educator or board member from your district with you to the Summit! Help us widen our reach and ensure that all voices are heard at our tables!