Description
Don't miss Wisconsin's public education event of the year!
What will it really take to make sure every child in every Wisconsin public school truly thrives? Join parents, community members, educators, board members and school leaders from around the state for an action-focused day of learning, connecting and strategizing on what's best for the 860,000 kids attending Wisconsin's public schools!
JOIN US at Cental High School in La Crosse on August 5, 2019, for our fifth annual ALL-STATE CONVENING of Wisconsin PUBLIC EDUCATION ADVOCATES and SUPPORTERS!
The full program is now online! Click here to check it out!
WHAT: A full day of motivating presentations, action-focused strategy sessions, and informational breakouts led by Wisconsin public education advocates and experts. Our fifth annual Summer Summit includes all of the following and more:
8:00-9:00 am Registration, breakfast & mingling
9:00-10:15 Morning Meeting (Auditorium) featuring Superintendent of Public Instruction Carolyn Stanford Taylor and Governor Tony Evers, a welcome from La Crosse Superintendent Randy Nelson and school board president Laurie Cooper Stoll, and annual & team reports from Wisconsin Public Education Network
10:30-11:00 A Blue Ribbon Budget? What's Best for Kids...And How Do We Get There? (Auditorium) - a conversation with local and school leaders moderated by Terri Phillips, Executive Director, Southeastern Wisconsin Schools Alliance featuring Chris Hambuch-Boyle (former school board member, educator and local organizer, Eau Claire), Julie Underwood (Blue Ribbon Commission member, UW-Madison professor), Tom Wermuth (superintendent, Adams-Friendship)
11:10-12:25 pm Breakout A
12:25-1:25 LUNCH
1:25-2:40 Breakout B
2:50-4:05 Breakout C
4:15-5:00 Closing Keynote:"What's Best for Kids" presentation with very special guests
World-class breakout sessions with school leaders, educators, experts and experienced organizers on school funding, local level organizing, issues facing our students and schools, current legislative issues, and much more!


Lunch, light breakfast/coffee, and afternoon refreshments are included with registration

An optional dinner follows aboard the La Crosse Queen riverboat for those who wish to continue the conversation and connect with other supporters of public schools. The dinner cruise leaves the dock at 5:45 and includes unlimited pizza and beer and the address is 405 East Veterans Memorial Drive, La Crosse, WI 54601. Dinner will feature a short presentation by special guest speaker Ruth Conniff of the Wisconsin Examiner.
The theme of this year's summit is WHAT'S BEST FOR KIDS - a question and a directive that's at the heart of both Governor Tony Evers' inaugural budget and is the motto of our hosts at the La Crosse Education Association.

Our sessions will reflect on what practices and priorities will ensure the best results for our students, and what we can do together to ensure every student thrives. Our sessions are led by state and national education experts, local level organizers, and leaders in education advocacy.
Over 20 breakout and plenary sessions led by advocates, state and national experts! (sessions and speakers subject to change):
Session A 11:10 am – 12:25 pm
A1 (LMC) School Funding 101: Get the Facts.
Dee Pettackand BobSoldner, Department of Public Instruction
A2 (226) Working Effectively with Elected Officials.
Patricia Schmidt, WEAC Retired Region 10, Advocacy Trainer
A3 (228) Joy in the Ordinary.
Heather Quackenboss,UW Madison Extension - La Crosse County Human Development and Relationships Educator
A4 (232) Addressing Racial Disparities in Education in Wisconsin: Should Schools Be Colorblind?
Laurie Cooper Stoll,Ph.D., University of Wisconsin-La Crosse and the School District of La Crosse, Professor of Sociology and Board President
A5 (Aud) Referenda: What works and what doesn't? Subtitle What Else Could We Have Done?
A panel of leaders from districts that recently failed to pass referenda including Osceola, River Valley and Palmyra
A6 (229) How Community Schools create transformational change for students, families and neighborhoods.
Sarah Smith, Community Schools Director, Sun Prairie Community Schools; Ryan Hurley,Community Schools Partnership Director, United Way of Greater Milwaukee and Waukesha County; Aronn Peterson, Gavin Luter; Jeff Baas, Wisconsin Coalition for Community Schools Community Schools
A7 (230) Education Behind Bars: Their Only Hope.
Darlene Machtan, Nicolet College, Rhinelander, Academic Success Adjunct/Oneida County Jail HSED/GED instructor
Session B 1:25 pm – 2:40 pm
B1 (LMC) Benefits of Coalition Building.
Sandy Whisler & Pam Streich,CAPE & Lake Mills Area School District, CAPE President/LMASD Superintendent; Stacy Lynch & Eric Jessup-Anger, SOS Wauwatosa and Wauwatosa School Board; Jim Bowman& Leah Olson, Fox Cities Advocates 4 Public Education and Appleton School Board.
B2 (226) Student-Centered Discipline.
Ben Burns,School District of La Crosse, Principal
B3 (228) Non-Partisan Advocacy for Democracy: From Fair Maps, Census, and Local Organizing.
Matt Danenburg,Wisconsin Voices
B4 (232) Strategies for Creating Equity and Doing Social Justice Work in K-12 Schools.
Laurie Cooper Stoll, School District of La Crosse Board President; Melissa Murray,Principal, School District of La Crosse; Elizabeth Digby-Britten,Former Ho-Chunk Home-School Coordinator; Danya Day, Cultural Liaison, School District of La Crosse; Bridget Todd-Robbins, Social Worker, La Crosse County.
B5 (Aud) How School Privatization Opens the Door for Discrimination
Julie Mead,UW-Madison Professor
B6 (229) Wisconsin's Student Loan Debt: Changing the Landscape.
John Wedge,Hallie Lienhardt, Langston Evans, Wisconsin Coalition on Student Debt
B7 (230) Hunger in Schools: why food pantries aren't the answer.
Maureen Fitzgerald,Hunger Task Force, Director of Advocacy; Bard Meier; Lexi Starosta.
B8 (224) The Future Ain't What It Used To Be.
David Moscinski, Fox Cities Advocates for Public Education (FV4PE)
Session C 2:50 pm – 4:05 pm
C1 (LMC) School Funding - The Conversation Continues.
Pete Ross and Tony Klaubauf,Wisconsin Association for Equity in Funding Co-Directors
C2 (226) Examining White Privilege
Ben Burns,School District of La Crosse, Principal
C3 (228) Excellence with Equity: A Talent Development Perspective on Gifted Education.
Deb Kucek, Wisconsin Association for Talented and Gifted (WATG), Advocacy Co-Chair; Jackie Drummer;
C4 (232) What can be done to increase voucher transparency?
Shannon A Stansil-Powell,City of RacineCommunications Director; Angelina Cruz,Racine Educators United (REU); Chris Hambuch-Boyle, Eau Claire; Christopher Thiel,Milwaukee Public Schools
C5 (Aud) Collaboration between teacher unions and school districts.
John E Havlicek, La Crosse Education Association President of LEA and Spanish teacher; Randy Nelson, Superintendent of the La Crosse School District
C6 (229) Be the G.O.A.T. Learn About Your Vote.
Chris Haskell, League of Women Voters of the La Crosse Area, Driftless Voter Coalition, Voter Services Committee member; Amy Dummer, Chair Driftless Voter Coalition; Jim Jorstad, Social Media Strategist
C7 (230) How to Stop the Teacher "X"odus.
Timothy Slekar,Edgewood College, Dean, School of Education; Joanna Rizzotto.Teacher and member of DPI Professional Standards Committee
Whether you're new to education advocacy or a veteran school leader, our Summer Summit creates opportunities for productive, meaningful conversations about how to achieve together the change our children deserve. Don't miss Wisconsin's public education event of the year!

WHO: All parents, students, educators, administrators, school board members, and community supporters of Wisconsin public schools and their students are invited to attend. This is an opportunity to get connected, learn from each other, and be a part of the growing movement to support our public schools and the students they serve. Our goal is to create opportunities for local-level actions that have a state-level impact. Your voice is needed in this conversation!
SPACE IS LIMITED! Advanced Registration includes lunch. Click "TICKETS" to register now!

Lunch is included with registration (select your meal preference when you register). Assorted salads and cookie or brownie plus beverages are included with sandwiches on a kaiser roll (include cheese, lettuce and tomato):
ham

turkey

roast

beef




veggie

gluten free option available
Dinner (optional) follows for an additional charge of $40. Continue the conversation over dinner on the Mighty Mississippi aboard the La Crosse Queen riverboat, featuring a very special guest speaker!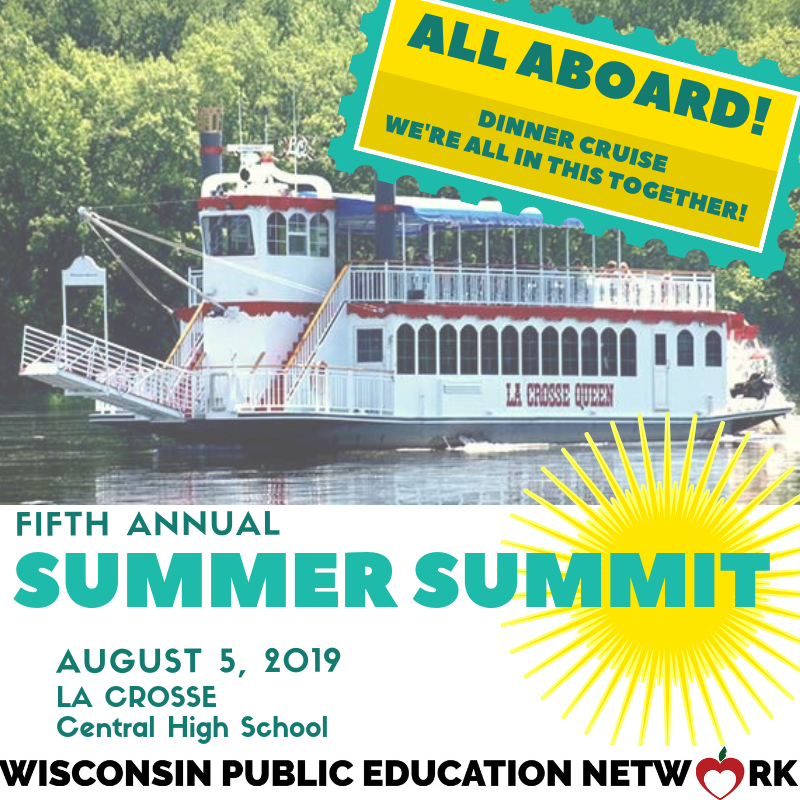 Back by popular demand: Silent Auction! Bid on treasures and goodies from districts around the state! Bring your checkbooks! Credit cards also accepted.
We challenge local teams to help support our schools by donating a big-ticket item or basket that represents the community they serve. To donate a basket or item for the auction, contact Jenni at jenni.hofschulte@gmail.com

VOTE PUBLIC and GO PUBLIC merchandise (t-shirts, bumper stickers, pins, buttons and more!) will also be available for sale at the event!

Tabling and Vendors
CONNECT! Advocacy teams and non-profit public education organizations wishing to display brochures, sign up lists, etc (specify needs at check-out) are welcome to set up a table in our exhibition space free of charge. You can request table space at check-out.

There is also limited space for select vendors (anyone selling anything) and other exhibitors. Vendor tables are $250 each to vendors upon approval (use ticket option VENDOR TABLE at checkout to apply - fees will be refunded if the application is not accepted).

Sponsorship and Advertsing
Organizations wishing to sponsor the event or place an ad in our program are invited to contact Heather DuBois Bourenane at hdb@WisconsinNetwork.org.
Registration fees:
BLUE RIBBON PARTNER VIP PACKAGE! Join the Network with a tax-deductible contribution of $100 and get FREE lunch, dinner and a T-SHIRT with one-year Wisconsin Public Education Network individual partnership! Help us launch our individual partnership campaign by joining at the Blue Ribbon level and support the work we do year-round!
Student Rate - Summit only (student and struggling activist rate; includes lunch): $15
Summit + Dinner: $80

Dinner only: $40
Scholarship option is available to those who cannot attend without financial support. Those who wish to donate to the scholarship fund may also do so by making an additional donation of any amount at checkout.
La Crosse Educators: FREE as a kick-off to the Summer Institute! Thanks to the generous support of the La Crosse School District and the La Crosse Educators Assocation, all district staff and educators and LEA members are invited to register for free. Includes lunch!
Please note that a handling charge from Eventbrite will also be added to your order.
NOTE: It is important to us that all who wish to be part of these important conversations are able to attend, and we have priced our tickets to cover actual costs. A reduced price ticket is available at the "struggling activist" rate, and full scholarships are available to those who cannot register due to financial hardship. We invite you to bring a friend, community member, parent, educator or board member from your district with you to the Summit! Help us widen our reach and ensure that all voices are heard at our tables!

To sponsor a scholarship or make an additional donation to WAES, please add your donation to the "donation" field on the order form. Your contributions make possible our efforts to unite communities in support of public schools!

---
TRAVEL, LODGING and more
HOTEL Rooms have been reserved at the La Crosse Radisson (200 Second Street South, 200 Harborview Plaza, La Crosse, WI 54601) at the special rate of $112 (2 queen beds) or $82 (1 king bed) + tax. Here's how to reserve your discounted room:
Call the Radisson directly Mon-Fri. 9am-5pm CST at 608-784-6680 or call the Central Reservations line 24 hours a day at 1-800-333-3333. Be sure to mention the Wisconsin Public Education Network to receive this discounted price on lodging for Summit attendees.

Reserve online at http://www.radisson.com/lacrossewi using promo code Summit.
The Summit rate was guaranteed through July 15, 2019 but the hotel has extended the discount offer!
STAY LOCAL! We may be able to match you with a local team member willing to provide lodging for out of town guests. If you'd like to stay with a local host, please select the "need lodging" option when you register for the Summit and we'll be in touch. These rooms are available on a first-come, first-served basis. Local folks: there's also an option to let us know if you can put up a guest on Sunday or Monday night.
MAKE A GETAWAY OF YOUR TIME IN BEAUTIFUL LA CROSSE!
If you're traveling from out of town, please note that the Summit begins at 9:00 am. Registration and morning refreshments begin at 8:00 am.
Coming into town on Sunday? Join us for our welcome reception from 7:30-9:30 at the Bodega!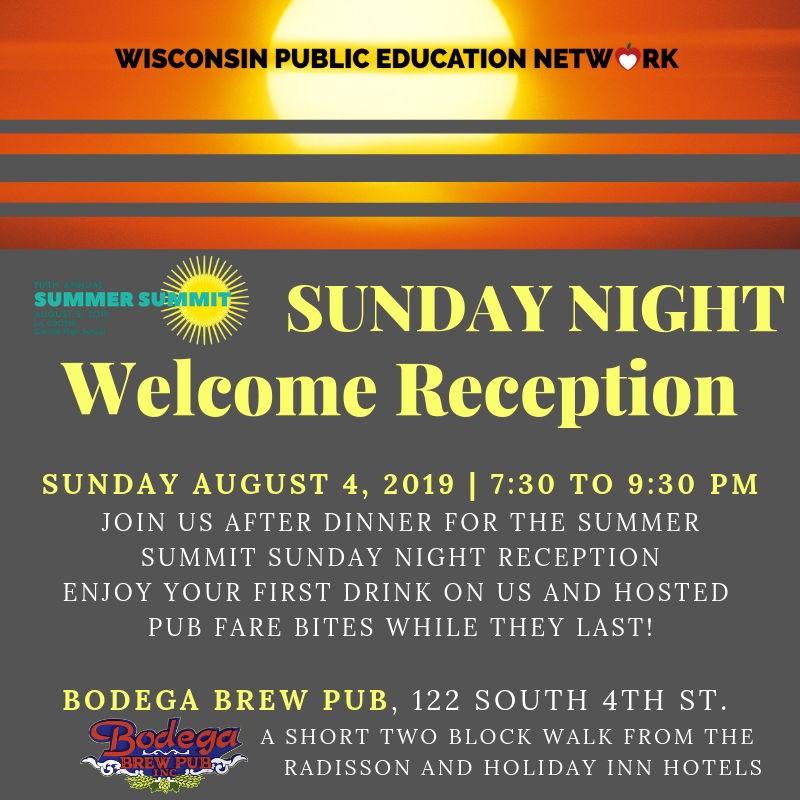 THANKS TO OUR LA CROSSE HOSTS
This year's Summer Summit is hosted by our friends at the La Crosse Area School District and La Crosse Education Assocation, with partnership from the Coulee Region Public Education Network. Many thanks to the members of the local planning teamfor their hospitality and support!
THANKS TO OUR 2019 SUMMER SUMMIT SPONSORS
This event is made possible by the generous donations of our sponsors, including:
Association of Wisconsin School Administrators (AWSA)
Wisconsin Education Association Council
Edgewood College School of Education
La Crosse Education Association
John Havlicek
Ellen Lindgren
Julie Mead
WANT TO BE A SPONSOR OF THIS EVENT?
Contact Heather at hdb@WisconsinNetwork.org or (608) 572-1696
Join the movement to support Wisconsin public schools. Register for the August 5th Summer Summit today!



Organizer of Wisconsin Public Education Network Summer Summit 2019
The Wisconsin Public Education Network is Wisconsin's statewide coalition of public school advocacy groups, individual supporters, professional organizations, and school districts. Our shared goal is to ensure that every student in Wisconsin has access to an equally excellent public education. By connecting existing groups and organizations, we can share ideas, concerns, and strategies for meeting this goal. When we come together and speak as one, our message is heard around the state. Join us!

To learn more about the Network, or join our mailing list, contact our coordinator at hdb@WisconsinNetwork.org.

Wisconsin Public Education Network is a project of the Wisconsin Alliance for Excellent Schools (WAES) 501(c)(3).