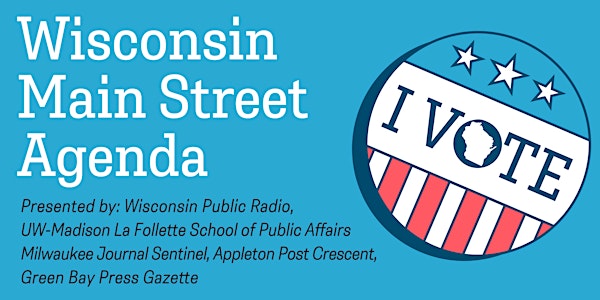 Wisconsin Main Street Agenda - Milwaukee Town Hall Meeting
Join us for a lively discussion about the issues voters want candidates for public office to focus on in fall 2022 campaigns.
When and where
Location
Centennial Hall Milwaukee Public Library 733 North 8th Street Milwaukee, WI 53233
About this event
What should candidates for office be talking about as the compete for your vote this fall? Please join us to hear what we've learned and what you want to know more about at a town hall meeting on Wednesday, Sept. 21 from 7 to 8:30 p.m. at Centennial Hall, Milwaukee Public Library Central Branch. Our focus for the evening: Is our democracy at risk? The event is sponsored by the Ideas Lab at the Milwaukee Journal Sentinel, the La Follette School of Public Affairs at the University of Wisconsin-Madison, and Wisconsin Public Radio. It is part of the Wisconsin Main Street Agenda series featured in the Journal Sentinel and other USA TODAY NETWORK newspapers in Wisconsin and on WPR. The event is free and open to the public and will feature journalists working on the project, experts at the La Follette School and voters. Plenty of on-street parking is available.