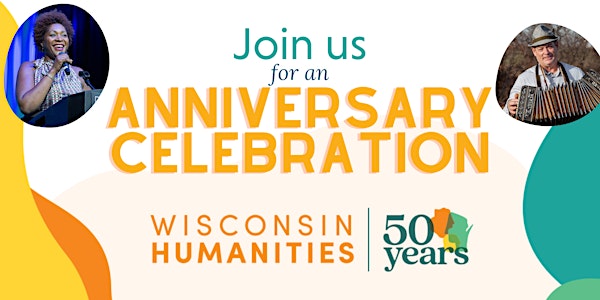 Wisconsin Humanities Anniversary Celebration
Wisconsin Humanities is celebrating 50 years of building connections with people and communities around the state. Join us for the party!
When and where
Location
Pyle Center 702 Langdon Street Madison, WI 53706
About this event
Wisconsin Humanities' 50-year history was made by people like you! And we want to say Thank You!
In every corner of the state, at libraries, schools, historical societies, museums, and other civic and cultural organizations, the people of Wisconsin have worked with us to create educational and cultural programs, build connections and understanding, and strengthen our democracy!
So it's time to celebrate!
The reception will be held in the beautiful lakeside Alumni Lounge at the Pyle Center on the UW-Madison campus. There will be delicious appetizers, drinks (cash bar), and a sundae bar to enjoy, as well as entertainment from two very special Wisconsinites.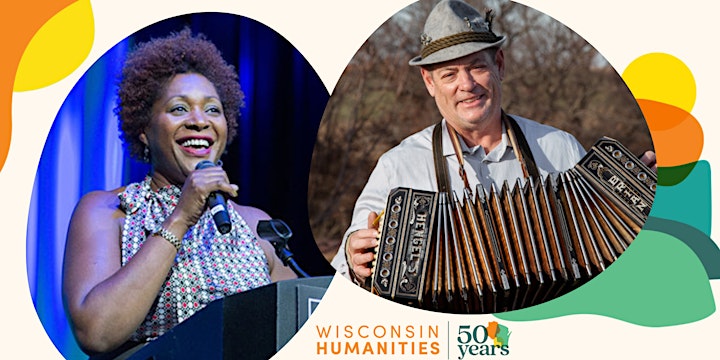 Dasha Kelly Hamilton will bring her lyrically entertaining style to the event. Dasha is the Wisconsin Poet Laureate and the co-host of the second season of Wisconsin Humanities' podcast, Human Powered. We will get to hear some poetry and learn more about Dasha's new project, A Line Meant, which connects people all over the state, including residents of Wisconsin prisons, through lines of poetry.
Brian Breuggen started a band called the Mississippi Valley Dutchmen when he was 18 years old and has been performing ever since. As a featured storyteller on the Wisconsin Humanities digital storytelling platform Love Wisconsin, he is ready to stand behind his claim that Cashton is the best city in the world. And he'll play us some music!
We look forward to seeing you on Saturday, October 15th from 2-5 PM.
RSVP by October 1st! Please keep in mind that space is limited.

Can't make it? You can still celebrate our 50th anniversary and be an important part of our next 50 years of work. Your gift of $50 or more supports Wisconsin Humanities statewide programs for years to come.
Consider making a gift to Wisconsin Humanities in honor of our 50th anniversary!