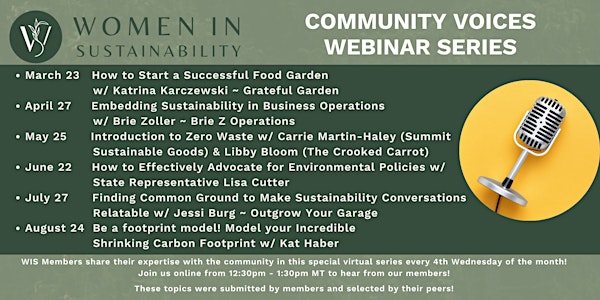 WIS Community Voices Webinar Series
August Topic: Be a footprint model! Model your incredible shrinking carbon footprint w/ Kat Haber ~ TRUST Climate Action Strategists
Refund Policy
Contact the organizer to request a refund.
Eventbrite's fee is nonrefundable.
About this event
About the Webinar:
WIS Members share their expertise with the community in this special virtual series every 4th Wednesday of the month! Join us online from 12:30pm - 1:30pm MT to hear from our members! These topics were submitted by members and selected by their peers!
August Topic: Be a footprint model! Model your incredible shrinking carbon footprint w/ Kat Haber w/ TRUST Climate Action Strategists
Description:
Right size your carbon footprint and put on your new blue/green shoes. From right where you are sitting you'll reimagine how you can take immediate personal steps to shrink your personal carbon footprint. Then you'll let the truth of a finer future set in. As you get closer and closer to your own source of personal power in turning your carbon footprint into a beautiful blue-green blueprint. We may go deep. You may be asked to root your reality in an ever-widening, inclusively just, equal, free, revitalizing and liberating ways of thinking and doing this one day.
We are perfectly imperfect beings in these systems we did not set up and in which we are not thriving. What happens when we align ever more closely our own behaviors and attitudes for climate right relating? Our friends, family, networks notice. They respect that in the current broken systems we are finding ways to reduce the value destroying we are doing to our Earth home. Health, equity, waste systems will be just 3 of 72+ topics possible to focus on in LIVING BRIGHTLY3. This tasty treat for a regenerative future will get you on your feet, looking around from right where you sit, and open your values for an impatient, urgent womb-deep deciding anew.
About the Presenter:
During long hauling recovery from COVID19 Kat Haber founded TRUST Climate Action Strategists to respond to our shared climate emergency. LIVING BRIGHTLY2 will customize personal climate action plans November 18-20.
In organizing TEDx events, Kat amplifies local voices to global audiences to advance worthy ideas for action leading to impact. Approximately 35,000 TEDx events with over 2 billion views, this global social movement informs her thinking building bridges between Rotary, TEDx and WILD. Producing TEDxHomer for 4 years, as the first TEDx event in Alaska, she mentored teens producing TEDxYouth@Homer. Turning to Colorado, she organizes TEDxVailWomen in 2010-20 and is mentoring teens organizing their own TEDxYouth@Vail. She's exploring connecting TEDx ideas with Rotary leaders globally to turn worthy ideas into action on the ground locally to ultimately scale-out solutions globally. With many years of NGO governance, serving for-profit corporate boards interested in diversity, social responsibility, and sustainability, she cofounded WE Rotary, a virtual eClub of Hawaii. She co-created a youth track for WILD9, the 9th World Wilderness Congress in Merida, Mexico in 2009 and WILD10 in Salamanca, Spain 2013.
As an affinity rep for HaberVision.com, she offers high-end polarized sunglasses for recreationalists and safety goggles with a patented humidity sensor that removes fog and frost instantly.
Specialties: TEDx organizing, social media, climate change in Alaska, social profit management, empathic guidance, natural leadership, sustainability governance, speaker coaching, facilitating collaborative community conversations.
Kat walked across the country in the Great March for Climate Action, ClimateMarch.org, from LA to DC calling Congress to take urgent action on climate change. She began her 3,500+ mile quest on March 1 and ultimately arrived in the nation's capital where she was arrested on November 4, 2014, protesting the rubber-stamping of fracking infrastructure at the Federal Energy Regulatory Commission. She stands for a clean, green finer future.
Women in Sustainability:
Women in Sustainability (WIS) is an inclusive social and environmental justice nonprofit dedicated to caring for the people that CARE for the planet through Community, Advocacy, Resources and Education to create a sustainable and equitable future through the feminist viewpoint and leadership. WIS strives to create a safe space for like-minded and diverse individuals to create purposeful connections and conversations. All are welcome in this community.
We encourage our members to challenge the status quo and each other's views, however, we focus on this with civil discourse and positivity. WIS has a no tolerance policy and any individual that makes negative or ill-will comments towards other attendees will be immediately asked to leave the event. Please engage in conversation that "challenges ideas, not the person."
Accessibility:
Closed Captions will be available for this webinar.
Recording:
This event may be recorded for use by Women in Sustainability. By participating in this webinar, you automatically agree to authorize recording of audio and visual content presented during the live event and consent to subsequent use of the recording in the public domain by the provider presenting the live webinar. The audio and visual recording of the live webinar includes documents and materials exchanged or viewed during the live event; questions asked and poll answers provided by you during the live event; the closed captioning transcript; and the chat box transcript. You are not required to keep your video on during this presentation. You can cancel your order at any time.
Disclaimer:
The views, data, information and opinions expressed in this presentation are those of the presenters and do not necessarily reflect the official policy or position of Women in Sustainability, any other agency, member, organization, employer or company associated with Women in Sustainability. Women in Sustainability encourages attendees and members to challenge the status quo and each other's views, however, we focus on this with civil discourse and positive action. WIS believes in engaging in conversation that "challenges ideas, not people". The content provided by WIS educational programming is meant to educate and inform critical - thinking on sustainability topics and subject to individual interpretation. Our content is intended to be used for informational purposes and it is important to do your own additional research and analysis on the subject to form your own beliefs and opinions. In addition, the data and views represented are subject to change, revision and rethinking at any time due to additional data and research. Furthermore, WIS does not verify for accuracy any of the information contained in this presentation and is not responsible for any errors. Presenters are considered to be experts in their particular fields and WIS relies on their expertise to present the information in an accurate and professional manner. Any questions or comments on the content provided during the presentation should be directed to the presenter(s).
All rights reserved. Any content in this presentation cannot be copied or reproduced without the expressed written consent of Women in Sustainability and the participating presenters.