Description
Need an end-to-end sensor-to-cloud solution?
Attend the "Sensor to Cloud" workshop and in just one day learn how to use the free Renesas IoT Sandbox to create IoT prototypes in a matter of hours.
Our experts will cover:
How to connect your device and sensors to the Cloud

How to process sensor data in real-time

IoT communication, security, and identity management
You'll get hands-on experience setting up a Cloud platform using the Renesas S3A7 IoT Fast Prototyping Kit, Medium One's real-time workflows and Sensirion Temperature and Humidity Grove module.
This workshop is being offered by Medium One, in partnership with Renesas and Sensirion and will be held at Embassy Suites by Hilton, 3225 158th Ave SE, Bellevue, WA on June 7, 2017.
To view the workshop agenda, download the pdf invitation here.


Register Today!
Early Bird registration is $29 through May 31.
Regular registration is $59 after May 31.
Your registration fee includes the S3A7 IoT Fast Prototyping Kit (valued at $145), a Sensirion Temperature and Humidity Grove module (valued at $12), and an awesome lunch.
Prerequisite Knowledge:
User knowledge of Wi-Fi, Internet Browser, Smart Phone, and Laptop.
Equipment to Bring:
Your laptop with Chrome, Opera, or Internet Explorer browser (Firefox and Safari are not supported).
An Android or iOS Smart Phone with Wi-Fi connectivity (Win-Mo devices are not supported).
To learn more about the Renesas IoT Sandbox, check out www.renesas.com/iotsandbox and http://iotcommunity.io/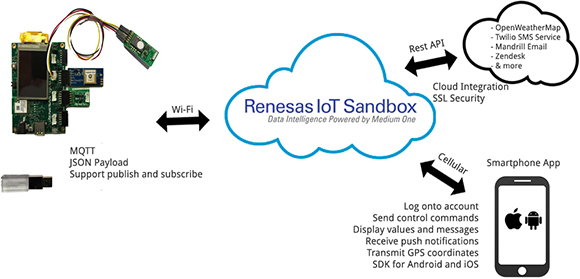 Organizer:
About Medium One:
Medium One allows developers to rapidly build IOT applications using our IOT cloud services and real-time workflows. All the functions needed for development are included – from connecting to the cloud and processing any device data, to IOT centric libraries with machine learning and analytics functions. With Medium One, developers can focus on their application logic while we quickly extract intelligent insights to power their applications. Learn more at www.mediumone.com
Partners:
About Renesas:
Renesas Electronics delivers trusted embedded design innovation with complete semiconductor solutions that enable billions of connected, intelligent devices to enhance the way people work and live—securely and safely.
The number one global supplier of microcontrollers, and a leader in Analog & Power and SoC products, Renesas provides the expertise, quality, and comprehensive solutions for a broad range of Automotive, Industrial, Home Electronics (HE), Office Automation (OA) and Information Communication Technology (ICT) applications to help shape a limitless future.
About Sensirion:
Founded in 1998, Sensirion is the leading manufacturer of high-quality sensors and sensor solutions for the measurement and control of humidity, and of gas and liquid flows worldwide. Millions of our sensor components and solutions are used all over the world, including in the automotive industry, medical technology, building technology, industrial processes, and in consumer goods. We help contribute to the continuous improvement of our health, comfort, and energy efficiency . With our sensor technology, we make an active contribution to a smart and modern world.