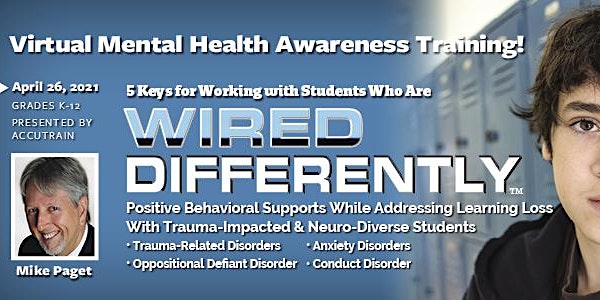 Wired Differently VIRTUAL 1-Day Seminar - April 26, 2021
Virtual Live One-Day Seminar
About this event
This is a LIVE ONLINE event. Attendees will be able to login beginning at 9:45 am ET/6:45 am PT. The live session will begin at 10:00 am Eastern Time/7:00 am PT.
REGISTERING WITH A PURCHASE ORDER?
To submit a registration form along with a purchase order, click here. We also accept registration forms and school purchase orders by fax, mail or email (pd@accutrain.com).
Order processing fee does not apply to purchase orders.
All prices are quoted in US Dollars.
Fact: 20 percent of all students are diagnosable for a mental, emotional or behavioral health issue.
Fact: 43 percent of students have sufficient trauma in their lives to impact every aspect of school and social success.
Fact: 100 percent of students have experienced the COVID-19 pandemic (with its 25% increase in suicide thoughts and 24% increase in anxiety/panic admissions).
This seminar will help classroom teachers, counselors, administrators, and other school personnel understand how to support students who come to school with these significant challenges to success, happiness and expected behavior. Some students are neuro-diverse ("Wired Differently") by nature, while all students' brains are subject to "re-wiring" by poverty, stress and trauma. This training will help educators work effectively to support these students while avoiding unmanageable classroom environments.
In a single classroom a teacher is likely to be dealing with several diagnosable disorders and the effects of trauma and poverty. Some of the most common challenges mainstreamed in the classroom are:
Anxiety Disorders
Trauma & Stress
Depression
Early Onset Bipolar Disorder
Asperger's Syndrome
Oppositional Defiant Disorder
These issues are often undiagnosed and easily misunderstood – and may be treated as "ordinary" discipline issues. Behaviors that tend to be common to students who are Wired Differently include: disorganization; perfectionism; trouble dealing with change; performance and testing anxiety; social anxiety and over- and under-reacting to adults and peers.
The second half of this seminar focuses on students who exhibit more disruptive and hostile behavior – temper tantrums, fighting, cruelty and defiance. Typically, educators slip into a pattern of coercion and punishment in reaction to these students — often leading to academic difficulties, poor relationships, substance abuse, delinquency and crime. But these students may actually have a "Disruptive Behavior Disorder" – Oppositional Defiant Disorder, Conduct Disorder and/or Intermittent Explosive Disorder. This session provides effective practices for working with, and reducing confrontations with, these students. Attendees will learn why getting tough and zero tolerance do not work and how educators can steer away from power struggles.
You Will Learn to:
Restructure traditional practices that often fail
Implement do's and don'ts for supporting students with dignity and respect who are Wired Differently
Implement effective strategies and accommodations that reduce student misbehavior and improve class climate
Create a climate that balances between challenge and support
Reduce stigma and create a respectful climate in the classroom and school
ABOUT THE PRESENTER
Mike Paget, M.Ed.
Mike currently works as a state consultant for students with severe emotional and behavioral problems. He has worked with ODD, CD and other special needs students for more than 25 years. Mike is an innovator of effective approaches for working with extremely challenging students. He has conducted seminars across the U.S. and Canada for educators on creative techniques for managing classroom behavior, student aggression and crisis intervention. He is co-author of the books, Aggressive and Violent Students and Defying the Defiance.
AGENDA
View the Wired Differently Seminar Agenda here.
WHO SHOULD ATTEND
School Counselors
School Social Workers
Principals and
Administrators
Special Education Personnel
At-Risk Coordinators
After-School Program
Coordinators
Community Youth Program Coordinators
Faith-Based Youth Program Coordinator
Teachers
Substance Abuse Prevention Coordinators