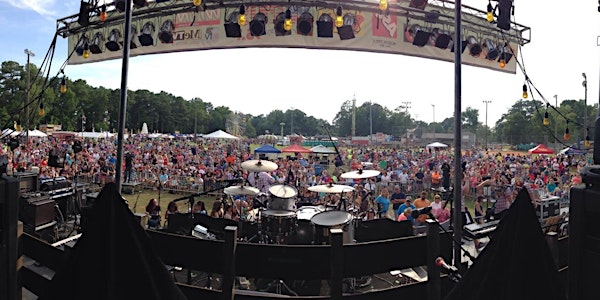 Winterville Watermelon Festival Watermelon Jam
The 38th annual Winterville Watermelon Festival Watermelon Jam is scheduled for August 26th, 2023!
By Winterville Watermelon Festival Committee, Inc
Date and time
Saturday, August 26 · 5 - 11pm EDT
Location
Winterville Parks & Recreation 332 Sylvania Street Winterville, NC 28590
About this event
Gates open at 5:00pm
Still Shakers at 6:00pm
Crawford & Power at 7:30pm
Marshall Tucker Band at 9:00pm
Concert Information
The 2023 Watermelon Jam will be a paid concert. Tickets can be purchased in advance online for a discounted price. Gate ticket prices will be increased.
Inside the concert area is the only place where alcohol may be purchased AND consumed. You must have a ticket to enter the concert area, therefore to enjoy the beer garden.
Seating is first come, first served for all areas, including Pit Passes and Handicap areas.
Bring a regular size folding lawn chair (most people bring the canvas, bagged style).
DO NOT bring oversized chairs or chairs with footrests or coverings (you will not be able to use them in the concert area).
The Pit Area is a standing area only. Absolutely no chairs are allowed in the Pit Area.
Blankets ARE NOT allowed for seating. Your ticket reserved the amount of space a chair would require (or standing room only). Blankets may not be spread on the ground to save more space
There are ABSOLUTELY NO REFUNDS. This concert may be cancelled due to the weather and not rescheduled. The Winterville Watermelon Festival is not liable or responsible for delays, cancellation or postponements of the Festival or events within the Festival due to inclement weather, war, government action, strikes or other matters beyond our control.
EVERYONE regardless of their age must have a ticket (this includes all age children). All tickets are one price.
Our general admission accessible seating area is designed to provide easy access for our Guests with Disabilities. Please note that the space is limited and in order to accommodate all our Guests, is strictly reserved for Guest and one companion. Seating is available on a first come, first served basis. All Guests must have a ticket.
More Details:
Upon entering the Pit Area, you will receive a wristband at the gate. You must wear the wristband in order to leave/enter (and must have it on inside the concert area at all times).
Your wristband becomes your Pit Area ticket once you enter the gate. Lost or stolen wristbands cannot be replaced.
We cannot be responsible for lost, stolen, washed or otherwise damaged tickets
Gates open at 5:00 pm
Umbrellas are not allowed in the concert area (in the event of rain, please bring a poncho, rain gear or like protection)
Unfortunately, WE CANNOT make concert attendees sit in their chairs during the concert.
There are several items not allowed into the Festival areas for the safety and enjoyment of those attending the concerts. The Winterville Watermelon Festival Committee, Inc. reserves the right to alter or change this policy at any time. Any guest violating any policy of the Winterville Watermelon Festival may, and can be, removed from the concert and festival areas.
Currently the items NOT allowed into the festival areas include, but are not limited to:
Outside food or drink of any kind – must be purchased inside concert area
Pets (service animals only allowed in concert area)
Video Equipment
Recording Devices
Laser Pointers
Drugs and contraband
Blankets for seating
Skateboards, Bikes, or Skates
Weapons/Knives
Kites or Frisbees
Coolers
Oversized Chairs
Chairs with footrests or overhead covers
Each entertainer has a different policy on meeting fans. Some will sign autographs in the entertainer merchandise area before or after their show. Some will offer access to their fan club members. We recommend visiting your favorite artists' websites to see if there are special instructions on how to meet the artist. The festival does not provide this service.
NOTE: All times are subject to change. The Winterville Watermelon Festival Committee, Inc. reserve the right to change times and performers for the festival. There are no refunds or exchanges. Disclaimer: We are not responsible for lost or stolen tickets. The Winterville Watermelon Festival Committee reserves the right to refuse admission or eject any person violating festival rules, local, state or federal law or whose conduct is deemed illegal, disorderly or offensive by the staff. Persons entering the Festival area are subject to search for contraband, alcohol, controlled substances, weapons, firearms, fireworks, video equipment and recording devices, which are expressly forbidden and subject to confiscation.