WINTERSALT MUSIC & ARTS FESTIVAL 2012 NEXT UP: SUMMERSALT (9/14/2013)

Friday, December 28, 2012 at 6:00 PM

-

Sunday, December 30, 2012 at 2:00 AM (PST)
Event Details
NEXT UP:
SUMMERSALT 2013
SEP 14th, 2013
GET TIX: SUMMERSALT2013.COM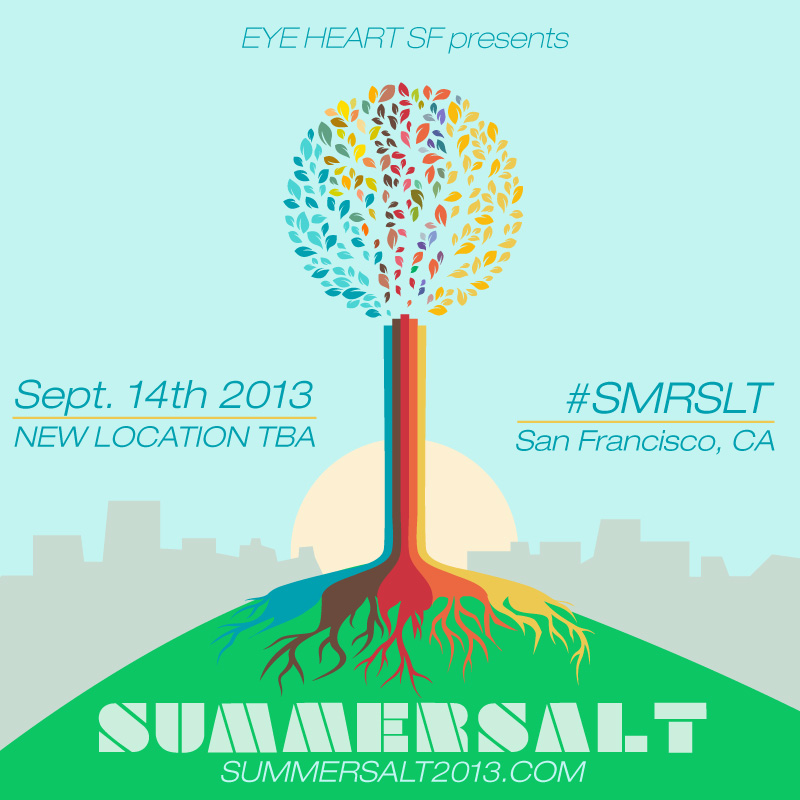 THANK YOU!!!!!!!!
SEE YOU in 2013...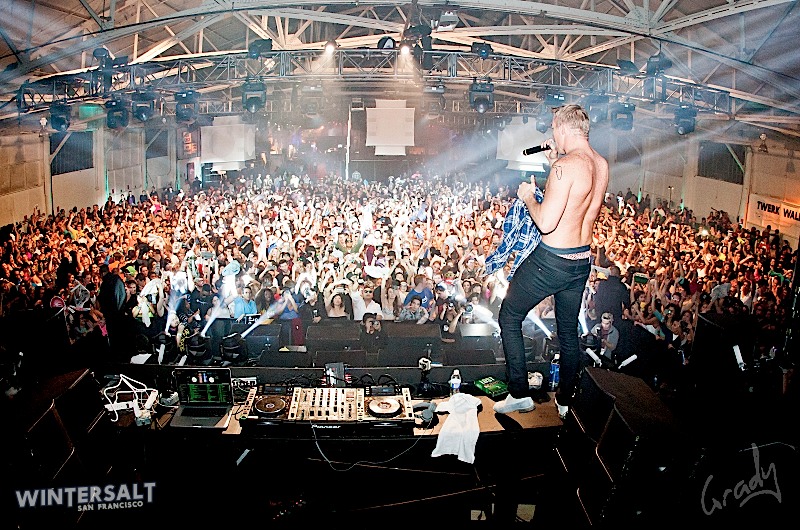 CLICK HERE FOR 2012 EVENT PHOTOS
---
Wintersalt Music Festival [Preview] -
NYE 2012 - San Francisco - 12/28 & 12/29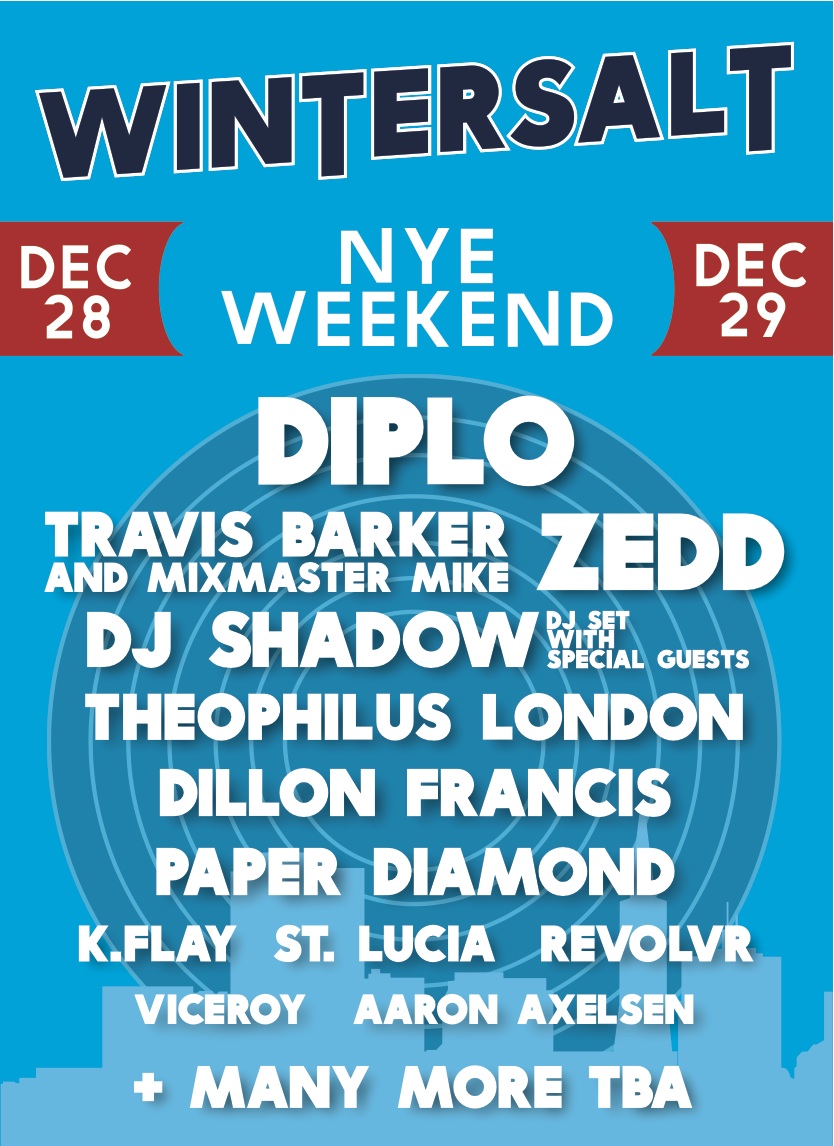 EYE HEART SF presents 
WINTERSALT
M u s i c  &  A r t s  F e s t i v a l 
------------------------------------------
WHEN:
New Year's Weekend
Friday, December 28th & Saturday, December 29th, 2012
WHERE: 
Inside Fort Mason's Festival Pavilion - San Francisco, CA 
WHAT &  WHO: 
18+ to enter /// 21+ to drink 
*Eye Heart SF presents two nights of world renowned talent in association with Blap Productions & Popscene. 

 *  *  *  *  *  *  *  *  *  *  *  *  *  *  *  *  *  *  *  *  *  *  *  *
"WINTERSALT: a global destination for festival lovers during the New Years weekend in San Francisco"
Wintersalt Fest at Fort Mason's Festival Pavilion will embody the culture, music, arts, and attitude that is the city by the Bay. Featuring two nights of world renowned talent including performances by Travis Barker, Mixmaster Mike, Diplo, Zedd, DJ Shadow, and more. With Eye Heart SF's award winning 4th Annual "Streets of San Francisco" NYE to follow, a few nights later on December 31st, Fort Mason is sure to be one of the most buzzworthy destinations on the planet over the 2012 New years weekend."
 *  *  *  *  *  *  *  *  *  *  *  *  *  *  *  *  *  *  *  *  *  *  *  *
Friday 12/28 Lineup: 
Travis Barker & Mixmaster Mike
+ MORE 
Saturday 12/29 Lineup: 
(Lyrics Born & Lateef)
Kflay
+ MORE 
  "LIKE"  ///  @INSTA ///  #WINTERSALT
::: Facebook - Wintersalt
::: Twitter - @WintersaltSF 
::: Instagram - @WintersaltSF 
Don't forget about NYE 12/31!!!!  
Eye Heart SF will be producing the
4th Annual "Streets of SF NYE" (21+)
12/31/12 at Fort Mason
featuring A-TRAK, DJ Craze and Sam Isaac.
Tickets: http://www.streetsofsfnye.com
***In an effort to give back to the space that has housed this great event for the past three years as well as many other unique events over the years, a portion of of your ticket purchase will go toward The Fort Mason Campus Revitalization Project. --- For more information see FAQ to the right. -->>
When & Where

Fort Mason Center
Buchanan Street at Marina Boulevard
San Francisco, CA 94123


Friday, December 28, 2012 at 6:00 PM

-

Sunday, December 30, 2012 at 2:00 AM (PST)
Add to my calendar
Organizer
FREQUENTLY ASKED QUESTIONS
EVENT IS FOR THE RESPONSIBLE 18+
***ALL SALES ARE FINAL***
***NO REFUNDS***
For more information on the event visit  http://wintersaltsf.com/about/faqs
WILL THE TICKET PRICE GO UP?
YES!!! It is recommended that you purchase tickets soon as prices are tiered and will continue to go up as the tickets sell out.
WHAT TIME DOES EVENT START?
Start times and set times will be announced as we get closer to the event.  The event will go til 2am. Early arrival is recommended. 
WHAT DO I GET WITH A VIP UPGRADE?
You must buy a General Admission as well as the VIP upgrade to enter the festival. VIP upgrades are for the 21+ only and allow you VIP entry into the event and access to the private VIP area back stage and a VIP Viewing area of the main stage as well as a private VIP bar. Additionally you will also have access to indoor VIP only bathrooms. VIP is for the 21+ ONLY.  Must have valid ID.
WHAT'S THE DRESS CODE?
No shoes, no shirt, no service. This event is indoors however it is a "Winter-salty" time of year, so plan accordingly.  
IS THIS FESTIVAL INSIDE OR OUTSIDE?
The event will features multiple indoor areas equipped with multiple beer gardens and different areas to hangout, plus a VIP only section. Guests will also have access to a large outdoor area overlooking the Bay that circles the building with amazing views of the Golden Gate Bridge, Bay Bridge, and Alcatraz.  Additionally there will be a seated dining area with service from local Food Trucks.
WHAT IS THE FORT MASON CAMPUS REVITALIZATION PROJECT?
With two million annual visitors, Fort Mason Center is being used in ways that were never intended when it was built over 100 years ago.  Fort Mason Center is solely responsible for all improvements to the buildings on its campus. These unique historic assets had formerly been the responsibility of the National Park Service. The centerpiece of the campus, Pier 2, which houses the Herbst Pavilion and the Cowell Theater, has been pushed to its physical limit. Without significant repairs and improvements, the future use of the structure is in jeopardy.  Significant philanthropic support will rehabilitate and enhance this well-used historic structure: 
- The theater and lobby will be refurbished, expanded, and made energy efficient. 
- The long bay front corridor will be converted into a gallery, with distinct areas or exhibit views, seating, and views of the bay and bridge.
- Enhancements to the pavilion itself, including radiant heat and hoists for exhibitions, will expand the range of uses.
- A new "mezzanine" event space will be added.
- The exterior of the building will be completely repaired and the historic fabric will be restored. 
The total cost of the project is $25 million, with $20 million already identified.   If you would like to have more information about the project, please contact the campaign office at 415-345-7561 or visit http://www.fortmason.org/support/campaign for detailed project plans.
HOW MUCH IS GOING TO HELP REVITALIZE FORT MASON'S CAMPUS?
Thanks for asking, at least $1 from every ticket sale will be going back to Fort Mason.  Our goal is to raise at least $10,000.