About this Event
The Omaha Kroc's free family event: Winterfest is coming again! This year we celebrate the Kroc's 10th Anniversary with The 2020 Kroc Winter Games! At the Kroc, our programs strengthen and grow families in mind, body and spirit, and our "Kroc Games," Winter Olympic -style, are sure to empower, excite and uplift! Throughout the day, parents visit each Kroc department, earn a sticker and enter to win 1 of 3 family prize packs. Kids: play 10 Olympic themed games and earn a GOLD medal! This amazing indoor facility is easy to love with our indoor waterpark, climbing treehouse, turf soccer fields and so much more.
Indoor Snowball Fights-back by popular demand!
Bounce houses
Snacks and crafts
Superheroes
Winter Olympic Training Ground Obstacle Course
Floor Hockey
Live Entertainment: singing, dancing, Omaha Street Percussion
ESPAÑOL:
El evento familiar gratuito de Omaha Kroc: Winterfest está de regreso! Este año celebramos el aniversario 10 del Kroc con Los Juegos de Invierno del Kroc, 2020! En el Kroc, nuestros programas fortalecen y crecen a las familias en mente, cuerpo y espiritu, y estos "Juegos de Kroc," en el estilo de los Juegos Olímpicos de Invierno, está seguro de empoderar, entusiasmar y levanter los ánimos! Niños que visitan 10 Juegos en estilo de Olimpiadas, ganan una medalla de ORO! Es fácil amar este maravilloso edificio con nuestro parque aquático, arbol de obstáculos, campo artificial, y mucho, mucho más!
Tirar Bolas de Nieve
Brincolines
Bocadillos y artesanías
Súperheroes
Curso de Obstáculos de Entrenamiento Olímpico
Hockey sobre el piso
Espectáculos en vivo: Bailarines, Cantantes, Omaha Street Percussion (Batucada)
Está emocinado? No puede esperar? Obtén sus "Pases Rápidos" ahora mismo. Muestra sus Pases Rápidos en la Puerta y recibirá acceso inmediato a la diversión!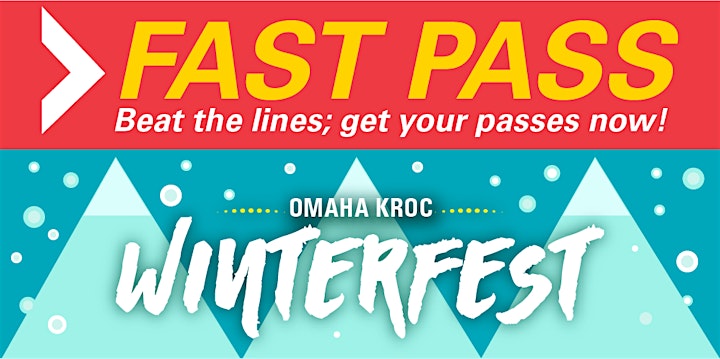 Can't wait? Beat the hassle of the long lines by getting your FAST PASSES right now! Show your family's FAST PASSES at the door and get IMMEDIATE access to the FUN!
Does your family want to enjoy the waterpark? Be sure to ADD-on your FREE swim tickets during check-out of your FAST PASSES. Swim slots are 1 hour in duration, and fill up fast. ONLY ONE SWIM HOUR TICKET PER PERSON, If more than one ticket per Winterfest attendee, you will be refunded.
Each family member needs a fast pass to enter Winterfest. If entering the Aquatics area, each guest also needs ONE swim ticket for Aquatics access.
ESPAÑOL:
Estás emocinado? No puedes esperar? Obtén tus "Pases Rápidos" ahora mismo. Muestra tus Pases Rápidos en la puerta del Kroc y recibirás acesso inmediato a WINTERFEST!
Tu familia quiere disfruta el parque acuático? Asegurate de agregar los pases para nadar gratis (Add-Ons) cuando te registres para los Pases Rápidas. SOLAMENTE UN PASE DE NADAR POR CADA PERSONA, si hay más que un pase para cada persona, REEMBOLSAMOS los pases extras.
No se olviden, cada persona necesita un Pase Rápido, y si quiere nadar, además necesita un pase de nadar también.