WinterBike 2013
When and where
Location
Kingdom Trails Touring Center VT
Refund Policy
Contact the organizer to request a refund.
Description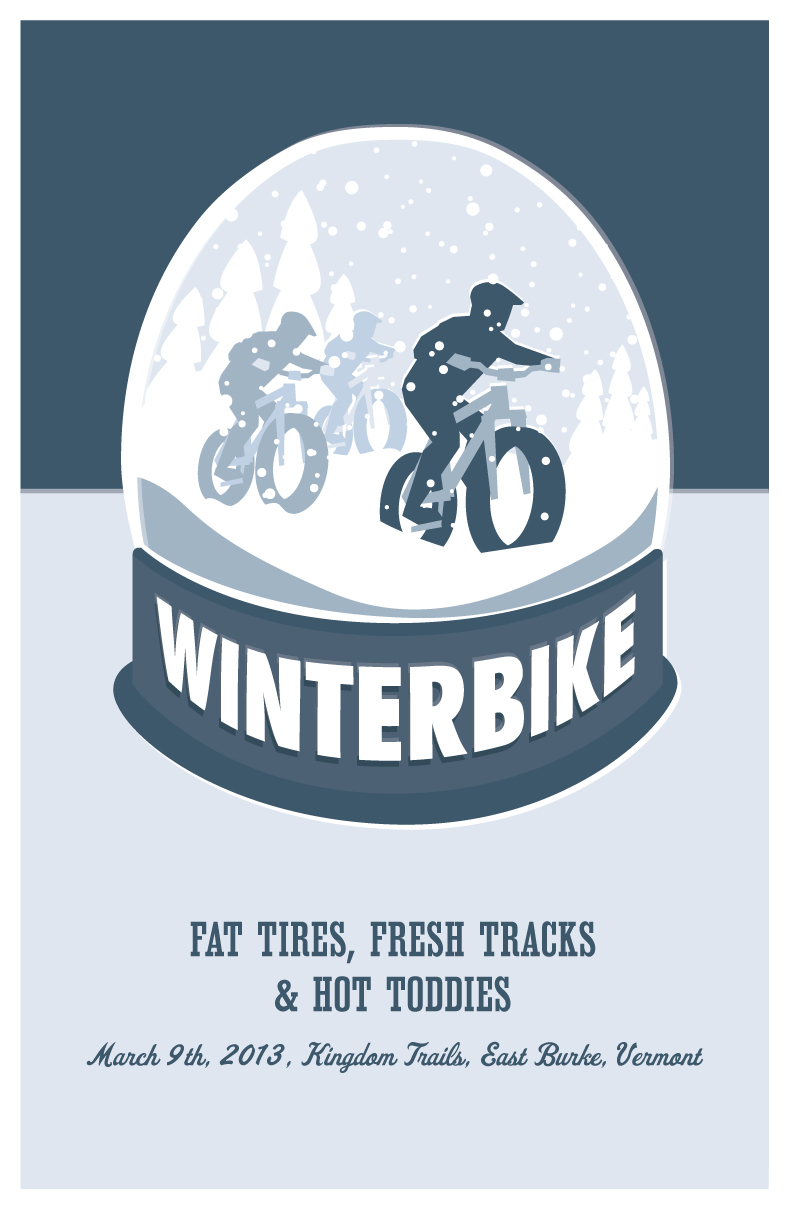 Join us for the second annual WinterBike celebration
In January, 2012, after slipping into a wintry, daylight-starved, cabin-fever-induced mania, an idea emerged: let's put on the largest winter group ride this State has ever seen!

That is exactly what we did and 100 of you crazy motor-floaters came out to brave the cold and ride with us. The trails were pristine and the fatbikes rolled with ease. We were so pleased. WinterBike was destined to be an annual event!

Ladies and gentleman, WinterBike is back!

Mountain Bike Vermont has partnered with Kingdom Trails once again and we are cooking up another wintry day of mountain bike revelry. On March 9th we will be gathering to lead a charge against Old Man Winter.

This year the hot toddies will be hotter, the doughnuts will be holier, and the single track lengthier.
In 2013 Winterbike includes a fatbike demo! Thanks to the generosity of our favorite bike shop trifecta, Village Sports, Iride, and East Burke Sports, we have arranged a fatbike demo. Yup, try before you buy. Borrow a fat tired steed from one of these fine shops and ride it like you stole it! Just bring your photo i.d. or a Rolex to leave as collateral.
Group rides for all ability levels will be guided around groomed courses at the Kingdom Trails touring center. And not to worry, we have contingency plans in place for all weather conditions, no matter if it's a "late Indian Summer in March scenic dirt road loop alternative route" or a "blizzard of 2013 we're all gonna die but first we're gonna watch these bike videos and drink hot toddies in the lodge day"...we've got you covered.

Ideally, we will be utilizing the previous week's sled dog race course and up to 10 miles of packed singletrack, riding a glorious loop that can take us as far as 20 miles!

Get ready race fans, the WinterBike 6X (six man downhill snow cross race) presented by MTBVT and ideRide also returns with a vengeance. Knight Ide will be hand sculpting a course and we guarantee more epic high flying snow sliding action. Will Brooke Scatchard return for a repeat of last years skull crushing victory or will one of the skinny tire boys show the fatbiker what's up?

So, to all those souls willing to brave the elements, we're telling you once again, join us!
More details: MTBVT.com, Kingdomtrails.com and our Facebook event page.
See you on the crusty trails.