Sales Have Ended
Ticket sales have ended
Ticket sales have ended online, but will be available at the door based on capacity.
Sales Have Ended
Ticket sales have ended
Ticket sales have ended online, but will be available at the door based on capacity.
Themed Formal Art Basel Eleganza! -VIP Cocktail Hr (Food & Drink) -Bottle Promos -DJ w/ Laser/LED Display -Live Experiential Entertainment
About this event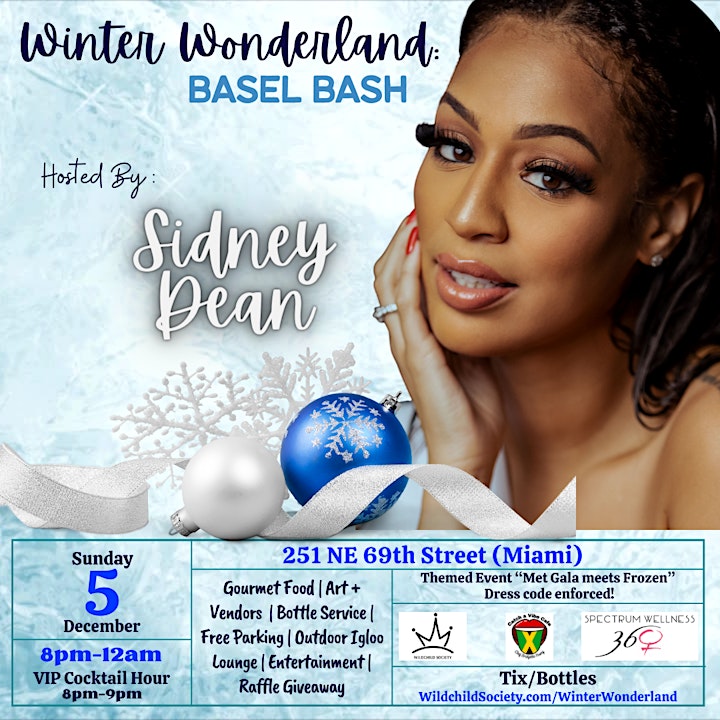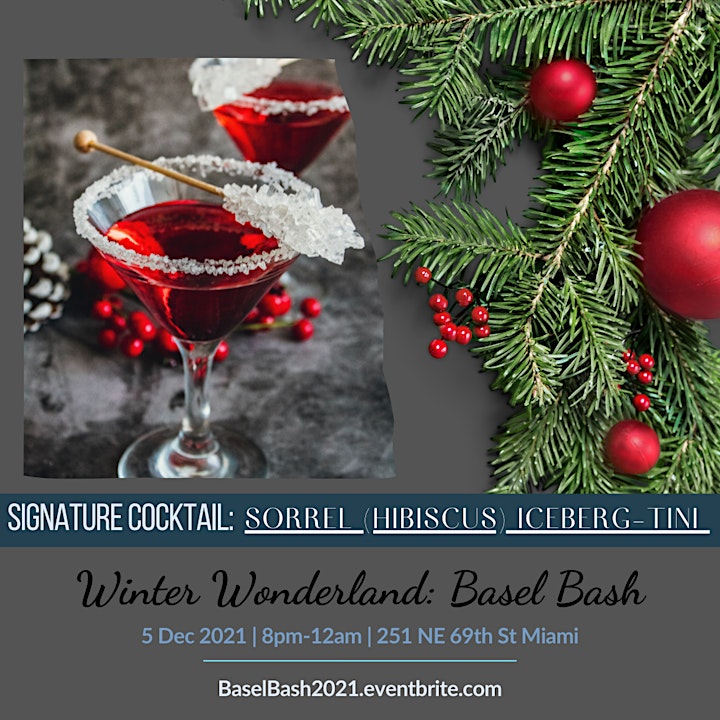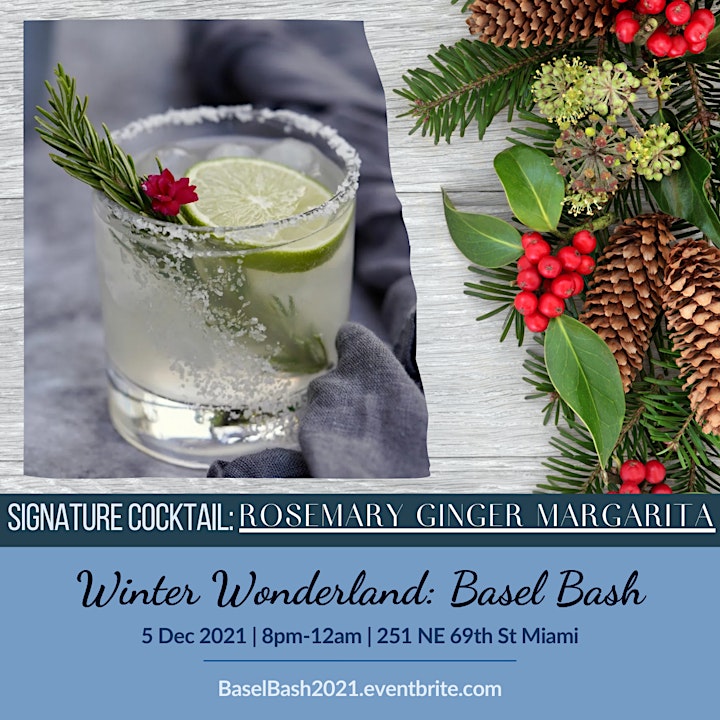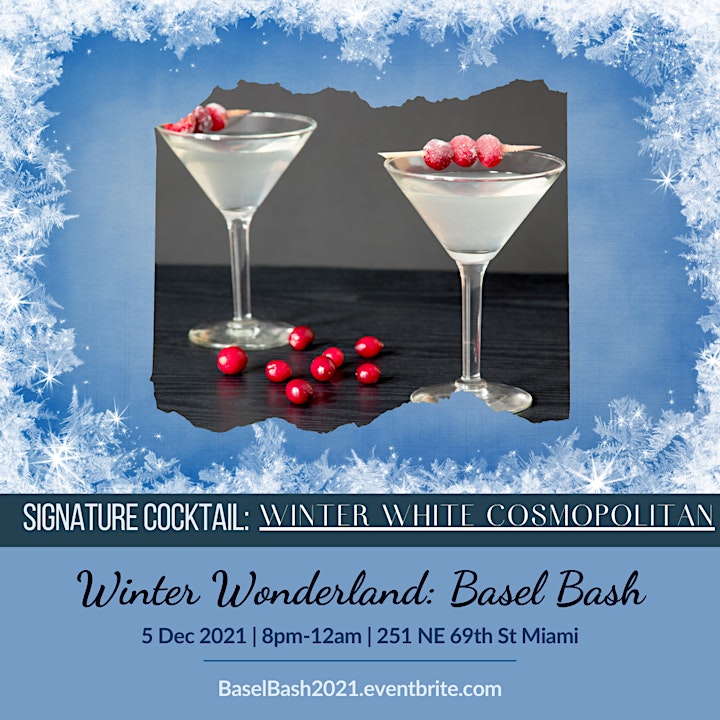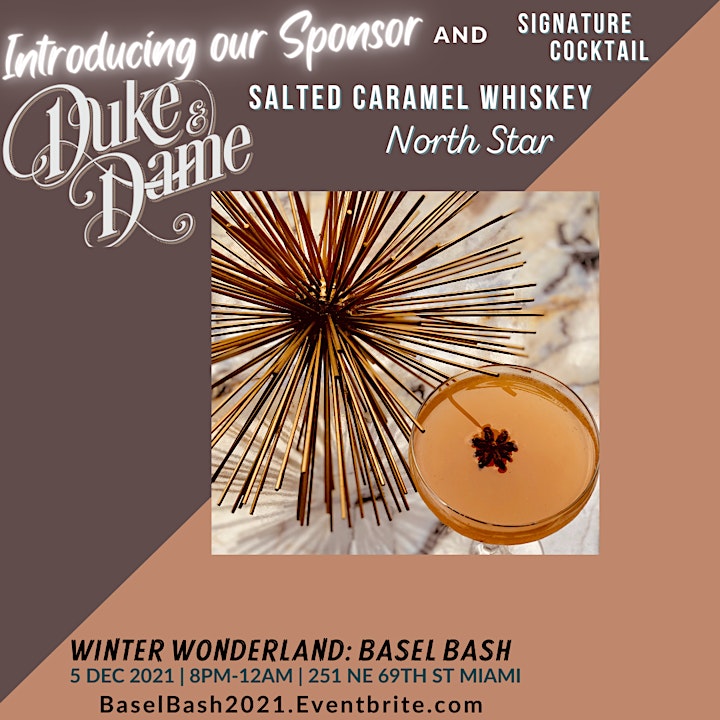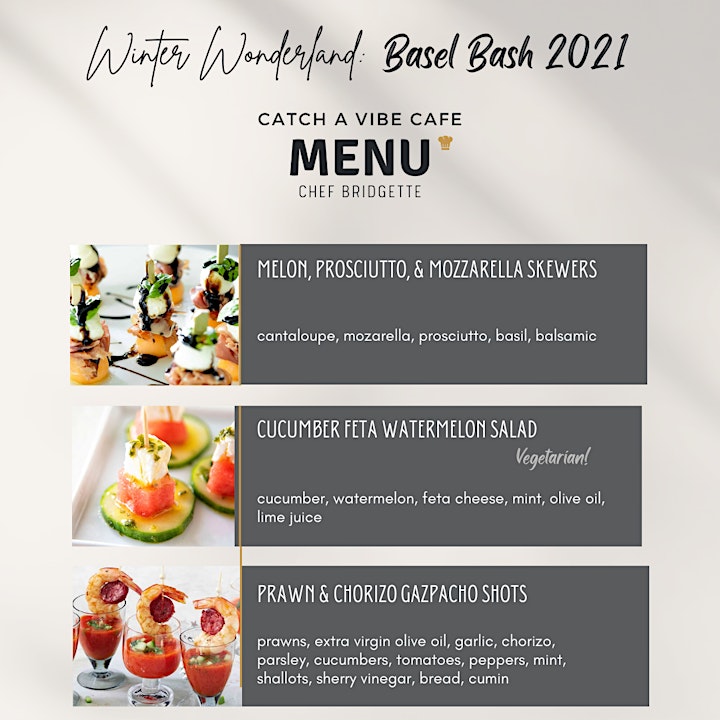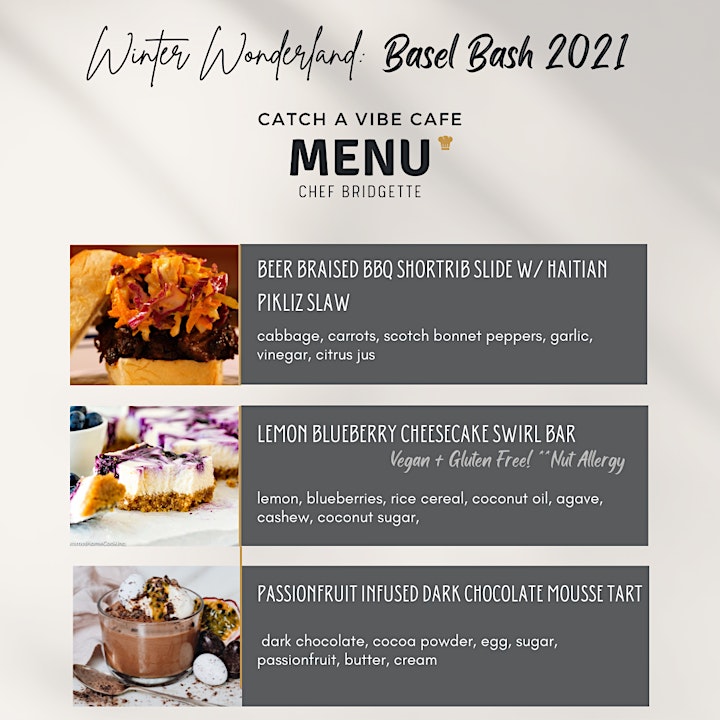 Basel Bash is a movement! Basel is THE hottest weekend of the year, and now that it's back (despite the ongoing pandemic)-- we believe in carving out a space and experience that is more sophisticated, more intentional, more stimulating, and more inclusive than the typical Miami experience.
​ Our venue, its logistics, and aesthetic have been carefully constructed with the guest in mind. We want our guests to feel like family- whisked away to a far away place where the outside world falls away to the sound of the bassline!
For your comfort:
Free and secured parking
Dedicated outdoor smoking area
​Contactless payment at door and bars
Intelligently designed social-distance comfort level system using wristband
Sanitation Stations throughout venue helping to prevent covid transmission
Individually packaged socially distanced hors d'oeuvres
Food & Beverage
Chef Bridgette of Catch a Vibe Cafe is a Michelin-trained chef and is crafting a delectable and thoughtful menu that will harmonize with our beverage list. Visit our website for the menu.
Our bar will serve top shelf liquor, beer, bubbles, and wine, but we specially crafted signature cocktails to compliment and embody the spirit of the celebration.
Music
Let our DJ take you on a journey with an open format (Top 40, Hip Hop. House, Mashups, Latin, Afrobeats, Reggae) that has a little something for everyone and is guaranteed to make you dance! Accompanying the music are state-of-the art nightclub lasers and LED panels that will elevate your sensory experience!
Live Entertainment
Feast on the interactive and captivating delights we have in store for you- giving you high quality art and entertainment from local artists who appreciate your patronage! Artist & Activation lineup coming soon! ​
Design
Our beautiful & contemporary Little Haiti art gallery provides the opportunity to create an inspired and ethereal aesthetic, and we plan on taking full advantage! Wildchild Society will transport you to a place where winter is actually cold, and the drinks are colder!
____________________________________________
DETAILS
This event is intersectional and aspires to ascend above the discrimination and mistreatment experienced by marginalized people in Miami nightlife, and in particular on mainstream weekends like Art Basel. This is a reclamation of our space and an affirmation of not only our self-acceptance, but also the acceptance of others!
-Formal + Fun Fashion-
The required dress code is formal (dresses, blazers, & collared shirts), and the theme is "Winter Wonderland"-- so think "Met Gala" in a blizzard! Whimsical attire & costumes/cosplay welcome, but ABSOLUTELY no streetwear (sneakers, jeans, mini-skirts, leggings, shorts, etc.) NO EXCEPTIONS so plan accordingly!
PRICING
-General Admission includes:-
entry to Winter Wonderland: Basel Bash 2021 from 8pm-12am. (There is a VIP cocktail hour from 8pm-9pm with upgraded VIP tickets that offers complimentary gourmet h'ors d'oeuvres & an OPEN Bar featuring our signature cocktails. General Admission ticket holders may arrive between 8pm-9pm, but will have to pay for any food & beverages they consume.)
ONE complimentary signature cocktail
raffle ticket for a chance to win sponsored prizes
-VIP Ticket Includes:-
Dedicated & Expedited entry to Winter Wonderland: Basel Bash 2021 from 8pm-12am.
Access to the VIP cocktail hour from 8pm-9pm that offers complimentary gourmet h'ors d'oeuvres & an OPEN Bar featuring our signature cocktails. (See menu)
2X raffle tickets for a chance to win sponsored prizes
-Bottle Service PACKAGES-
ONE COMPLIMENTARY BOTTLE of Bubbly with each Liquor Bottle Sold!
Small Section/4 people max ($250 min= 1 bottle of liquor or 2 bottles of champagne) + ONE FREE Bottle of Bubbly!
Large Section/8 people max ($500 min= 2 bottles of liquor or a combination of liquor and champagne)+ TWO BOTTLES of BUBBLY!!
Only TREE Sections Available - THEY WILL SELL OUT!
Includes:
Rapid entry to Winter Wonderland: Basel Bash 2021 from 8pm- 12am
Access to the VIP cocktail hour from 8pm-9pm that offers complimentary gourmet h'ors d'oeuvres & OPEN Bar featuring our signature cocktails. (See menu)
4x raffle tickets for a chance to win products & services from our sponsors.
Complimentary Bottles of Prosecco for every bottle of Liquor table (1 bottle for the small table, 2 bottles for the large table.)
20% Tip will be added to Bottle Service Bills (either at time of online sale or at the venue).
https://www.wildchildsociety.com/winterwonderland.html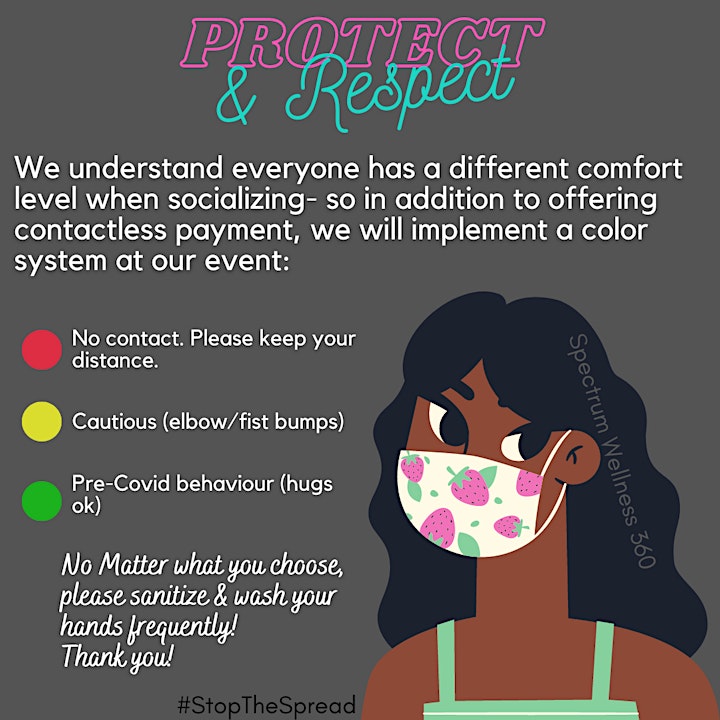 DISCLAIMERS:
By using this ticket, ticket holder, on his/her own behalf (collectively, "Holder") agrees to the following terms and conditions (the "Agreement") which contains a MANDATORY ARBITRATION AGREEMENT And A class action waiver. Wildchild Society ("Business") may change the terms of the Agreement at any time, without notice, and Holder's use of this ticket after such change is posted will mean that Holder accepts such change(s). Holder is solely responsible for reading and understanding the Agreement before using the ticket(s).
Except as otherwise specifically provided for herein, this Agreement shall be governed by and construed in accordance with Florida law, without giving effect to conflict of laws principles.
Holder agrees that: (a) Holder will not transmit or aid in transmitting any information about the Event to which this ticket grants admission or any entertainment, attractions, pre-Event, post-Event or during-Event activities, promotions or competitions offered in connection with the Event (collectively, the "Event"), including, but not limited to, any account, description, picture, video, audio, reproduction or other information concerning the Event (collectively, the "Event Information"); (b) the Business is the exclusive owner of all copyrights and other proprietary rights in the Event and the Event Information; and (c) the Business, Luxury Car Rentals "Venue"), Spectrum Wellness 360 "Mother Company)") and each of their respective past, present and future parent, subsidiary, affiliated and related entities, any entity which, now or in the future, controls, is controlled by, or is under common control with the Mother Company or the Venue and the owners, general and limited partners, shareholders, directors, officers, employees and agents of the foregoing entities, and certain current and future sponsors and licensees will have the unrestricted right and license to use Holder's image, likeness, name, voice, comments and/or other proprietary or public rights in any live or recorded broadcast, telecast, photograph, video, audio, audiovisual and/or other recording taken in connection with the Event or other transmission, distribution, public performance, or reproduction in whole or in part of the Event, for all purposes, worldwide, in perpetuity, and in any and all media now or hereafter known, without compensation. The rights granted herein to the Business, Mother Company, & Venue s are assignable. Holder is subject to all rules and policies relating to the Event, this ticket and the venue which are posted at www.WildchildSociety.com/WinterWonderland.
Holder (i) consents to allowing the Business to inspect Holder's person and/or any bags, clothing, or other articles for security purposes, whether by walk-through metal detection, handheld metal detection, bag checks or otherwise, and (ii) acknowledges and agrees that Holder may be denied entry to or ejected from the Event and/or the Venue if Holder is in possession of any item or object that the Business considers potentially dangerous, hazardous, inappropriate and/or injurious to other patrons, and any prohibited items may be confiscated. Holder consents to security searches and/or screening of Holder and waives any claims that Holder might have against any of the "Released Parties" (as defined herein). Holder acknowledges that the Mother Company, including without limitation the Business, have no liability for Holder's person or property.
The Business reserves the right to terminate the license granted by the ticket(s) by tendering to Holder the purchase price printed on the ticket(s). Further, the Business reserves the right, without refund of any portion of the purchase price, to revoke the license granted by the ticket(s) and refuse admission or eject any person (a) who violates the terms of this Agreement; (b) who appears to be or is intoxicated; (c) whose conduct is deemed by the Business to be improper, disorderly or unbecoming; or (d) who uses vulgar or abusive language.
DISRUPTING AN EVENT AND/OR ATTEMPTING ANY PHYSICAL CONTACT WITH AN EVENT PARTICIPANT IS A CRIME PUNISHABLE BY FINE AND/OR IMPRISONMENT. VIOLATORS MAY BE PROSECUTED TO THE FULLEST EXTENT OF THE LAW. SMOKING IS PROHIBITED INSIDE THE Venue.
ALL EVENT TIMES ARE SUBJECT TO CHANGE. THE Mother Company, INCLUDING the Business, ARE NOT RESPONSIBLE FOR LOST, STOLEN OR DUPLICATED TICKETS.
Holder, on Holder's behalf and on behalf of any other any person accompanying Holder to the Event for whom Holder retains a ticket to attend the Event with Holder (each of whom Holder represents have authorized Holder to act on their behalf in accepting the applicable ticket terms) ("Accompanying Party"), agrees to comply with all terms and conditions presented at the time of purchase not specifically enumerated herein, including without limitation (1) terms that mandate or prescribe the quantity of tickets available to be purchased, (2) additional requirements regarding any Accompanying Party, and (3) terms regarding the resale or transfer of tickets.
Holder assumes all risk associated with the purchase of the ticket(s) from anyone other than the Business or their designated agents. The ticket(s) may not be used for advertising, promotion (including contests and sweepstakes), or other trade or commercial purposes, without the express written consent of the Business. No offer to resell or resale of the ticket(s) is permitted to the extent prohibited by any applicable federal, state or local law or regulation. Any resale referenced above will invalidate the license granted by the ticket(s). The ticket(s) may not be resold or offered for resale within the interior premises or on the exterior premises of the Venue at which the Event is to be held or surrounding areas, including parking lots (such interior and exterior premises and surrounding areas, including parking lots, being collectively referred to herein as the "Venue"), and any person who sells or offers the ticket(s) for resale at any price at the Venue will be removed from the premises and may be prosecuted.
This ticket is valid only for the date and time specified on the ticket-face, except as otherwise approved by Wildchild Society.
This ticket is good only for this particular Event and no part of the purchase price will be refunded by reason of the failure of Holder to use it for this Event.
Should the Event not take place or otherwise completed, this ticket will admit the Holder on the date or dates on which such Event is rescheduled or resumed, as may be announced in the sole discretion of the Business. No part of the purchase price will be refunded by reason of the failure of the Holder to use this ticket on such rescheduled or resumed date or dates.
COVID-19 IS AN EXTREMELY CONTAGIOUS DISEASE THAT CAN LEAD TO SEVERE ILLNESS AND DEATH. AN INHERENT RISK OF EXPOSURE TO COVID-19 EXISTS IN ANY PUBLIC PLACE REGARDLESS OF PRECAUTIONS THAT MAY BE TAKEN. HOLDER, ON HOLDER'S BEHALF AND ON BEHALF OF ANY ACCOMPANYING PARTY, AGREES TO (1) ASSUME ALL RISKS ASSOCIATED WITH COVID-19 AND OTHER COMMUNICABLE DISEASES, AND (2) COMPLY WITH ALL RELATED HEALTH & SAFETY POLICIES OF THE BUSINESS AND THE VENUE.
Holder, on Holder's behalf and on behalf of any Accompanying Party, acknowledges and agrees to comply with (1) all relevant policies and protocols issued by the BUSINESS and/or the VENUE including, without limitation, any policies and protocols regarding security, bags, fan conduct and health and safety, currently posted at www.WildchildSociety.com/WinterWonderland, all of which, due to the evolving nature of the COVID-19 pandemic, may continue to be updated from time to time between purchase of this ticket and the Event date, and (2) all current guidance of the Centers for Disease Control and Prevention and all applicable laws and policies of federal, state, city and local authorities.
Organizer of Winter Wonderland- Basel Bash 202`1
Wildchild Society is a space for the rebel heart-- a confluence of social and cultural resources for the individual seeking to manifest positive, strength, inspiration, and success in all aspects of life. This website is a melting pot for humans from all walks of life seeking a fresh, honest, ergonomic, and experience-driven approach to modern society and finding cultural and social stimulation in it. Wildchild Society showcases the talent and success of local artists, entrepreneurs, businesses, and professionals, and we also curate events where like-minded individuals can exchange ideas and information, or simply have a great time.