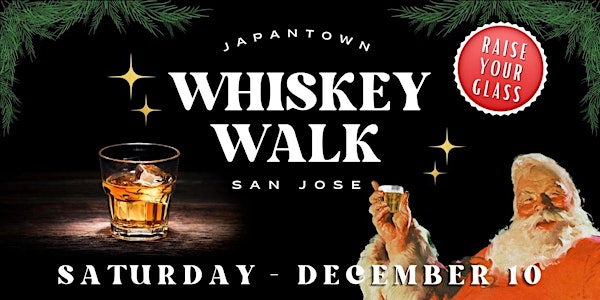 Winter Whiskey Walk
Join us for our first ever Whiskey Walk in Japantown San Jose!
When and where
Location
Japantown 167 EAST TAYLOR STREET SAN JOSE, CA 95112
About this event
With our first ever Whiskey Walk we are featuring various whiskies with unlimited tastings at 3 locations.
VIP Tickets now available! Access the event 1 hour before the general public and skip the line at checkin and have 4 hours of total tasting experience from 2pm - 6pm. The VIP hour from 2pm - 3pm is at Jack's only and will include specialty whiskies exclusively for the VIPs and complimentary pizza from Jtown Pizza.
General Admission Tickets are only for 3 hours of tasting from 3pm - 6pm.
Early Bird Tickets (before Dec. 1) - General Admission $95; VIP Admission $125
Week of the Event Tickets (Dec. 1 - 9) - General Admission $105; VIP Admission $135
Day of event (if event is not sold out) - General Admission $115; VIP Admission $145
General Admission Ticket includes unlimited samples and custom glass. For more information visit whiskeywalk.org or like us on Facebook at The Beerwalk. @thebeerwalk #beerwalk #whiskeywalk
VIP check-in 1:30pm
VIP tasting 2pm - 3pm
General Admission check-in 2:30pm
General Admission tasting 3pm - 6pm
Check-in Location: Jack's,167 E. Taylor Street, San Jose, CA 95112
Check-in Time:
VIP Admission 1:30PM to 5:00PM
General Admission: 2:30PM to 5:00PM
Tasting Locations: 7 Bamboo Lounge, Jack's Bar & Lounge, Jtown Pizza Co.
LOCATIONS & WHISKIES:
JACKS will host Highland Park, Wyoming, Noble Oak
JTOWN PIZZA will host E.H. Taylor, Blanton's, Sazerac, Buffalo Trace, Eagle Rare, Benchmark Old No 8, and Weller, 1792
7 BAMBOO will host Jim Beam, Hibiki, Makers Mark, Knob Creek and Legent
To benefit the Japantown Business Association.
The Beerwalk (Whiskey Walk) was created beyond the idea of sampling great bee, but rather to provide the outlet for our community to come together to explore the neighborhoods and small businesses, which help keep the Bay Area great. Tickets can be purchased at whiskeywalk.eventbrite.com
Note: ONLY TICKET HOLDERS WILL BE ADMITTED INSIDE THE PRIVATE TASTING AREAS INSIDE EACH VENUE. Kids, including babies, are not allowed. Dogs are not allowed. This is at the discretion of each pouring location and the city. Designated Drivers will not be admitted inside the private tasting areas, but will have access to the general public areas of each venue. The charge will show up as The Beerwalk on your bank statement.
The Beerwalk is a 501c(3) non-profit organization.
Disclaimer: ALL SALES ARE FINAL - NO REFUNDS. Rain or Shine. LAST POUR AT 5:45PM. Drinks must be consumed inside the tasting locations. We do not guarantee that everyone will make it to every tasting location. All distilleries and participating businesses are subject to change. Signature glassware is not guaranteed. We reserve the right to refuse service to anyone. Please drink responsibly.