Event Information
Refund policy
Contact the organizer to request a refund.
Eventbrite's fee is nonrefundable.
Celebrate our community of yoga studio partners with FREE classes 12/4 -12/5! Meet our amazing studio partners and take a class with them!
About this event
Celebrating the last month of 2021 with our offerings from our studio partners! Join us on Dec 4 and Dec 5th online for this free celebration of the NY YOGA LIFE studio partners.
Want to support NY YOGA LIFE? purchase a swag bag ticket with amazing products from:
and a copy of NY YOGA LIFE's newest issue themed BODY will be included!
Full Schedule
Saturday, Dec 4th:
In this gentle restorative class, we'll bring down the energy and ground ourselves through gentle movement, meditation, and relaxation. Enjoy a relaxing flow catered to everyBODY. Through breathing techniques, gentle movement, and deep relaxation we will create a bridge between our physical selves and higher selves, or Paramatma. The goal is to reach a place of peace and a deep understanding of who we are, and why we are here. Recommended props: Bolster(or form pillow), 2 blocks, a blanket and a washcloth or eye cover.
10:00am: Absolute Yoga Studio: Yoga for a Vibrant, Healthier and Happier You
Aligned Flow to bring out your inner brightness, move your body in a healthy way and quiet the mind to find peace and happiness
Yoga with Helen. Settle, in, breathe, move with intention and go at your own pace. 50 minutes of yoga with alignment and movement. All are welcomed. Modifications offered.
2:00pm Moonwake: Vinyasa with Katie
Vinyasa with Katie is a moderately-paced flow class focusing on strength, alignment, stability, breath, and intention. Katie begins class with a centering practice, taking time to arrive, find your breath, and maybe set an intention. She'll offer an affirmation that you can invite into your practice if it feels right to you. Katie is a trauma-informed yoga teacher who aims to make her classes feel both comfortable and playful.
3:00pm Sonic Yoga: Winter Yoga Nidra
Join Mitch from Sonic Yoga for a Winter Yoga Nidra practice. Yoga Nidra is a guided journey to healing the inner self. It invites us inward to experience the inner light that is always shining.Together we will relax into a healing Yoga Nidra practice to calm the nervous system, move through the darkness and tap into the inner light of our souls, releasing the comfort of the unlimited bliss within.
Sunday, Dec 5th:
9:00am: Yoga Mandali: Bhakti Vinyasa Flow
All-Levels Vinyasa Flow led by Beth Beaton Mausert with mantra music to open the heart, mind & connect to the soul!
This inspiring class involves asana (yoga postures) and meditation practices accessible to all levels of experience. The movement portion builds a balance between strength and range of motion, releases tension, increases circulation, and prepares the body for sitting, while guided meditation brings us into a calm awareness and concentration, returning us to a more harmonious state. All levels welcome.
1:00pm Karma Kids Yoga: Yoga & Essential Oils Spa Hour
Craft your own essential oil based beauty products! We'll make a face mask, body butter, lip balm and sugar scrub! Class will end with gentle stretches and deep relaxation
Combining gentle movement and stretching with breathwork (pranayama) and meditation, we will explore how these practices can be incorporated into your everyday wellness routine to manage stress.
SWAG BAG INCLUDES ITEMS FROM OUR AMAZING SPONSORS: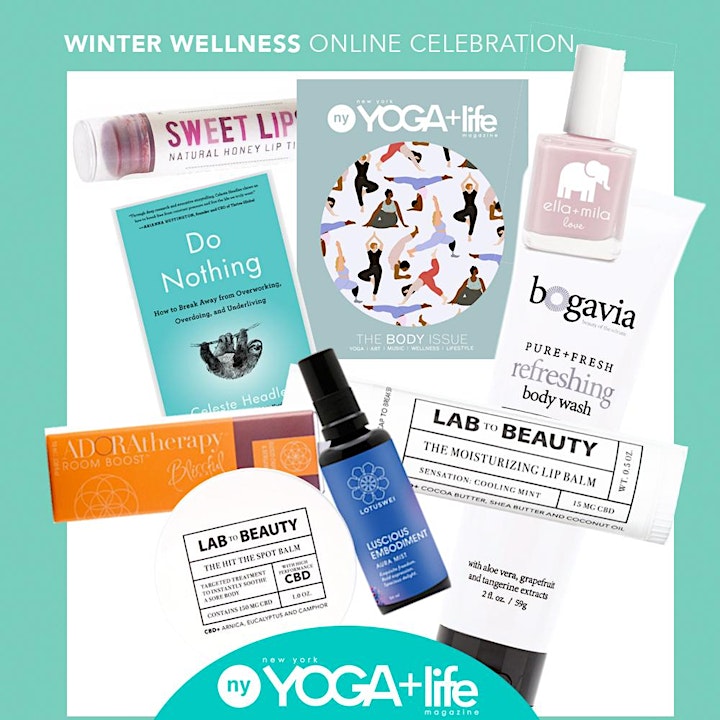 Swag Bag includes:
Print copy of our BODY issue
Products from Lab to Beauty:
Lip balm: The Moisturizing Lip Balm is the best lip balm ever. Super-sized and mega-moisturizing, it is formulated with anti-inflammatory CBD, Cocoa Butter + Coconut Oil to instantly nourish and soothe your lips. The Moisturizing Lip Balm delivers minty-fresh cooling and provides instant plumping + hydration to leave your lips incredibly soft and smooth.
Hit the Spot Balm: The targeted treatment that instantly helps soothe a sore body, hands, and feet. Praised for its non-sticky user experience, the Hit the Spot Balm is whipped-to-perfection and has effortless absorption to provide quick cooling relief to areas in need. It is powered by CBD, Arnica, Eucalyptus, Wintergreen, and Camphor + it deeply nourishes your skin with Shea Butter, Cocoa Butter, and Coconut Oil.
Products from Bogavia:
Hydrating body butter travel size:This plant powered, super lush body butter weightlessly hydrates your skin with a nourishing blend of Aloe Vera, Rose Hip, Tangerine, Vanilla, Shea Butter and Cocoa Butter. Antioxidant rich and replenishing, each use instantly quenches your skin while providing deep repair. Improves skin's tone and texture, leaving skin soft and silky + glowing results.
Refreshing body wash travel size: This plant powered, antioxidant rich body wash effectively purifies and renews your skin. Super silky and hydrating, each use replenishes your skin with a nourishing blend of Aloe Vera, Grapefruit, Tangerine, Vanilla and Shea Butter. Leaves skin with a beautiful glow.
Nail polish from Ella & Mia:
Let us choose a fun color for your from their nailpolish collection that is: Vegan
Animal cruelty-free
Quick Dry
Chip Resistant
Made in the USA
Waxing Kara Sweet Lips Honey Lip Balm Tint:
Featured on Refinery 29! Sweet Lips Honey Lip Tints are made with 92% organic ingredients including Fair Trade cocoa butter, argan oil, honey, and beeswax to provide soothing moisture to the lips. Tinted with minerals from the earth and flavored with organic natural citrus flavors.
Paperback book: Do Nothing by Celeste Headlee
In Do Nothing, award-winning journalist Celeste Headlee illuminates a new path ahead, seeking to institute a global shift in our thinking so we can stop sabotaging our well-being, put work aside, and start living instead of doing. As it turns out, we're searching for external solutions to an internal problem. We won't find what we're searching for in punishing diets, productivity apps, or the latest self-improvement schemes. Yet all is not lost—we just need to learn how to take time for ourselves, without agenda or profit, and redefine what is truly worthwhile.
Aura mist from Lotus Wei:
Flower essences combined with essential oils, infused in pure water. MAGNIFIES: Feeling exotic, beautiful & exquisite; discovering beauty in being different; a sense of the profound in the silence; coming out of your shell; setting healthy boundaries; being your fullest and fiercest self; the ability to rest; a sense of freedom; a desire to let loose and embrace everyday magic; creativity & help birthing new ideas; free expression and a liberating energy; fertility and balance within female reproduction.
and more surprises!
Date and time
Location
Refund policy
Contact the organizer to request a refund.
Eventbrite's fee is nonrefundable.