Description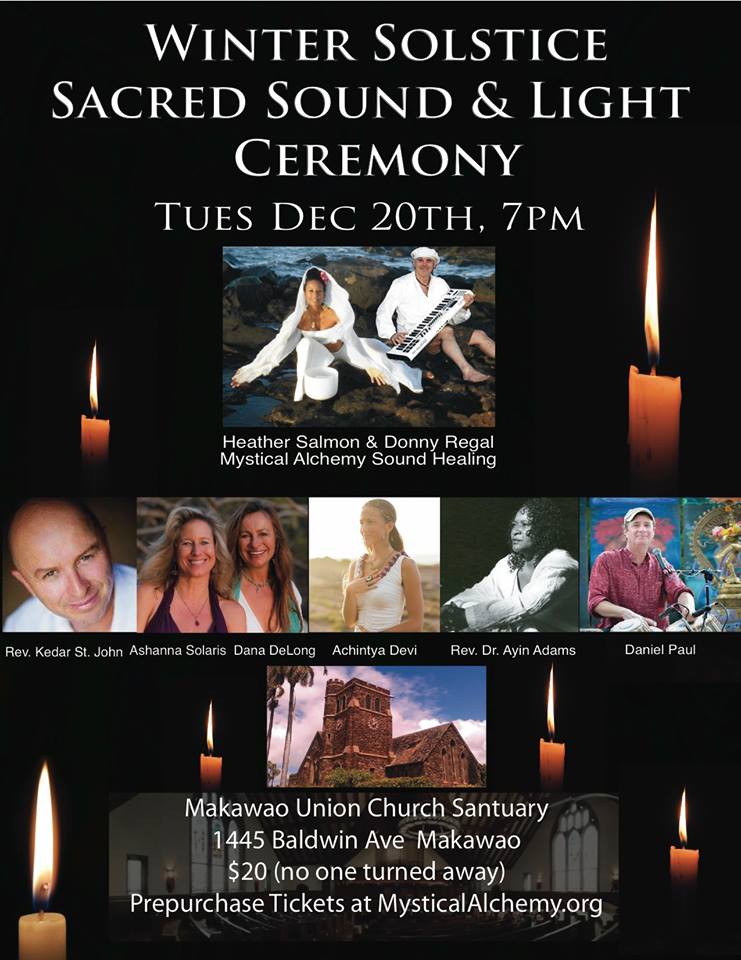 The Winter Solstice marks the longest night and the end of a year's solar cycle in the Northern Hemisphere! Then three days later on December 25th the Light begins to get longer upon the Earth!

This time has long been honored as a sacred and holy time as the return of the light brings the promise of new life, possibility and illumination! Join us for a very special Community Ritual with sacred music, sound healing, crystal singing bowls, anointings, sacred cacao offerings and a Divine Light Transmission.

Bring your year to completion in a sacred way in sacred community! Let go of all that is no longer serving and align with our divine purpose and highest potential at this time of new beginnings.

Mystical Alchemy Sacred Sound Healing
Heather Salmon ~ 432 hz Crystal Singing Bowls
Donny Regalmuto ~ Keyboards & Vocals

With Special Guests
* Rev. Dr. Aiyn Adams
* Rev. Kedar St. John
* Achintya Devi
* Dana DeLong
* Ashanna Solaris
* Daniel Paul
& Friends ...

Tuesday, December 20th @ 7pm
Makawao Union Church SANCTUARY
Suggested Donation $20
(no one turned away)
Online ticket sales end at 12 noon on December 20th. After that, payment is accepted at the door!
Children Welcome

Volunteer Assistance Needed. Please email BlackSwanTemple@gmail.com or call 310-415-8821

A Black Swan Temple Production
In collaboration with ...
MysticalAlchemy.org
AyinAdams.com
Temple Of Peace
Goddess Rising Sisterhood

Thank you for your generous donations to in support of this community event produced by the Black Swan Temple. Our mission to inspire sustainable, ethical, equitable and peaceful ways of living and being on Earth through education, the sacred arts and entertainment. The Black Swan Temple is tax exempt under Section 501(C)(3) of the U.S. Internal Revenue Code as project of Inquiring Systems, Inc. (ISI), 501(c) (3) nonprofit corporation – Implementing ethical social change through fiscal sponsorship and management services".