Winter Solstice Mini-Retreat: Self-Care for Busy Women

Tuesday, December 4, 2018 at 6:30 PM

-

Friday, December 28, 2018 at 6:30 PM (PST)
Event Details
Winter Solstice Mini-Retreat: Self-care for Busy Women

Greetings, Sisters!
As the holidays approach and the current events weigh on our minds are you needing a soft space to land, to nurture your tender heart, and pause for a deep breath or two?
Do you find the holiday season continually pulling you outward when you're truly feeling a natural inclination to turn inward?
Does the holiday crush of endless activity mean you are not able to take the time to honor the deepest, most introspective time of the year - the Winter Solstice?
Are you finding yourself wishing you could press pause, settle yourself and breathe a welcome sigh of relief as you release tension and connect with the essence of the season?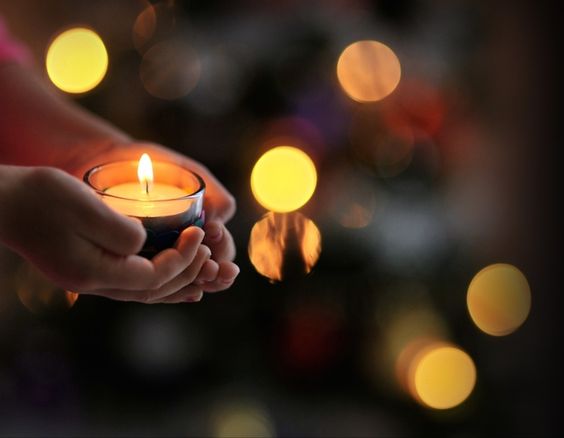 Join me for three mini-retreats - "Self-Care for Busy Women." You'll take time out of your busy life to enjoy these quiet interludes, focusing on your deepest desires and soul's whispers.
These calls will take place before, near, and after the Solstice date of Dec 21, to mark the turning of the light. First, I'll guide you to take time to gently review the year that has gone by, then we will let go and practice gratitude, and finally we will welcome the new year with a blessing and loving intention. 

We'll align our three sessions with the phases of the moon and the sun, as they both draw to a close and begin their cycles again into the new year.
___________________________
As the seasons turn toward the deepest hour of the longest night, we are called to settle into a slower pace.
Is all this activity too much for you to really enjoy - especially at this time of year which calls for rest, reflection and renewal?
Are you craving respite, retreat and some quiet time so you can find your center again?
Are you needing the balance of the deepest season, to nourish your spirit as you continually care for others?
While so much activity is calling to you this season with family, gifts and get-togethers, give yourself this gift of connection, reflection, presence, relaxation and peace.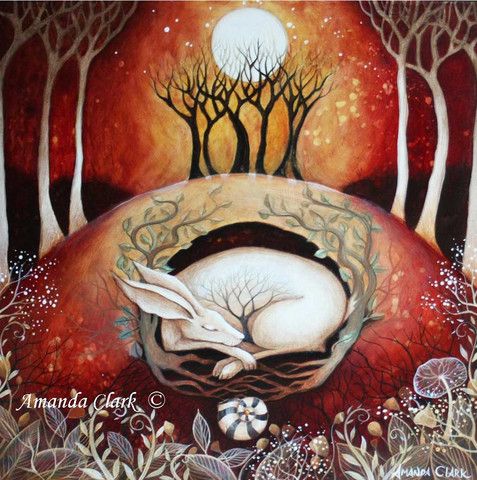 Art, The Waiting by Amanda Clark

Each year, the cycle of the sun ends with the longest night on Winter Solstice, before the days begin to grow longer again. The moon's light will also be waning as we take our first retreat in early December.
This waning phase is the optimal time to slow down, feel our own sacred essence, and hear our own inner messages.
This is a time to release outer distractions and turn inward for some moments of Just Being. Doesn't that sound just right? That is what these cycles invite us to do… to balance our busy lives with a time just to pause.
__________________________________________________________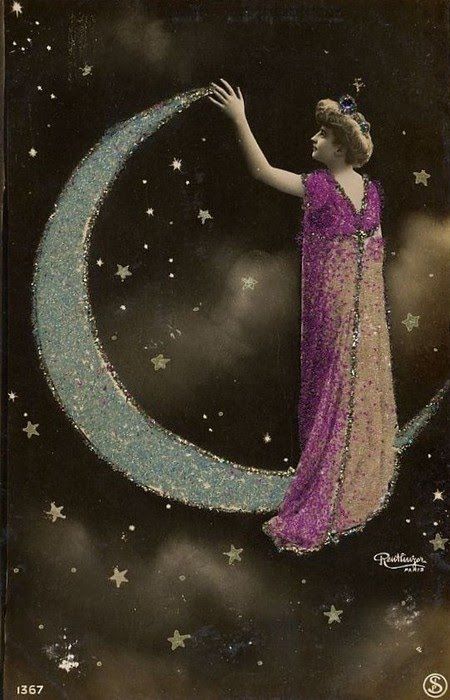 Art, Vintage Postcard

I've created the structure, with full permission for you to come settle into our circle and "let your cares go" for a little while. I hope you'll take some personal time during this busy month and just be.
On December 4th we will first take a compassionate review of our year,

On December 20th we will just let go and appreciate our very breath and being, in gratitude and sacred space,

Finally, on December 28th we will bless the coming year with a loving intention.
 These calls will be simple, refreshing and nourishing.
You'll receive:
Simple creative activities,

Ideas for personal rituals and self-care  (even when you don't have a lot of time),
Permission to lie on the floor and do nothing, if that's what you need the most!
---
"This whole holiday thing has been intense with my family. Coming to your Solstice calls has really helped me clarify some things. When I slow down and let my feelings emerge, it becomes very clear! I realize I really need to get back to selfcare. Sometimes just hearing the words is useful...'Letting go of what doesn't serve you' really helped me."
Melissa, OK
---
Women of all ages need to reconnect with their inner selves. These calls will help you align with the cycles of the moon and seasons, to connect with your inner wisdom and the rhythms of nature that offer balance to your life.
Remember to bless yourself this season, too, and give yourself this gift of personal renewal!
Only $27 for the entire month. Gift yourself (or someone you love) with these mini-breaks at this sacred season.
---
$3 from each attendee will be gifted to a relief organization. I have not selected one yet this year. Your suggestions are welcome.

---
Join me for three half-hour mini-retreats:
Tuesday, December 4

Thursday, December 20

Friday, December 28
6:30pm Pacific (7:30 Mountain, 8:30 Central, 9:30 Eastern)
The sessions will be offered via tele-class. You may attend by phone or computer. The calls will be recorded so you may listen later, or listen again, at a time that is best for you.
Have a blessed month,
Barbara Hanneloré
www.facebook.com/womenswaymooncycles
When & Where
Your favorite comfy chair
93116


Tuesday, December 4, 2018 at 6:30 PM

-

Friday, December 28, 2018 at 6:30 PM (PST)
Add to my calendar
Organizer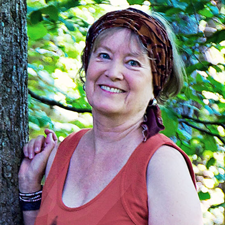 Barbara Hanneloré is an award-winning author, speaker, and mentor, helping women re-connect with the rhythms of nature as a feminine way of power. She has been sharing a new paradigm for the menstrual cycle, through the gifts of nature, sacred space and the healing arts for over 20 years.
She is founder of Women's Way Moon Cycles, and author of The Moon and You, a Woman's Guide to an Easier Monthly Cycle. Her recently completed Mother's MOON Kit guides mothers in preparing for their daughters' coming of age. Her Menopause Inner Circle is a 3-month journey into the heart of this life passage.
Barbara hosts monthly mini-retreats and offers online courses and private mentorship on these topics, for women who want to develop radical new habits of self-care and self-love! 
Many years ago she realized that we were entirely missing the gifts that our cycles have for us, and she invites you to join her for a creative re-discovery of this inner wisdom!