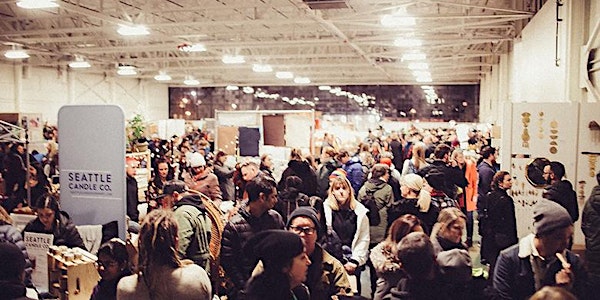 Winter Solstice Holiday Night Market | 21+ & All Ages Options
Seattle's largest Holiday Night Market returns for a festive weekend of eating, drinking & holiday shopping at Magnuson Hangar 30.
When and where
Location
Magnuson Park Hangar 30 6310 Northeast 74th Street Seattle, WA 98115
About this event
Welcome to the Seattle Night Market at Magnuson Hangar 30.
Welcome to the 3rd Annual Winter Solstice Holiday Night Market & Beer Festival held on December 17th through 19th at Magnuson Park Hangar 30.
Shop, snack, booze and dance this holidays through the Magnuson Park Hangar 30 spanning over 30,000 sq ft featuring DJ's, food trucks, cocktail bars, Volkswagen photo booth showcasing over 125 local handmade, vintage and tasty purveyors for all your last minute gifts this holidays.
PLEASE READ CAREFULLY TO ENSURE YOU KNOW WHICH DATES INCLUDE IN TICKET
EVENT DATES & ACTIVITIES
FRIDAY, DEC. 17th | Winter Beer Festival | 6pm to 11pm

$30 Beer Festival / $40 Day-of Event
$15 Designated Driver / $20 Day-of Event

Friday Night offers a Fun Preview Shopping Experience with a curated list of 40 booths indoors along with banquet style seating for attendees. Event ticket is higher due to beer tastings included. No Tote bags will be distributed on Friday.

SATURDAY, DEC. 18TH | Holiday Night Market 12-11pm (21+ Only)

$10 General Admission / $15 Day-of Event
$20 All Day Happy Hour Express Pass / $25 Day-of Event

Saturday offers over 125 booths, 12 food trucks and two cocktail bars, plus LED Bling rings and complimentary tote for the first 3,000 people

SUNDAY, DEC. 19TH | Holiday Night Market 12-5PM (All Ages and 21+)

$7 Children 5 and Up (Ticket and Vaccination / Negative Test Required)
$10 General Admission / $15 Day-of Event
$20 All Day Happy Hour Express Pass / $25
Sunday offers over 125 booths, 12 food trucks and two cocktail bars, plus LED Bling rings and complimentary tote for the first 3,000 people
What You'll Find Inside at the Holiday Market
125 Handmade, Vintage & Purveyors inside the Hangar
20 Food Trucks & Booths (Outdoors Only)
2 Cocktail Bars (+ Beer, wine, cider & seltzer)
30,000 sq ft of 21+ indoor space to enjoy. Plus two large outdoor patios on either side.
Volkswagen Bus Photobooth provided by Shutterbus
Resident DJ Set by DJ Swervewon & Guests
Live Music on Friday & Sunday. Details announced Dec. 1st
More Programming to be Added starting Dec. 1st
This is a ticketed event and 21+ only all three days, due to limited capacity overall. It also requires proof of vaccination or negative test within 72 hours to meet Washington State's New Vaccination mandate and to eb in complaiance with King County Public Health guideliens for Special Events.
Please read our 2021 Health & Safety Plan below for details on what you can expect to protect our attendees, staff and vendors to ensure your safety at all times.
FAMILY-FRIENDLY DAY ANNOUNCEMENT
We are pleased toi announce that we've added a family-friendly day on Sunday, Dec. 19th with limited bar garden service in our South lot. Tickets apply, along with masks and proof of vaccination / negative test for all ages over 5 years old.
Masks are required for all children and. Due to limited occupancy limtations, all kids must have a ticket purchased, except children 5 and Under are free.
HOW FRIDAY WORKS: Join us Friday, Dec. 17th for our 3rd annual Winter Beer Festival with an entire Hangar filled with indoor seating, live entertainment and food trucks. Sample over 25 different local craft breweries curated selection of Winter ales for a single night of holiday cheer.
UGLY SWEATER & HOLIDAY COSTUME CONTEST: Friday Night Only! Think Sanatacon inside a giuamt Hangar. Your ticket and wardrobe enters you in at entry to win up to $1,000 cash grand prize. Stay tuned for more details.
COSTUME CATEGORIES include: Best Ugly Sweater, Best Santa, Best Group Costume & Best Holiday-Inspired Costume.
TOTE BAG POLICY
For every Night Market, we print a limited number of tote bags for every night market for a one-off print for a complimentary gift on a first come, first serve basis. Due to the popularity, we have set aside a set number for General Admission for both days on Saturday and Sunday for a total of 5,000 market totes over the two days.
ALL DAY HAPPY HOUR passholders will be guaranteed a market tote upon arrival for both days. Please read below for how it works, so you don't miss out on getting one. Artwork designed by Naomi Amber Dawn.
General Admission: Market Totes will be first-come, first serve for the first ticket holders through the door for each days on Saturday & Sunday.
All Day Happy Hour Ticketholders: 100% Ticketholders are guaranteed a Market Tote. Limited tickets apply.
FREE PARKING POLICY
Magnuson Park offers over 2,000 free parking spaces on a first come, first serve basis as we share the parking with the neighboring organztions and activites at Magnuons Park, so after 6pm, we recommeND Uber/Lyft. We encourage attendees to drink responsibly and use a ride share like Uber, Lyft or Public Transportation to save time and get hone safely..
ALL DAY HAPPY HOUR PERKS
Skip the longlines, save money and enjoy some drinks on us! Skip the lines at the front gate with our express gate and save money on your booze with our Happy Hour Pass* that gives (2) drink tickets for your choice of adult beverage at the bar (includes cocktail).
In order to save time and eliminate the longer lines during peak time, we highly recommend that this ticket be purchased if you plan to attend within the first 3 hours of either day to maximize your perks at the Holiday Market.
New Dedicated Priority Entrance - Yes, we now have a separate entry that is at the entry to eliminate long wait times in the cold and get you in faster, so you can breeze through and not be part of the general admission line.
Guaranteed Holiday Tote Bag - Buy the ticket and we guarantee you will have a limited-edition tote bag waiting for you
LED Bing Ring with every purchase guaranteed
Two Drinks Tickets worth up to $20 (Cokctails are valued at $10 at bar)
All Day Happy Hour Pricing - Once you're done with your (2) druink tickts, save $3 off anything on the bar menu, including cocktails for the durstion of the night.
Refund Policy
In the event the event is cancelled due to County or State Mandates, the ticket is 100% refundable by the prodcuing entity, Northwest Marketplaces. Otherwise, all sales are final and no refunds. Any guest not providing proof of vaccination or a negative Covid-19 test will be denied entry by our professional Security for your safetyy and others. Due to Seattle Parks & Recreation guidelines: AT-HOME COVID TESTS WILL NOT BE ACCEPTED
Non-Profit Charity Beneficiary
All alcohol sales support the Seattle Farmers Market Association, organizers of the Ballard, Wallingford and Madrona Farmers Markets and help to support their Farmers Relief Fund and other programs year round!
For more information, go to www.sfmamarkets.com
2021 HEALTH & SAFETY PLAN
We are so excited to welcome you back to the Seattle Night Market on Saturday, Nov.6th at Hangar 30! Last year was a challenging year for all of us, so we are thrilled to welcome you all back and support over 100 small businesse this fall under one roof for this monthly event.
*************************** NO AT-HOME TEST ALLOWED ***************************
Our team has been monitoring the recent rise in Covid-19 cases, and felt it best to share our plan to create a healthy and safe event for you to enjoy. Sorry - Seattle Parks and Recreation venues do not allow "At-Home" negative covid test results to be accepted per Seattle Parks and Recreation guidelines.
We are following all state and local health requirements as outlined for large outdoor events. Additionally, changes in place for this year's event include:
All guests, staff and volunteers inside the festival must be 100% fully vaccinated – or – provide proof of a negative Covid-19 test within 72 hours prior to arriving at the event. Proof of vaccination can include your vaccination card, a printed copy of your vaccination card, or photo of your vaccination card on your phone. Any guest not providing proof of vaccination or a negative Covid-19 test will be denied entry.
Masks are now required inside the festival, per King County Order issued on September 7th. Protective masks must be worn at all times when not drinking/eating. Food & bevrage MUST be consumed outdoors.
Free face masks are available at the event.
All Food & Beverage MUST be consumed outdoors only. No Food or beverage indoors at any time.Expanded open space to allow for more physical distancing
New hand sanitizer stations throughout the event site
Additional hand-washing stations for event staff and volunteers
Capacity controls with ticket session models to avoid overcrowding
If you are feeling ill or showing symptoms of being sick, please stay home. If state or local health requirements change, we will adjust our admission requirements accordingly.
It takes many months to organize this event, and the health and safety of our guests, volunteers, staff and event partners has been our top priority in planning our Seattle Night Market since day one.
QUESTIONS?
If you have questions about this event and how it may evolve, please let us know by contacting us at tickets@nwmarketplaces.com. Thank you!