Pierrot Lunaire by Arnold Schoenberg, Bloodsnow by Yotam Haber (world premiere), Atwood Songs by Tania Leon and Clair by Franco Donatoni.
About this event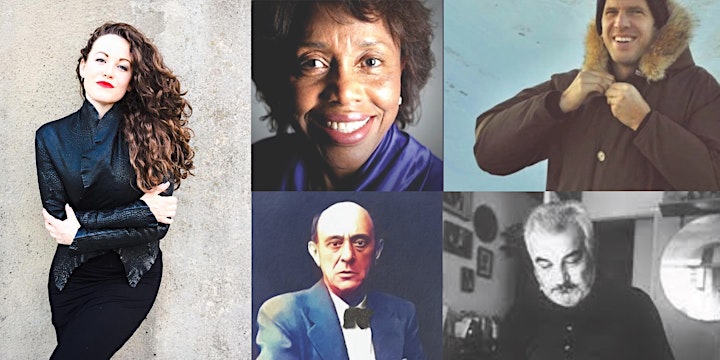 Program
Arnold Schoenberg - Pierrot Lunaire (1912) for voice, flute, clarinet, piano, violin/viola and cello - Sharon Harms, vocalist
Yotam Haber - Bloodsnow (2020) for flute, clarinet, piano, violin, viola and cello - world premiere
Franco Donatoni - Clair (1980) for solo clarinet - Carol McGonnell, clarinet
​Tania Leon - Atwood Songs (2018 ) for voice and piano
Argento Chamber Ensemble celebrates the winter solstice by barking at the moon with Pierrot Lunaire!
Sharon Harms joins the Argento Chamber Ensemble in Arnold Schoenberg's 1912 masterpiece Pierrot Lunaire, Op. 21. Pierrot Lunaire broke ground by incorporating many new musical innovations: a new form of vocal performance (Sprechstimme), a psychedelic, theatrical interpretation of traditional Commedia dell'Arte characters, and the mixed, five member "kleines Kammerorchester." Pierre Boulez once called Pierrot an "inexhaustible resource," also pointing out that even though its formal and harmonic innovations are famous, it also introduced a completely new rhythmic language.
Pierrot also expands on the tradition of Austrian Lieder, the intimate genre for voice and piano, which Schoenberg previously explored in 1908 and 1909. On this program, Argento pairs Pierrot Lunaire with the Atwood Songs for voice and piano, by Pulitzer Prize winning Cuban-American composer Tania Leon.
Carol McGonnell brings biting wit and relentless virtuosity to post-serial composer Franco Donatoni's Clair. In Clair, Franco Donatoni controls procedures that generate audible patterns of variation and repetition. Through these "automatic techniques," Donatoni renders relentless music of extraordinary power, speed, and risk, often giving the impression of an organized attack.
Finally, Argento gives the world premiere of pianist/composer Yotam Haber's Bloodsnow, which recreates the adrenaline surge of a violent accident, in which Haber cut one of his fingers off while managing a team of racing dogs in Denali National Park. He writes, "It was both one of the scariest moments of my life, and also one of the most exhilarating moments of my life, and it's those moments when you really feel most alive."
Argento's winter solstice celebration will be an explosive, imaginative celebration of darkness that will put Halloween to shame!!!