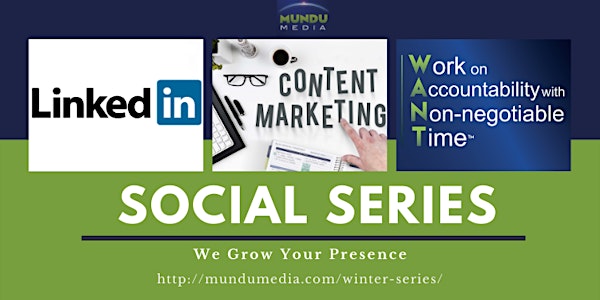 Winter Social Series Bundle
Get ready for a successful 2020 by increasing your online presence with the workshop bundle.
About this event
Be ready for 2020!Take advantage of two workshops (one on LinkedIn and the other on Content Creation) and two WANT sessions for the special price of $99.97 . Must sign up before November 13th to take advantage of the discount offer for all four.
LinkedIn workshop is on November 14th, 2019 at 9:30 AM to 11:30 AM.Want to learn how to use LinkedIn to attract more clients? LinkedIn is today's most popular business social network that connects professionals from all over the world. "Getting You LinkedIn for Successful Results!" is a hands on, interactive workshop in which participants will successfully complete their profiles to allow them to confidently maneuver through various features of the platform while increasing visibility and acquiring a clear brand strategy for moving forward.
WANT sessions are is on November 16th, 2019 and December 7th, 2019 at 8:00 AM to 10:00 AM.Want to get your online presence to the next level, but haven't found time to work on your to-do list? Attended web marketing workshops, but can't get inspiration to accomplish the steps on your notes? You are not alone! It is very common for marketing initiatives to get lost in the shuffle, after business owners go back to their busy offices.
Find motivation by: Working on Accountability with Non-negotiable Time so your actions will rise above the excuses by joining W.A.N.T.
Content workshop is on December 5th, 2019 at 9:30 AM to 11:30 AM.Creating the right content is important in building your brand, growing your customer base, and staying connected to your ideal client. In this session, we will discuss keywords, useful uses of information, strategic ways to get your correct message across to the audience you want to attract.
Find out more about the bundle HERE.
Please contact me if you have any questions at monica@mundumedia.com .