Description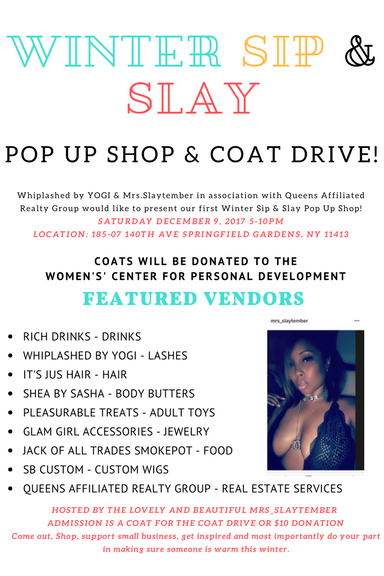 We are sippin' (Rich Drinks), slayin' (in our Glam Girl Accessories) and collecting coats for those in need on December 9th!
As vain as us New Yorkers tend to be and I am sure we can all agree on this, we all have 2-3 coats perhaps even last years' coat that has been gently used and not worn anymore.
With that said, for the December 9th event, we'd like to implement the barter system... quid pro quo.... something for something!
Confused?
Ok, so entry to the event will cost $10, however, if you join us in making sure those in need in New York stay warm by donating a coat to the cause, we are willing to allow free entry to the event.
One coat gains entry for one person.
We are pushing for Women and Children's
COATS WILL BE DONATED TO THE WOMEN'S' CENTER FOR PERSONAL DEVELOPMENT
Whiplashed by Yogi, Queens Affiliated Realty, and Mrs. Slaytember would like to personally thank you in advance for attending the event on December 9th, as I know you will all be there.
Come out, Shop, support small business, get inspired and most importantly do your part in making sure someone is warm this winter.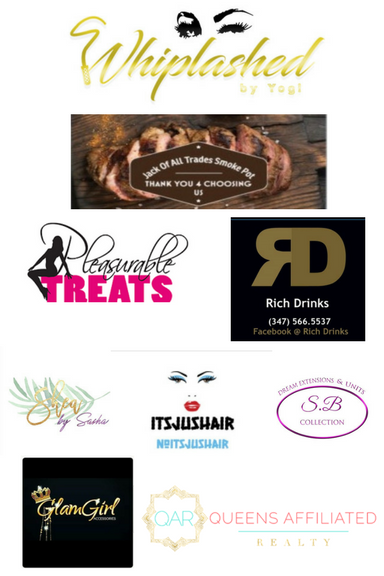 Hosted by Mrs_Slaytember IG @mrs_slaytember
Whiplashed by Yogi will be giving away a full lash set (valued at $100) and one full facial (valued at $65) at the event. IG @Yogii_Evette
Queens Affiliated Realty Group will be providing information on home buying, apartment renting and answering any questions on the topic of Real Estate for all who are interested. IG @iamtinawhite
Pleasurable Treats is an adult toys business where you will be able to book, pleasure parties, bachelorette parties and also purchase those things that everybody knows about, everybody owns but we don't dare mention.
Rich Drinks will not disappoint you in flavor or purpose. Some of the best drinks NY has to offer! Come out, meet him and taste his drinks. IG @Rich_Drinks_
Shea By Sasha Male skin care, Female skin care, Shea by Sasha has it all. Come check her out as she will be vending at the event as well. IG @sheabysasha
ItsJusHair is a Brooklyn based hair vendor where you can purchase virgin bundle hair in various forms.
IG @itsjushair
SB Custom Units provides custom Wig units and hair styling. IG @s.b_collections
Jack Of All Trades Smokepot will be vending and you do not want to miss this cooking!! IG @jackofalltradessmokepot
Glamgirl Accessories High end & costume jewels! IG @prettychoclategirl