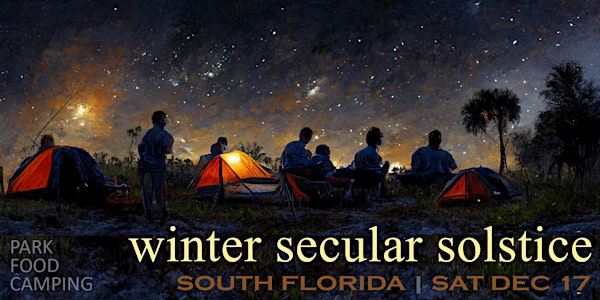 Winter Secular Solstice 2022: South Florida
An evening of sharing food, storytelling, singing, and celebrating humanity's great accomplishments - plus optional overnight camping.
When and where
Location
Markham Park Campground 16001 W State Rd 84 Sunrise, FL 33323
About this event
Miami ACX is hosting our first Winter Secular Solstice, celebrating humanity's achievements. The event will be similar to the annual traditions in the Bay Area and NYC – except adapted to the spirit and community of South Florida. It will involve sharing food, storytelling, singing, bonfire and (optional) overnight camping.
Winter Secular Solstice reflects on the past and how far we've come as a human species, while also looking forward, assessing our connection to future generations. We intentionally include elements found in other holiday season traditions (food, song, light), as we acknowledge the power and purpose they serve in bringing us together, and reminding us of the ideas we hold in common.
All are welcome to participate. We have rented out a large, private campground for the event, with plenty of open space to stay overnight. While the evening portion is scheduled to run 4-9pm, it's likely we will host daytime activities in a different area of Markham Park. We will email those details to all registrants as it gets closer.
Since this is a new event for South Florida, we have written out a lengthy list of common FAQs. Feel free to email us at miamiACX@gmail.com with additional questions.
Date: Saturday, December 17, 2022
Time: 4-10pm
4pm - Gate opens - tent setup and socializing
5:30pm - Food will be served (vegan with gf option)
6:30pm - Winter Secular Solstice ceremony starts
9pm-? - Bonfire (& optional overnight camping)
*Exact times might shift slightly
Location: Markham Park Campground, west of Fort Lauderdale