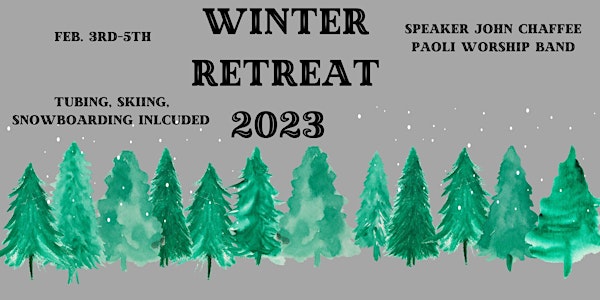 Winter Retreat 2023
Join us for a weekend in the Poconos while we enjoy time together, get closer to Jesus and have a chance to go tubing or skiing!
When and where
Location
Pocono Plateau 304 Pocono Plateau Road Cresco, PA 18326
Refund Policy
Contact the organizer to request a refund.
Eventbrite's fee is nonrefundable.
About this event
When: Feb. 3rd-5th
Who: All 6th-12th grade students
Where: Pocono Plateau Camp and Retreat Center in Cresco, PA.
How much: Retreat cost with tubing: $165
Retreat cost with lift ticket but withOUT skiing/ snowboarding equipment rental: $180
Retreat cost with lift ticket and skiing/snowboarding rental: $200
What: Join us for a weekend filled with fun winter activities with your friends as well as a time to grow closer to God through meaningful worship, times with a speaker and small groups. The speaker will be John Chaffee who was our speaker for the onsite retreat earlier this fall. The Paoli Worship band will be leading us in worship as well. On Saturday, we will spend the afternoon either tubing or skiing.
Payment: You do not have to pay through eventbrite. As you sign your child up it will look like you have to pay on this site, but as you keep advancing you will see a spot where you can click 'pay by check'. You can either make a check to Paoli Presbyterian Chruch and give it to Maddie or pay through the Paoli website and choose Student Ministry events. (https://pushpay.com/g/paolipres?src=hpp) Note about the cost:The cost of an event should never get in the way of a student(s) attending an event. We have a large number of very generous people at Paoli that think its important for everyone to have the opportunity to attend this retreat, so if the cost of the retreat is too much or it would put any burden on your family, please let Maddie know. There are scholarships available.
Cell Phone policy:
We will be collecting students' phones when we get to camp after they let you know we arrived. They will get their phones back for up to, but not exceeding an hour on Saturday to check-in, but then they will be recollected until Sunday morning when we leave again.
We recognize that cell phones allow us to stay in contact and reassure one another that we are doing well and having fun. If students would like to call home for any reason, they will be allowed to do so. All of the leaders will have their phones on them at all times if you need to get ahold of us or we get a hold of you. The leader's numbers are all listed below. We understand that this could be the first time many of these students have been away from their phones for an extended time and this could raise some questions or concerns. If you could like to discuss this further, please do not hesitate to reach out to Maddie at Maddie.ridgeway@paolipres.org or call her @ 724.766.6623
Medication: If your student is responsible enough to have their medication on them and remember to take it that is fine. If not, please contact Maddie ASAP about this so the right person can be responsible to hold that medication for that student for the weekend. Inhalers or Epipen's should be kept in the student's possession and not be submitted for safekeeping. Each medication needs to be accompanied with the necessary instructions.
If your child has a food allergy, please let us know when you sign up.
Snacks: Students are encouraged to bring at least one snack to share with the group. Snacks will be available in the common spaces for all to share.
What do I need to bring?
Packing: Sleeping bag (or sheets & a comforter), pillow, Bible, pen & notebook, personal stuff (DEODORANT, soap, shampoo, towels, toothbrush, clothes/pajamas, shoes, clean socks, underwear—you get the picture), flashlight, warm jacket hat & gloves, clothes to go tubing, skiing or snowboarding in, warm clothes (dress in layers!), and bring a water bottle!
Leave These At Home!
Electronic games, knives, guns or other weapons, fireworks, alcohol, illegal chemical substances (this means drugs), and matches/lighters. We are not responsible for anything lost or stolen and reserve the right to confiscate anything being used during program times.