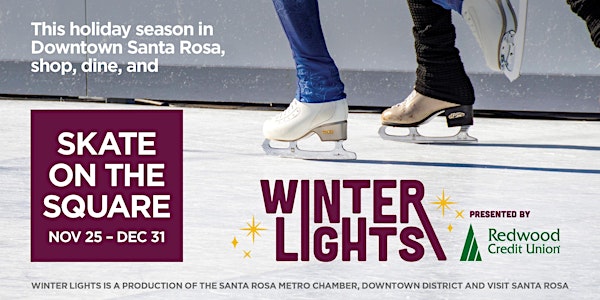 Winter Lights Synthetic Ice Rink in Old Courthouse Square
Skating on the Square is your Sonoma County holiday tradition - come celebrate the season with us!
When and where
Location
Old Courthouse Square Old Courthouse Square Santa Rosa, CA
About this event
Winter Lights, presented by Redwood Credit Union, is excited to bring this fun, festive opportunity to Downtown Santa Rosa! Check out our FAQ to answer more of your questions.
What to Expect
Please arrive 15 minutes early to check in, sign your waiver and get your skates. One of our volunteers will check you in and get you ready to hop on the ice. You'll be able to skate for about 45 minutes.
While the skating area is fenced in, there will be no personal item storage on site and you are responsible for any items you bring with you. We will not be responsible for any lost or stolen items.
Spectators are welcome to attend with skaters but must enter the area at the same time.
Skate Rentals and Helmets
Skate rentals are available in child's size 9 through men's 13. Your skate rental is included in your ticket price, but you may also bring your own ice skates, if they have been recently sharpened.
Skaters are required to wear socks when using our skates. An extra pair can be helpful.
We highly recommend that children (and clumsy adults) wear helmets while on the ice.
Parking
Your first hour of parking is free in all City garages. Parking in City garages is also free on Saturdays and Sundays between Thanksgiving and New Years Day. While all garages are a very short walk to the Square, the garages on 3rd Street and D Street are both very conveniently located.
Weather
We're open rain or shine, so please be prepared for some Northern California winter weather. We will not be offering refunds due to inclement weather. If weather is severe enough to close the rink, we will refund all tickets purchased.
Refunds
Keep in mind that your tickets are non-refundable, but if you need to arrange to skate on a different day, we'll do everything we can to accommodate you as long as you provide 48 hours notice before the session you need to change. WE UNFORTUNATELY CANNOT PROCESS REQUESTS WITH LESS THAN 48 HOURS NOTICE.