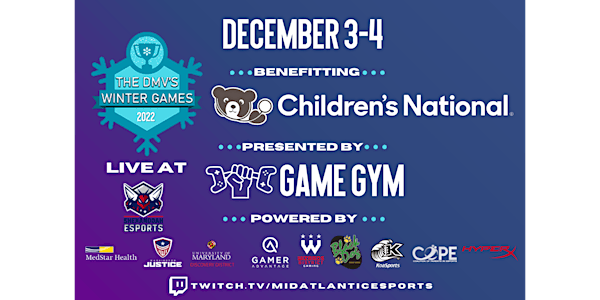 Winter Games Online Charity Event
Enjoy esports or want to learn more? All event activities are 100% free! Come & watch us on our MAEC Twitch channel on Dec. 3 & 4.
About this event
Building on the success of our past events, starting in 2020, Game Gym is pleased to announce The DMV's Winter Games 2022, the next jewel in our "Triple Crown," a year-round slate of three online charity events, all benefiting Children's National Hospital. The Triple Crown is comprised of the Spring Summit, the Summer Bash, and the Winter Games.
Our next event is Winter Games, Dec. 3-4.
We have many partners to support the Winter Games, outstanding education and entertainment content, thrilling competitions, and lots of prizes! The Winter Games is a celebration of esports for kids, parents, and gamers of all ages, with everything broadcast on twitch. Again this year, the Winter Games will feature the end-of-season Mid-Atlantic Esports Conference (MAEC) championship tournaments, with our 12 member schools competing for the crown in League of Legends, Overwatch, Valorant, and Rocket League. For the first time, the semifinal and championship matches in each title will be held live at Shenandoah University, and broadcast on twitch. The Winter Games will feature educational and entertainment panels and competitions throughout the weekend.
To date, we've raised more than $36,000.00 for the Children's National Hospital, while bringing awareness to the esports opportunities here in the DMV. Since last year, all money raised by Game Gym for Children's National will be used to fund research using video games to assist in rehabilitation programs for children.