Learn the essential skills of winter fruit tree pruning at one of Sacramento's community orchards.
About this event
Winter Fruit Tree Pruning Workshop
Learn the essential skills of winter fruit tree pruning at one of Sacramento's community orchards. We'll explore the craft of pruning, the tools that make it possible, and how urban agroforestry can play a significant role in enhancing the resilience of our urban ecosystems and communities to a changing climate.
FREE FRUIT TREE CARE SERVICES AND EDUCATION
The Sacramento Food Forestry Project, a community project funded by the Sacramento Tree Foundation, is offering free fruit tree care services, skills mentoring and education to South Sacramento residents through February 2022. The project is looking for fruit trees in need of pruning and soil care, and residents interested in learning fruit tree care skills. Learn more about the project here, watch a video introduction, or check out the project's completed work on Instagram. Email sacfoodforestry@gmail.com to get involved or click HERE to register your fruit trees for care.
Instructor BIO
Dominic Allamano is a regenerative agroforester and experiential educator working at the intersection of urban food system repair, climate change adaptation and the long term reconnection of communities and the land they inhabit together.
He is passionate about the necessity of reimagining our relationships to our neighborhoods in ways that will improve long term ecological and community wellbeing, while expanding food access and enhancing climate change resilience.
He worked for five years as the Edible City Coordinator at Soil Born Farms, developing an urban food forestry initiative which included the regional Harvest Sacramento fruit gleaning program, as well as garden building and fruit tree planting programs serving residents of South Sacramento.
He currently provides artisan fruit tree pruning and care, soil health services and skills mentoring throughout the Sacramento region, and as free services to residents of South Sacramento with support from the Sacramento Tree Foundation through the Sacramento Food Forestry Project.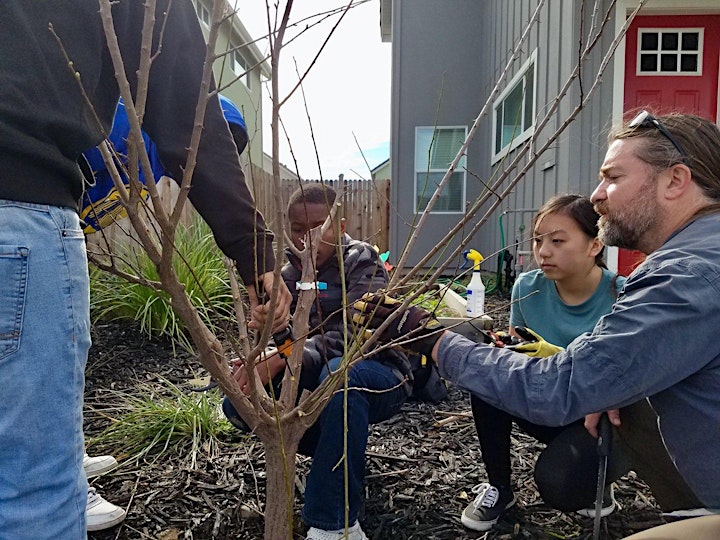 Organizer of Winter Fruit Tree Pruning Workshop
Starting with 35 sq ft of growing space we set out to reduce our food bill, but as we learned that our farm was located in a food desert, we decided that in addition to growing food for ourselves that this message of self-sufficiency and hope should be taken and demonstrated to our local community and the world.
Today, our mission is to transform the hood for G.O.O.D. using urban agriculture as a tool for community engagement, empowerment and employment.

Join us as we Transform the Hood for Good!