This February, Winter Folk descends upon Longmont, Colorado with 40 bands and multiple photographers over 12 days!
About this Event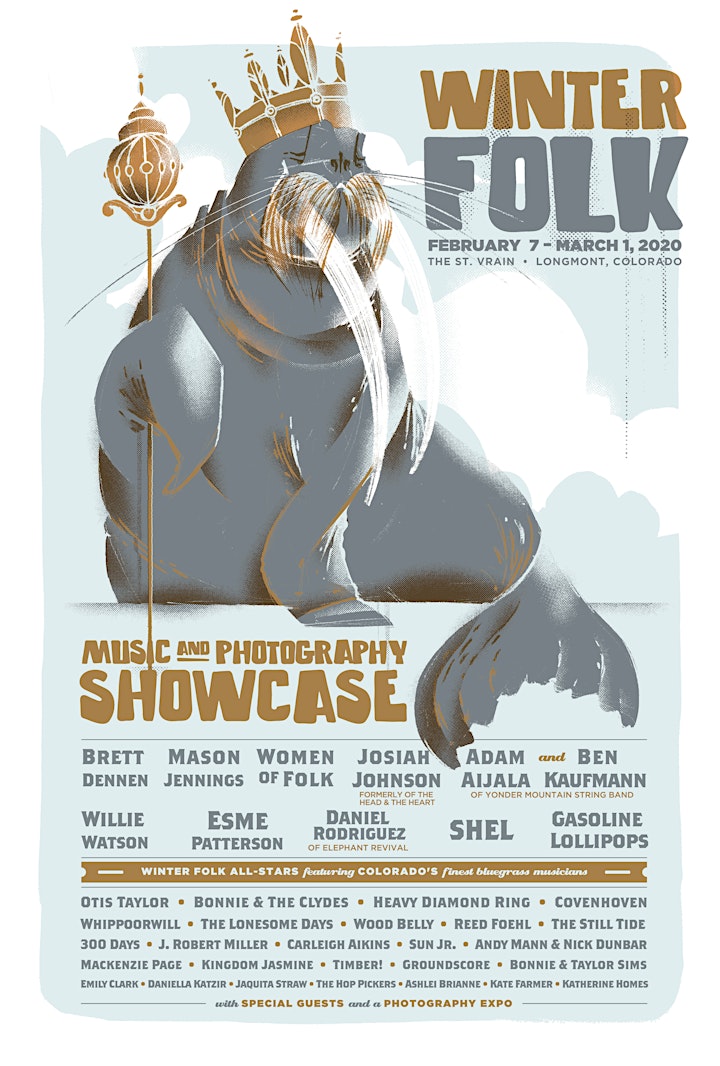 Welcome to Winter Folk: a 12 day, 40 band, music and photography showcase coming to Longmont, Colorado!
Join us at the beautiful St. Vrain luxury venue for all of the festivities from February 7th-March 1st (Friday-Sunday for four consecutive weekends).
There are two ticketing options. You may purchase a month long event pass (VIP or Standing Room). This will allow you to attend any and all of the 12 days. You may also buy a three day weekend passes for each individual weekend. This is an extremely intimate event. Once passes are gone, they are gone.
VIP entitles you to a seated area in front of the stage.
Each day of the event will provide an instrument to a Colorado public school! See the weekly schedule below or visit the Winter Folk page at www.fafcolorado.org for more info along with a Q & A.
Winter Folk Schedule
(Daily Schedule TBA in the Coming Weeks)
​
First Weekend 
-February 7th-9th-
​
Josiah Johnson
(formerly of The Head & The Heart)
Gasoline Lollipops
SHEL
Bonnie & The Clydes
Heavy Diamond Ring
Whippoorwill
Carleigh Aikins
J. Robert Miller
Shovelin Stone
Caitlin Jemma
Photographers
Arthur Trevino
Josh Elioseff
Second Weekend 
-February 14th-16th-
​
Brett Dennen - 2 Nights!
Mason Jennings
Daniel Rodriguez
(of Elephant Revival)
300 Days
Kingdom Jasmine
Sun Jr. 
Ashlei Brianne
Paul Kimbiris
Photographers
Molly McCormick
More TBA
Third Weekend 
-February 21st-23rd-
​
Willie Watson
(formerly of Old Crow Medicine Show)
Esme Patterson
Elephant Collective
Women of Folk
(A Collection of Powerful Colorado Women Performing Classic Folk Tunes)
Otis Taylor
Reed Foehl
Covenhoven
The Still Tide
Andy Mann & Nick Dunbar
Bonnie & Taylor Sims
MacKenzie Page
Daniella Katzir
Emily Clark
Jaquita Straw
Katherine Home
Photographers
Charla Harvey
More TBA
Fourth Weekend
(aka Bluegrass Weekend) 
-February 28th-March 1st-
​
Winter Folk All-Stars
Featuring Adam Aijala & Ben Kaufmann (Yonder Mountain String Band), Andy Thorn (Leftover Salmon), and Andy Hall (Infamous Stringdusters)
Adam Aijala & Ben Kaufmann
(of Yonder Mountain String Band)
The Lonesome Days
Wood Belly
MacKenzie Page
Groundscore
Timber!
Kate Farmer
The Hop Pickers
and more...
Photographers
Josh Elioseff
Nolan Dutton
Additional info at www.fafcolorado.org/winterfolk
Proceeds benefit Colorado youth arts programs.
Daily Schedule & Featured Photographers TBA in Coming Weeks.
Food & Alcohol will be available for purchase.
Tickets are non-transferable and non-refundable.
No re-entry.