Description
Winter Escape Friends & Family Cruise 2018
7-Day/6-Night Western Caribbean Cruise
February 4 – 10 2018
Sunday - Saturday
Let's do a Cruise together. For All travel lovers who have EVER said " I want to travel with a group" LET'S DO IT!!!!
Boarding starts at 11:00 am on Sunday and the Vista departs at 4:00 pm.
This 7 Day Getaway features an exciting cruise to the Western Caribbean. This cruise package offers great value in a compact weekend excursion without the need to use many vacation days.
Join us in expoloring Ocho Rios, Jamaica, Grand Cayman and Cozumel, Mexico.
Carnival Vista features outdoor spots like Havana Bar & Pool, a ropes course, mini golf, SkyRide at SportSquare (an 800-foot-long track suspended around its top deck that passengers can circle in pedal-powered capsules) and Seafood Shack plus plenty of spaces like the first IMAX at sea. The Vista has custom Cuban themed staterooms and new Family Harbor staterooms. The Clubhouse features indoor activities like mini-bowling and arcade-style basketball, soccer, volleyball, and table tennis. The ship also has SkyGreens, a mini golf course on Deck 12.
CRUISE AMENITIES

Three Pools

Multiple Hot Tubs

Multiple Sun Decks

IMAX Theater at Sea

Sports Bar

Free Nighclub

Waterworks Waterpark

Casino with Slots and Table Games

30 restaurants, lounges, and bars

Live Entertainment

Seaside Theater

Spa and Wellness Center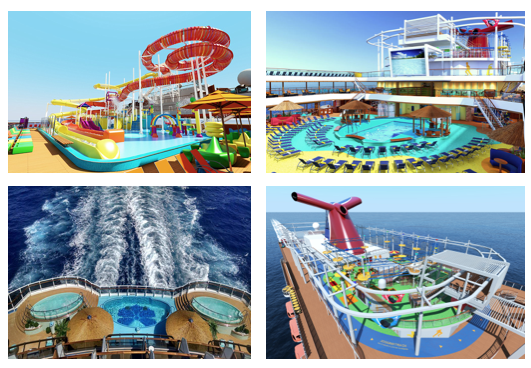 THE TEAM
Sponsors: Travel-Moore and Escape Reality Travel
Ambassadors: Michael T. Moore and Nyeshia Woodford (Moore)
THE PACKAGES
Rates for May 2017 include shipboard accommodations, all meals, select beverages, onboard entertainment, and port fees.
A deposit of $50 is required to secure your reservation. Following the deposit, passengers must pay-in-full or make 6 additional installments by November 2017.
INTERIOR CABIN (Single Occupancy): $1,059.53 - $1,089.53
BALCONY CABIN (Single Occupancy): $1,559.53 - $1,629.53
INTERIOR CABIN (Double Occupancy): $539.53 - $554.53
BALCONY CABIN (Double Occupancy): $789.53 - $824.53

INTERIOR CABIN (Triple Occupancy): $455.86 - $465.83
BALCONY CABIN (Triple Occupancy): $622.53 - $645.83

INTERIOR CABIN (Quad Occupancy): $416.53 - $421.53
BALCONY CABIN (Quad Occupancy): $539.03 - $556.53


For more information please visit our websites here or here.
FAQS
Do I need a Passport?
If you do not have a Passport, please ensure you have a raised-seal, official birth certificate along with your Driver's License. If you have a Passport, bring it. You will need your Driver's License whether you have a passport or not.
Will I get seasick?
Scientific studies have shown that some folks become seasick by suggestion. They simply convince themselves that being on a ship will make them ill. On the other hand, a few truly do experience motion sickness and might develop symptoms. Use the link below to arm yourself with preventive measures beforehand.
https://www.gstatic.com/healthricherkp/pdf/motion_sickness.pdf
How can I get a discounted rate?
If you have a group of sixteen (16) or more people, including yourself, that are interested in the Winter Escape Cruise, you may be eligible as the organizer for one (1) discounted cabin rate. Contact us at escape.reality.travel2017@gmail.com
Can I use my cellphone on the Carnival Vista?
See the Carnival Cruise Lines Internet Packages below:
Social ($5 USD per day)* – Offers access to sites such as Facebook, Twitter, Instagram, Pinterest, Linkedin, Facebook Messenger, WhatsApp and popular airline websites. Note: Plan does not include in-app calling, Facetime, Snapchat, iMessage or access to any other sites or apps.
Value ($16 USD per day)* – Provides access to a wide variety of sites and apps, including social media, e-mail, news, sports, weather, banking and more. Note: Does not support Skype calling or music streaming services such as Spotify.
Premium ($25 USD per day)* – Promises the fastest possible connection and includes access to all websites and apps, including some streaming video services.
Discounts are provided when purchasing a package for the full duration of the voyage.
* Prices are subject to change without prior notice and may vary from ship to ship.

What's not included in my Winter Escape cabin reservation?

Transportation to and from the ship, parking at the port, shore excursions, bar beverages, soft drinks, phone calls, photographs and items you may choose to purchase that are not specifically stated.
Does the cruise line offer drink packages?
Yes, the Carnival Vista offers two (2) drink packages:
- Bottomless Bubble, Unlimited Soda Package | $6.50 per person, per day
- 15 Alcoholic Drinks Per Day | $49.95 per person, per day
****If 1 person in the cabin wishes to purchase the CHEERS package, all other cabin mates must purchase CHEERS as well****

*Prices do not include 18% service charge
What is the onboard alcohol policy?
The minimum age for the purchase and/or consumption of alcoholic beverages in the bars, lounges and gift shops is 21 years of age. In the event that Bar/Restaurant/Gift Shop Staff are in question that the guest is less than 21 years old, they shall request picture identification, prior to serving the drink or selling the bottle of liquor.

Carnival reserves the right to refuse the sale of alcoholic beverages to anyone.
Guests are prohibited from bringing water, sodas and other non-alcoholic beverages onboard that are packaged in bottles.
A small quantity of non-alcoholic beverages (i.e., sparkling water, sodas, juice, and milk) packaged in cans or cartons may be brought onboard on embarkation day and must be in the guest's carry-on luggage. A small quantity is considered a maximum of 12 sealed, unopened cans/cartons of 12 ounces each or less per person.
Guests are prohibited from bringing alcoholic beverages on board with the following exception - At the beginning of the cruise during embarkation day only, guests (21 years of age and older) may bring one 750 ml bottle of sealed/unopened wine or champagne per person in their carry-on luggage. All liquor, beer, other forms of alcoholic and non-alcoholic beverages outside of this exception are strictly prohibited in both carry-on and checked luggage and such items will be confiscated and discarded and no compensation will be provided.
A $15

USD

corkage fee, per 750 ml bottle, will be charged should guests wish to consume their wine or champagne in the main dining room, steakhouse or bar. A corkage fee is a charge exacted at a restaurant for every bottle served that was not bought on the premises.




How much luggage can I bring onboard?
Each guest is permitted to bring as much luggage as you desire, however be cautious of the "check bag" fee with your airline. Most guests bring a large suitcase and a carryon.

What should I pack?
The dress code on board is generally casual. Dinner and evening attire is casual elegance, with proper attire required for select restaurants, including collared shirts, blouses, pants, dresses and skirts. Tank tops and swimsuits are not permitted in the dining areas.

What about personal belongings?
We are not responsible for theft or loss so be sure all baggage and personal belongings are properly insured and labeled with the owner's name, address, and ship's name, cabin number and sailing date. Suitcases should be securely locked. We recommend that you personally carry all medications, jewelry, fragile items, valuables and important documents on and off the ship. Any luggage left at the pier will be forwarded at the guest's expense.

What about special needs?
If you have a specific need or a medical condition that requires special attention, you must advise us when making your reservation and confirm the information to us in writing. Special dietary needs can be accommodated if the passenger makes the request at the time of booking. Passengers requiring a wheelchair onboard must make independent arrangements.

Will baby-sitting be available?
The cruise line offers a variety of activities to ensure that the kids have just as much fun as the adults. They will enjoy the pools, water slide, kids club, and complimentary kids program that includes supervision. ****Late night service at additional cost****

What about tipping?
For your convenience, gratuities are charged to your onboard charge card at $12.95 per person, per day. This covers all food and cabin services provided to you by your Cabin Steward, Waiter, Busboy and Maitre d'. Other staff members may be tipped as services are rendered. Please note that a 18% service charge will be included on all bar, wine and Spa & Salon tabs. This is standard in the cruise industry.