Event Information
Location
Midtown Location
[Exact Address to be Confirmed Upon Registration]
Midtown, NY
Description
Accelerate Yale Invites You To

WINTER DRINKS WITH 8VC's BG
Thursday, February 21, 2019 | 7:30 PM
Midtown, NY
(Exact Address to Be Confirmed Upon Registration)

Due to limited space, we will only be able to accommodate 15 Yale alumni at this event.
We are looking forward to hosting BG for a larger event in the Spring.

This event is made possible by the generous sponsorship of the Yale Alumni Association (YAA)

***
ABOUT BG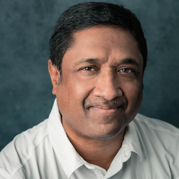 Bhaskar Ghosh "BG" ('95 PhD) is Partner and CTO at the premier Silicon Valley venture capital firm 8VC. BG has been a builder and engineering executive for over 20 years - conceiving and scaling data-driven businesses and high-performance teams across consumer and enterprise companies such as LinkedIn, Nerdwallet, Yahoo, and Oracle.

At 8VC, BG focuses on investments in AI and data-centric businesses, govtech and enterprise software at large, while serving as the firm's CTO in helping our portfolio companies solve technology and scaling challenges, starting new tech businesses as part of our "build" program, and expanding the 8VC talent network. When not whiteboarding with entrepreneurs, BG runs an Indian folk-fusion music band in Palo Alto and is passionately engaged with nonprofits and social-entrepreneurs innovating in STEM education, health-care and arts in the American deep-south and India.

A Yalie through and through, BG is committed to building a strong relationship between Yale and Silicon Valley in the area of areas of talent, fund-raising, innovations in software and bio-tech, academic and venture capital partnerships, and in re-imagining the role of technology in society and government of the future.
---
Accelerate Yale is a global community of alumni and friends of Yale who are engaged in innovation, tech, and entrepreneurship. Our mission is to cultivate an active and thoughtful ecosystem that promotes meaningful connections and collaborations -- while also serving as a bridge between alumni and current Yale students.
New York Leadership Team: Chris Brady, Adam Brenner, Greg Hausheer, Sam Hendel,
Grace Hsieh, Rich Littlehale, James Murphy, Sissi Nie
team@accelerateyale.org | accelerateyale.org
Date and time
Location
Midtown Location
[Exact Address to be Confirmed Upon Registration]
Midtown, NY