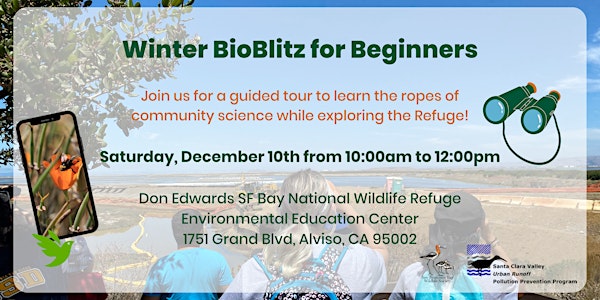 Winter BioBlitz for Beginners
Join us for a morning stroll along the marsh to learn the ropes of community science!
When and where
Location
Don Edwards San Francisco Bay National Wildlife Refuge Environmental Education Center 1751 Grand Blvd San Jose, CA 95002
About this event
Are you looking for a new outdoor activity to do with your friends or family? Are you new to the world of community science and iNaturalist? Then we hope you will join us for a family-friendly and ranger-led walk around the Don Edwards SF Bay NWR while using your smartphone to capture photos and identify species using the iNaturalist app.
We will be leading the walk on the New Chicago Marsh Trail at the Alviso Unit of the Refuge to check out native California plants, exciting bird species, and much more! The trail will be approximately 0.5 miles and is suitable for folks with mobility limitations. If you need any more accommodations, please don't hesitate to reach out to olivia.poulos@sfbayws.org.
Want to be ready to go? Follow this link for instructions for setting up your iNaturalist account via your smartphone: https://www.inaturalist.org/pages/getting+started. Once you create a username and password, we will help you with the rest. If you need more guidance, no worries - that's why we are here to host the new learners, neophytes, and novices.
Note: To keep everyone safe, we are limiting the capacity of this event and will be opening a waitlist. At any point, if you are unable to attend the event, please email olivia.poulos@sfbayws.org or cancel your ticket through Eventbrite so that others may join. Thank you!
Join the Project: https://www.inaturalist.org/projects/winter-bioblitz-for-beginners-2022.
Other Considerations:
- Driving Directions: We recommend using Google Maps and mapping to the "Environmental Education Center (EEC)" or 1751 Grand Blvd, Alviso, CA 95002.
- We expect the weather to be variable, so we encourage everyone to wear sun protection like sunscreen, hats, and sunglasses and bring plenty of water and snacks! We also encourage you to wear comfortable clothes that are good for exploring the trails and bring warm layers as it gets a bit windy that close to the bay!
- ADA-compliant parking spaces, trails, and restrooms are available on-site.
- Restrooms will be available on-site in the form of an ADA-compliant portable toilet and hand-washing station.
-Reusable water bottles are a huge plus and are a great step to reducing plastic pollution. We will have a water refill station available to you!
- The information you are helping us to collect makes a difference! As we actively restore our upland and marsh habitats, the healthier and more resilient our ecosystems will be, and the more we can reduce water runoff and urban runoff pollution. For information on how you can help keep our watersheds and the Bay clean by preventing urban runoff pollution, visit: http://www.mywatershedwatch.org/.
This program is brought to you by the San Francisco Bay Wildlife Society (SFBWS) and the Santa Clara Valley Urban Runoff Pollution Prevention Program (SCVURPPP).