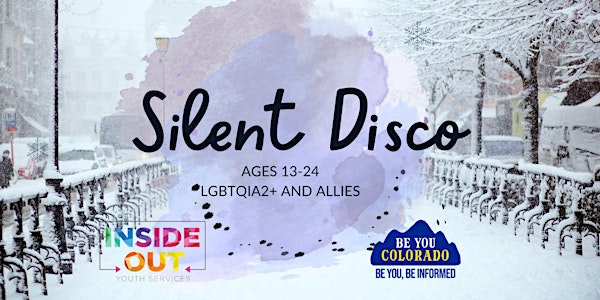 Winter Ball and Silent Disco
LGBTQIA2+ and allied young folx, ages 13-24, are invited to dance and celebrate winter at this blacklight bash hosted by IOYS and BYC!
When and where
Location
Hillside Community Center 925 South Institute Street Colorado Springs, CO 80903
About this event
LGBTQIA2+ and allied young folx, ages 13-24, are invited to dance and celebrate winter with IOYS and BYC!
Three DJs spinning three different styles of music
Free food and drinks
Blacklight shenanigans (wear bright colors if you want to glow!)
Silent disco = listen to the music and dance if you want to; chill if you don't!
To respect our hosts at Hillside Community Center, PLEASE wear sneakers or other shoes that don't scuff! No high heels are allowed in the gym.
MASKS ARE STRONGLY RECOMMENDED.
Some form of identification with date of birth or school grade is required for entry.
Bags will be inspected at the door to ensure everyone's safety inside the event. A bag and coat check will be available at the door.
Note for parents/guardians:
This dance is for ages 13-24 ONLY. Adults over the age of 24 may only attend as chaperones if they are certified volunteers through Inside Out Youth Services.
Parents and guardians are not typically allowed in IOYS spaces while youth and young adults are in attendance, as this is a space for young people to be fully themselves. We respect everyone's right to come out as their authentic selves at a pace that is comfortable for them. Inviting parents (even affirming parents!) into this space can decrease the sense of safety and community.
IOYS and BYC commit to ensure the dance is fully supervised and chaperoned with trained, youth-safe volunteers and staff, as well as professional and trained security staff. Safety, physical and emotional, is our number one priority.