Description
Warm up your soul and renew your artistic spirit at the DHMC Winter Art Exhibit opening!
on Thursday, January 19th from 5:00-6:30pm.
The exhibit showcases inspirational photos of the I-KODI project in Kenya, the varied talents of the Vermont Watercolor Society's Upper Valley Chapter, idyllic wildlife paintings by Bradley Jackson, crisp and colorful nature photography by Seth Goodwin, charming works by Kathleen Fiske, detailed townscapes with pen and ink by David Cooper and luminous stained glass by Kathleen Curwen.
The reception begins at 5:00pm at the 4th floor south information desk near the parking garage entrance. At 5:30pm there will be remarks and brief introductions to the artists then an art walk to the exhibits where artists will answer questions.
Light refreshments will be provided. Contact the DHMC Arts program at 603-650-6187 for further information.
About the Rotating Arts Program
In addition to a treasured permanent collection of more than 500 pieces, the D-H Arts Program showcases local and regional artists using a variety of mediums in seven gallery spaces that are located throughout the hospital. Art is changed out quarterly.
Art at DHMC
Since its inception, the arts have been instrumental in creating an uplifting environment for patients, staff and visitors at Dartmouth-Hitchcock Medical Center. D-H Arts works with local and regional artists to provide soothing, healing art to brighten the walls. For more information about D-H Arts and its many programs visit www.dartmouth-hitchcock.org/arts.html.
Purchasing Art
All artwork displayed is available for purchase through the artists. The acquisition of a piece is a wonderful way to support both the D-H Arts program and the local artistic community. For more information call (603) 650-6187 or email Marianne.L.Barthel@hitchcock.org.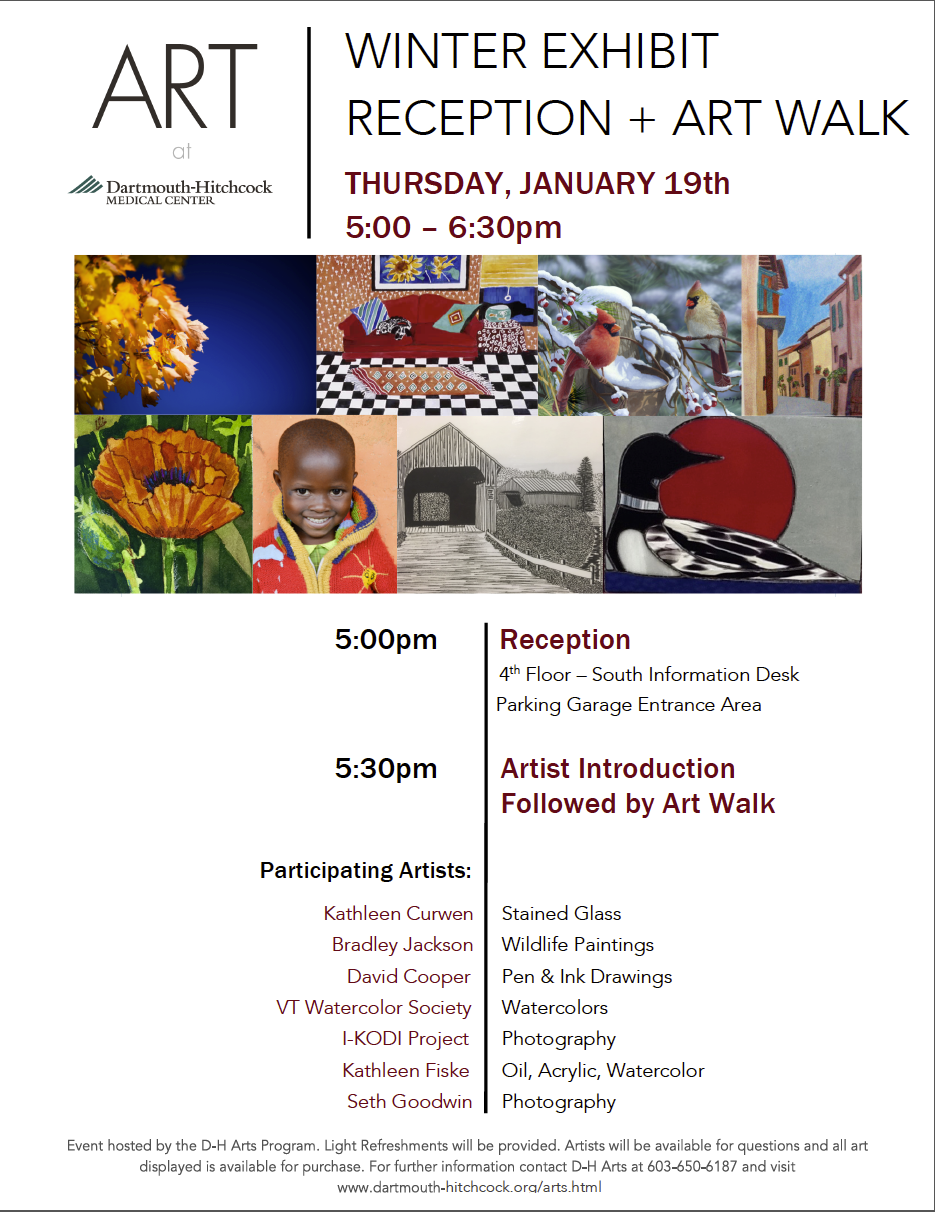 Date and Time
Location
DHMC
4th Floor - South Information Desk Area
(Near Parking Garage entrance)
Lebanon, NH 03766