WinstonStarts TechTalks: Robots, Coding & Inspiring Tech with Girls on Fire
About this Event
The Winston Starts Tech Talk is a recurring event, on the third Wednesday of every month, to highlight Winston Starts as a hub for technology through a variety of conversations, engagements and learning opportunities that happen around innovative leaders in tech. Aligning with Triad Women in Tech, Winston Starts will exemplify diversity, community and leadership, while uplifting the under acknowledged group: women in technology. While this event is powered by Triad Women in Tech …..
It is also a networking and learning opportunity for all who are interested.
All are not only welcome to attend, but highly encouraged to do so.
It is open to everyone.
Talks start at 5:30 and will feature a question and answer session afterwords with our expert speaker. Food, drinks and schmoozing before, during and after the speaker.
August 21st will feature our honored guest speaker, Melissa "Bee" Bube, of Girls on Fire and Inmar.
Melissa "Bee" Bube received a BS in Public Administration from the University of Arkansas. Since then, she has served in a variety of roles, most recently working as a software engineer at Inmar. Melissa is the head coach for the high school FIRST Robotics Competition team "Girls on Fire", an all-girls high school team. She also serves on the steering committee for Inmar's Empowering Women group.
Melissa is going to discuss Girls on Fire, their mission, and the importance of programs like this to advance women in S.T.E.M. While Melissa and Girls on Fire focuses promoting young girls to pursue their interests in science, tech, engineering and math, do not forget that 25% of all high school freshmen are interested in STEM careers, but that number is half by the time they graduate. Let's get nerdy and talk robots with Melissa!
Be sure to check out the FIRST robotics competition and Melissa's team, Girls on Fire.
Come one, come all!
The first 40 tickets are free, thanks to our generous sponsors:
Once these free tickets are snatched up, the ticket price of $15 per person helps us cover the added food and drink costs.
Parking info: Free visitor parking cornered between 4 and 1/2 street 5th and poplar street.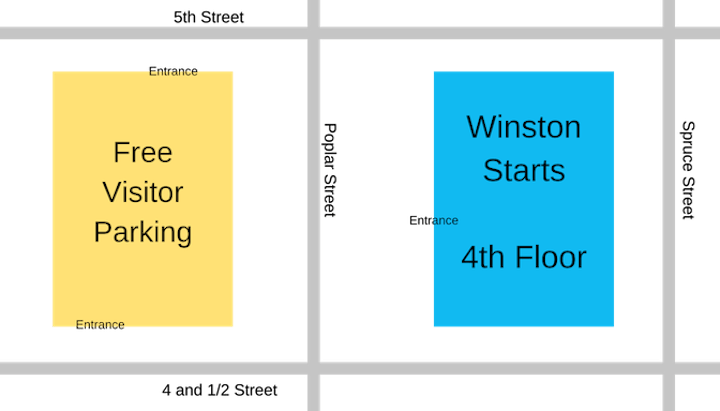 The Winston Starts Tech Talk was created to encourage the continuous communication between all individuals in the technology field and to open the doors and inspire those who are not.
Please join us for an evening of fundamentals and fun!
Another huge thanks to our sponsors!