Winning Women: Fitness, Health & Beauty

Monday, July 17, 2017 from 6:30 PM to 9:30 PM (EDT)
Event Details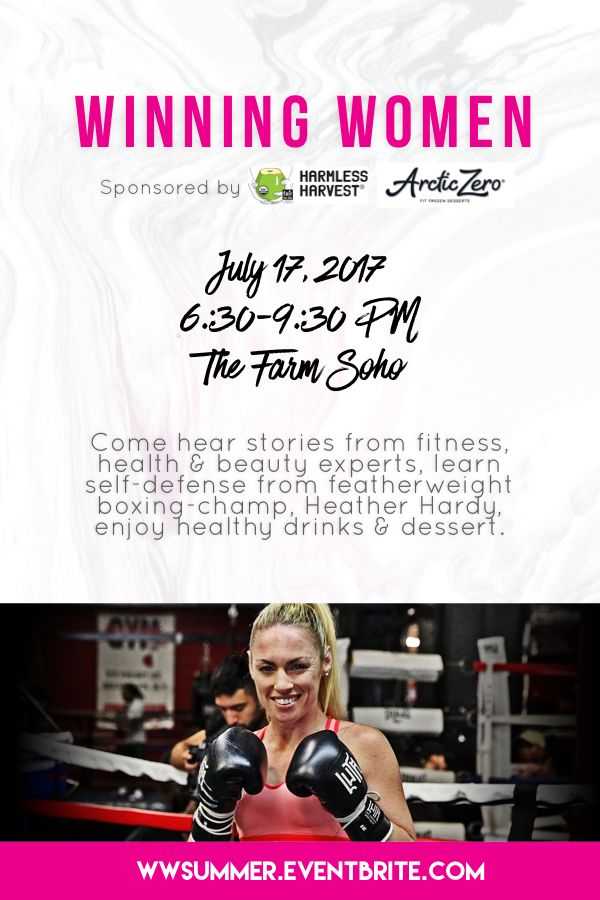 NYWSE presents Winning Women summer edition featuring stories by women-led fitness, health & beauty startups that are empowering and inspriing women on Monday, July 17, 2017, from 6:30pm to 9:30pm at The Farm Soho.  This fitness, health & beauty event will center around helping you get into the best shape, physically, mentally and emotionaly. We have also partnered with WBC super bantam & featherweight boxing champ, Heather Hardy, to lead a fun boxing class, and help expose women to the benefits of learning self-defense, all while enjoying drinks and snacks from Harmless Harvest and Arctic Zero.
Come meet the women behind Wearable X, Mission 360, JLew Bags, Beaut Commute, Box & Flow and Dr. Lauren Hazzouri learn self-defense from undefeated 2-sport athlete, Heather Hardy, and enjoy healthy drinks & snacks.
Make sure to bring your sneakers, a towel and be prepared to kick-ass.  
Schedule
6:30pm - 7:00pm Registration 
7:00pm - 8:00pm Panel
8:00pm - 8:30pm Self-Defense Workshop
8:30pm - 9:00pm Networking
Panelists
Billie Whitehouse, CEO of Wearable X 
Billie Whitehouse is the CEO, designer and director of Wearable X. Billie was once compared to Elon Musk in Business Insider because of her specializes in the combination of hardware, soft- ware and apparel for wearable technology products. Known for her development of Nadi X and Fan Jersey recently presented at Super Bowl 50, Billie is invigorating the fashion industry and transforming it into a business focused on improving the quality of our lives. Billie is an aesthetic specialist with a naturally inquisitive nature towards technology and innova- tion. As a garment engineer she strongly believes people should not have to look like the tech- nology that they have grown to love and depend on. Billie's designs are sharp, experimental, naturally confident and subtly feminine in appearance integrated with the latest technology. Business Insider recently named Billie as one of the 30 most important women under 30 in tech and she was named in the 100 Most Creative People in Business by Fast Company. The high- light for Billie in 2017 was being named one of the Most Innovative Companies in Fitness by Fast Co. Forbes recently compared Billie and her co-founder Ben Moir to Steve Jobs and Jerry Seinfeld. Billie is a renowned keynote speaker with presentations stretching from the The New Yorker Tech Fest 2016, Fortune's Elevate 2016, Wired UK 2015, Cannes Lions 2015/2016,, Conde Nast Digital Russia 2016, India Fashion Forum 2016 and many more.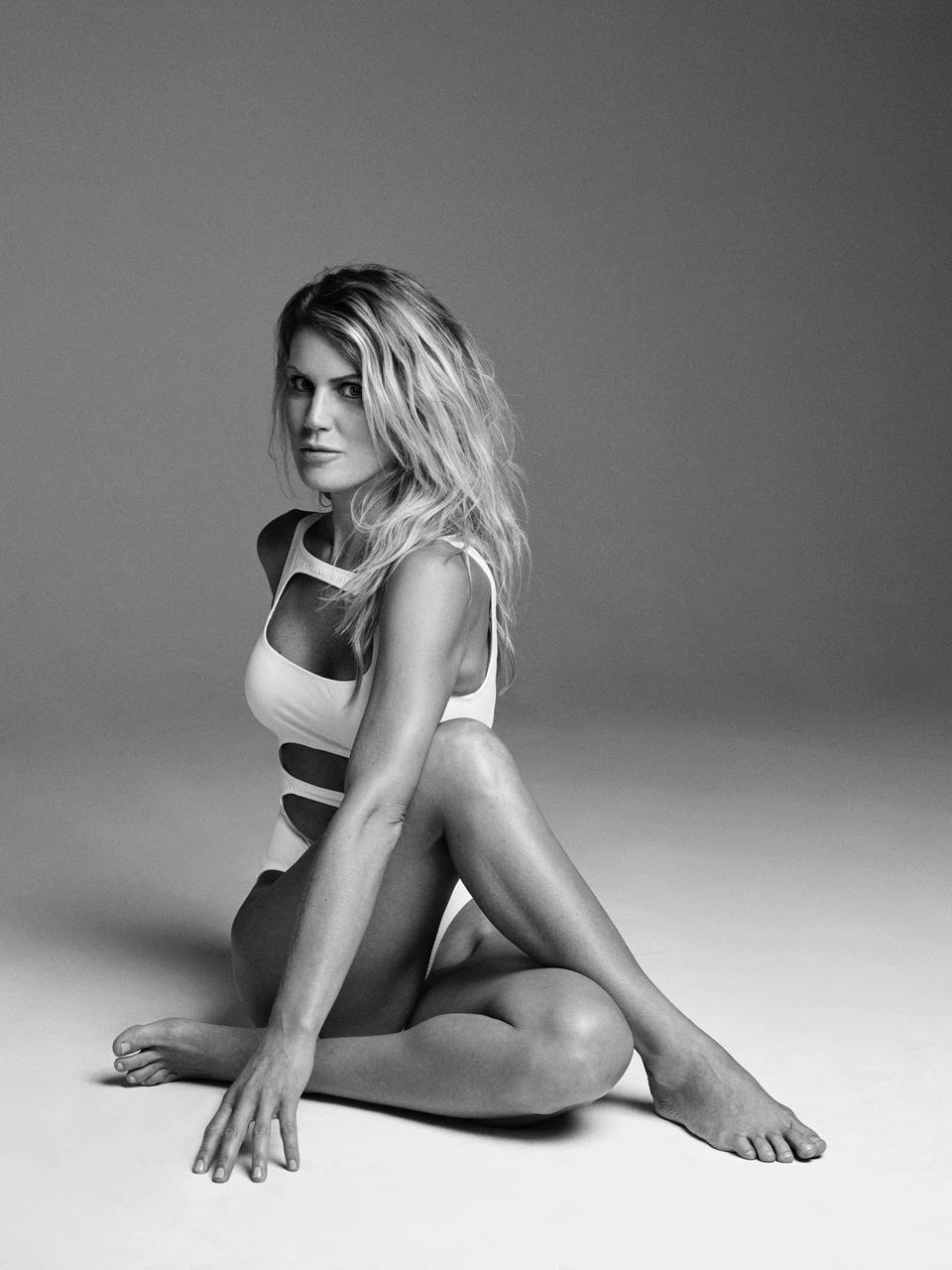 Erin Sykes, Founder of Mission 360
Erin Sykes is a 'wellth' expert, founder of Mission 360, television host and media personality who empowers people to nurture the body and mind to look their best. She finds the synergy in wellness + beauty + tech, then digs deep into benefits v. implications and breaks down new concepts into real talk and approachable applications. Erin has discussed the emerging Well Economy on panels hosted by JWThompson, FounderMade, StepUp Women's Network, Business Rockstars, and LEVO League and has been interviewed by TechCrunch, Inc., HypreBae, Mashable, WWD, The Huffington Post, Elite Daily, and Well+Good. By creating Mission 360, Erin curated an online community of personally vetted studios, instructors, coaches, and healers available on-demand to help users create a stronger body, enriched spirit and expanded mind, no matter what their schedule. The inspiration to create Mission 360 came from Erin's personal experience and the challenge of integrating a healthy, mindful lifestyle and demanding schedule.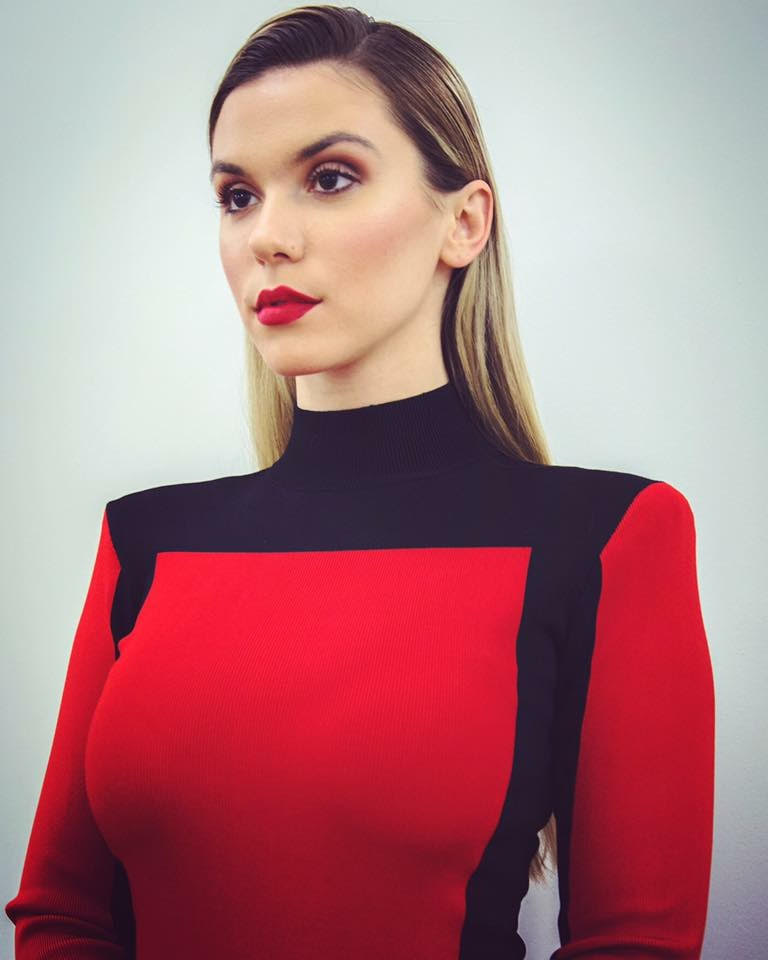 Anastasiya Kachur, Founder of The Beaut Commute, & Fitness Professional
Anastasiya is the founder of The Beaut Commute, a one-stop-shop of on-demand beauty services for on-the-go women. Having worked with financial and fitness corporations such as Equinox, NYSC, Soul Cycle, Zurich, Prudential, Anastasiya drives The Beaut Commute to cater to employee wellness through express beauty services. When not in-office, The Beaut Commute teaches beauty classes ranging from skincare to on-the-go makeup inside the fitness studios of Equinox and NYSC. With a strong passion for health and beauty, Anastasiya is currently finishing up her certification to be a licensed fitness professional.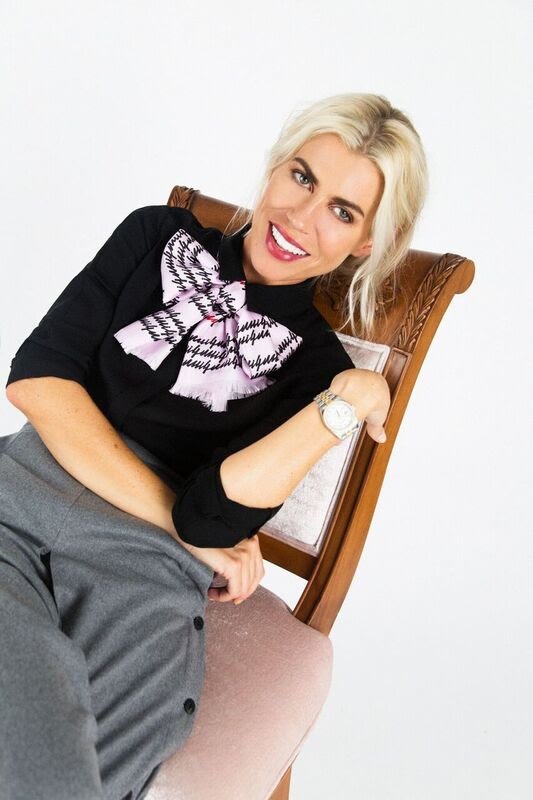 Dr. Lauren Hazzouri, Psychologist & Founder of HeyLauren.com
Licensed Psychologist Dr. Lauren Hazzouri is a licensed psychologist and founder of HeyLauren.com, a community of women getting radical with their own being in relentless pursuit of self. Dr. Lauren contributes to a variety of online publications and provides evidence-based insights on the human condition, infused with the power of art, performance, and her signature wit in candid talks to girl's and women's organizations across the country. Dr. Lauren is founder of Hazzouri Psychology, where she's carved out a successful niche, treating girls and women who are trying hard and not getting satisfaction. Through her life experience and training, Lauren's developed a curriculum that allows women to live meaningful lives and feel fulfilled doing it. Lauren is brand partners with Unilever Dove and Gurls Talk. She serves as contributor and advisor to Levo Institute and was recently cited in Forbes and Teen Vogue. Over the past decade, she's received multiple awards and honors for her work, bringing evidence-based psychology to the masses—conducting self-esteem workshops across the state of Pennsylvania, hosting Call the Doctor on WVIA-TV, and contributing to various other television programs, including Fox and Friends, Fox News. Dr. Lauren is well-versed on a variety of topics that includes but is not limited to: Confidence vs. self-esteem, Happiness vs Fulfillment, Lifestyle and the top national health concerns, Love vs. Attachment, Passion vs. Purpose,The effect of societal norms on women, Ill-being vs. Well-being, and Perfectionism. She is the 2016 recipient of The Psychology in the Media Award from The Pennsylvania Psychological Association and is an active member of The American Psychological Association.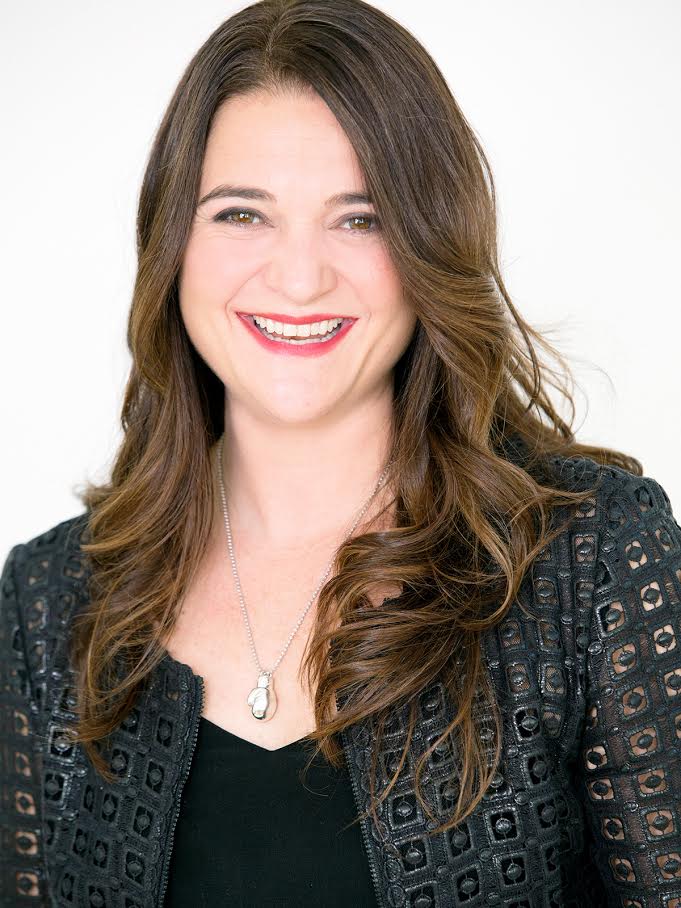 Jamie Lewis, Founder of JLEW Bags
Jamie Lewis (aka "JLEW") grew up in the midwest and went to DePauw University, graduating with honors and a double major in Economics and Spanish. She moved to New York city on a dare and with the exception of a minor stint living in London has called NYC home ever since. She spent the first two decades of her career on Wall Street initially as an investment banker advising aerospace and defense companies and upon graduation from Columbia Business School moved into hedge funds both on the investing and business development sides of the business. Recently she went back to school at Fashion Institute of Technology, left her hedge fund career, and started a business making bags she calls her #BagsWithASilverLining with an underlying mission to empower women and a specific dedication to manufacturing here in New York. Much like she herself has, she wants to encourage women to dream big, take risks and pursue their passion. She believes whatever you play, ride or love, JLEW Bags will carry you in forward motion.
Moderator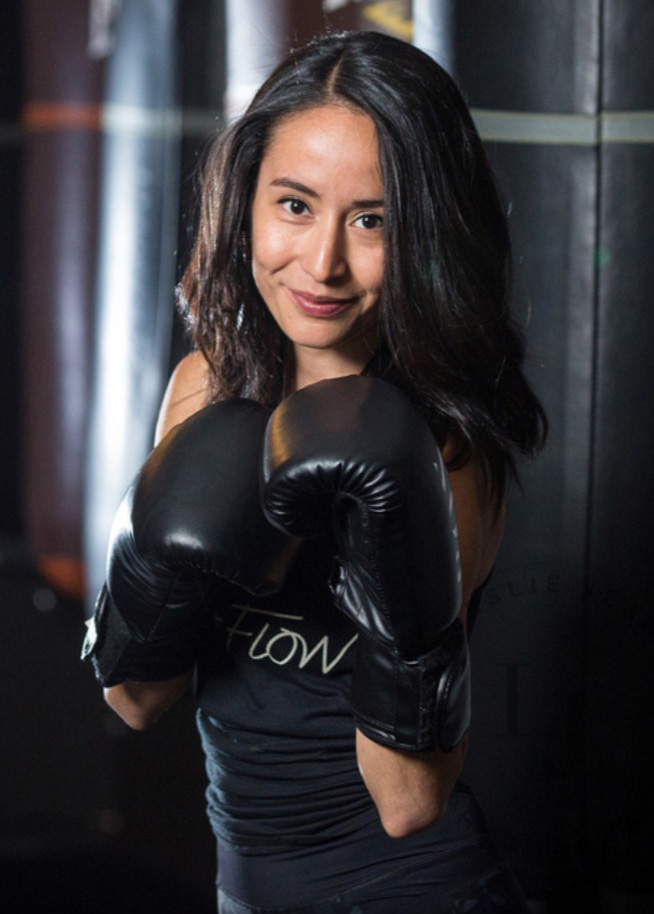 Gabriela Machuca, Boxing & Yoga Instructor at Box + Flow
Gabriela Machuca is a NYC native who teaches boxing and yoga at Box + Flow in NoHo, NY. Gaby's love of marital arts and yoga began about 5 years ago; after much hard work and a lot of training she found that it was something she wanted to dedicate her whole life doing. She now lives to empower women- helping them learn how to fight, flow, and find their own strength and power through movement. Along with 3 other women, Gaby has started a boot camp called "Box.Build.Burn" where she holds classes in Astoria park twice a week. "Showing the world that women can fight, and showing women that they ARE in fact strong and powerful, is breaking more stereotypes than we could have asked for. And it's exhilarating." You can learn more about her on Instagram @gabalanche
Workshop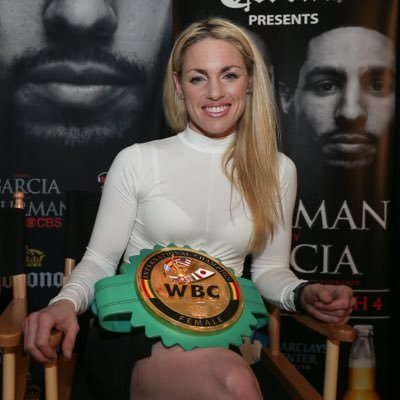 Heather Hardy (also known as Heather "The Heat" Hardy)
Heather Hardy (also known as Heather "The Heat" Hardy; born January 25, 1982) is an American professional boxer holding the WBC International Female Super Bantamweight title. She also is a trainer living and working in Brooklyn, New York. She is currently the undefeated 2-sport athlete WBC super bantam & featherweight boxing champ; 20-0, 4 KOs Hardy is the first woman to sign a long-term boxing contract (with promoter Lou Dibella) Hardy is the first to fight at Barclay's Center Hardy is the first to appear (along with Shelly Vincent) in a televised boxing match She made her MMA debut at MSG with Bellator this month and won by TKO Next fight (boxing) is scheduled for 7/29 at Barclay's Center.
Startups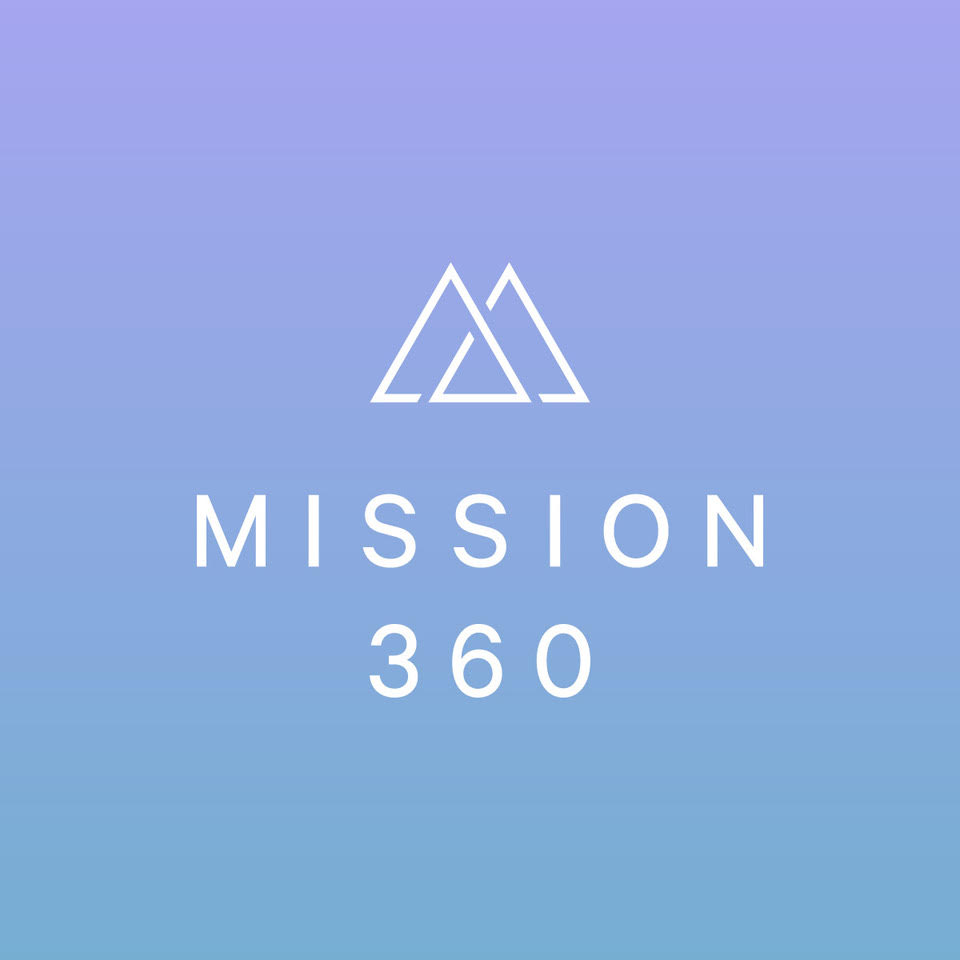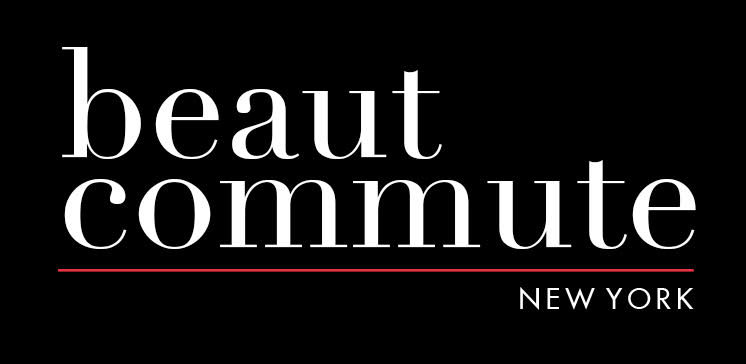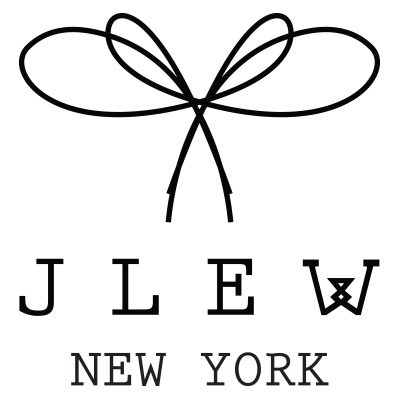 Sponsors




Sponsors
Interested in sponsoring Winning Women? Email us at hello@nywse.org.
General Inquiries
Please email hello@nywse.org with any questions, comments, or press inquiries.
Refund Policy
Tickets to this event are transferrable but are non-refundable.
Volunteer Opportunities
If you are interested in volunteering at Winning Women please email us at hello@nywse.org
Have questions about Winning Women: Fitness, Health & Beauty ?
Contact NYWSE
When & Where

The Farm Soho
447 Broadway
NY, NY 10013


Monday, July 17, 2017 from 6:30 PM to 9:30 PM (EDT)
Add to my calendar
Organizer
NYWSE
New York Women Social Entrepreneurs (NYWSE) is the NY-metro chapter of Young Women Social Entrepreneurs (YWSE). NYWSE is a nonprofit whose mission is to provide a community, tools, trainings, and resources that women need to succeed as business leaders while becoming sustainability experts. Our vision is to empower women to affect change in society at all levels, as an individual, community member, professional, student, and entrepreneur.
Winning Women: Fitness, Health & Beauty