Event Information
Location
Lifelong Learning Institute
11 Eunos Road 8
Training Room 4-1 (10 Nov)
Training Room 4-3 (24 Nov), Singapore 408601
Singapore
Description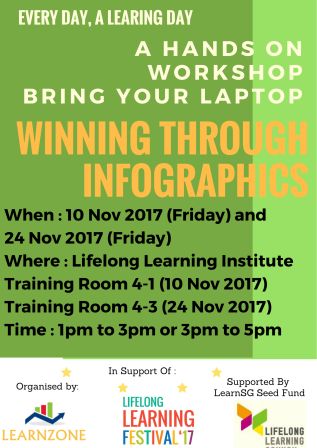 Winning customer attention and engagement hinges on outstanding visual content. In an increasingly data-rich and information-heavy business environment where clients have little time to read details and providers seem to offer similar products and services, visual solutions is key in helping businesses differentiate their offerings and achieve business goals. It enables customers to understand one's offerings and motivate them to engage.
The learning circle is about facilitating individuals' growth in the area of Info-graphics. With the learning, it becomes a part of an individual's on-going development in picturing his or her job roles or businesses in Info-graphics, and sets the course for progress by gaining a deeper understanding of why each form and type of Info-graphics works the way it does. With the knowledge and skill sets gained, individuals and businesses will be able to selectively utilize the right Info-graphics in the right situations. Participants will acquire the knowledge on the forms and types of Info-graphics as well as selecting the appropriate Info-graphics in appropriate situations. Freelancers, self-employed and small businesses will benefit immensely as they will then be able to intelligently apply Info-graphics not just to inform but also to engage, influence and motivate others. Participants who attend the Learning Circle will certainly be provoked to explore the field further to acquire advanced competencies in this increasingly important field.
** Participants are required to bring laptops to get some hands-on practice.**
~~This session is facilitated by LEARNZONE ~~
A boutique learning and consultancy solutions provider and an approved Non-WSQ training organization, LEARNZONE partners associations, government agencies, MNCs, SMEs and NPOs to offer high quality learning solutions aimed to improve productivity through the effective use of modern technologies and digital platforms.
At LEARNZONE, we take pride in the full competence of our consultants and facilitators. We are committed to staying current and we employ the most appropriate learning solutions to improve performance. As a trusted partner, we curate learning solutions that anchor on meeting the needs of individuals and organisations. We pride ourselves on being customer-centric. We listen with the intent to hear clients' needs, pay close attention to details and ensure total customer satisfaction.
Join us in this particpatory learning experience facilitated by Dr Casey and Angela Chin.
A Project supported by the LearnSG Seed Fund.
Every Day, A Learning Day!
@LearnSG #LearnSG #EverydayALearningDay #LoveLearning #LifeLongLearning @MyLearningCircles @LEARNZONESG
Location
Lifelong Learning Institute
11 Eunos Road 8
Training Room 4-1 (10 Nov)
Training Room 4-3 (24 Nov), Singapore 408601
Singapore