Winning The Marketplace for Christ
About this Event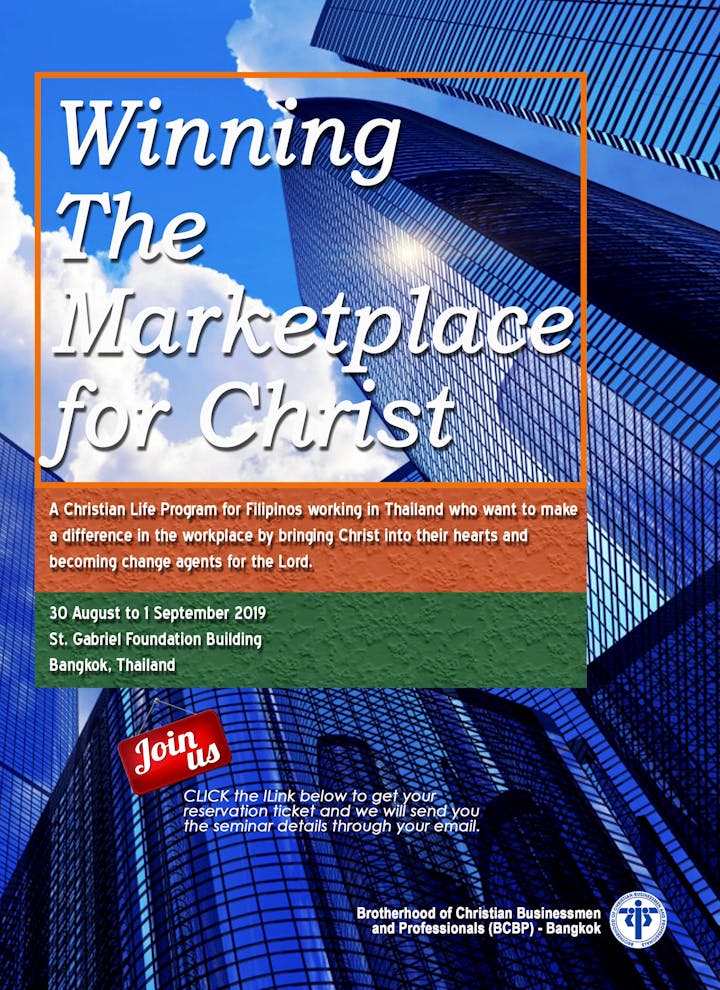 Welcome to the Brotherhood of Christian Businessmen and Professional Bangkok (BCBP Bangkok) CHRISTIAN LIFE PROGRAM (CLP). In your desire to "Winning the Marketplace for Christ" through becoming a change agent this is the very first step in conquering yourself and understanding your strengths and weaknesses in achieving this goal.
To pull what was said above together. Our vision has two parts, the first part focuses on evangelization. This part of our vision we try to accomplish by evangelizing businessmen and women and professionals, who are young and are on the way up, but who already occupy positions of responsibility in their companies. We evangelize through this program and our basic formation program, which includes providing for new people competent and generous Action Group Leaders.
Our mission focuses first on who we are, namely a community whose membership is drawn from the world of business and the professions. We, i.e. our members see and understand themselves as change agents in the market place. The mission statement goes on to spell out more clearly in what precise way we are change agents in the marketplace. In this section we want to comment on the following important points of the mission of the BCBP.
1. Community of business people and professionals
2. Committed to Christian values
3. Change agents in the marketplace
a. On-going personal conversion
b. Professional excellence
c. Community and nation building
d. Practice of justice and integrity
e. Responsible care for what is entrusted to us
This is just the beginning and there is a lot instore for you. The CLP Program will begin on 30th of August 2019 at 6:00pm till the 1st of September 2019 at 5:00pm. There will be a 2 nights and 2 days live aboard. A modest fee of 1,000.00 THB will be collected from the participant on the 30th of August 2019. This will cover for the lodging, food and seminar materials.
HOW TO REGISTER:
It is necessary for you to acquire your reservation ticket for this program. Please follow the enumerated steps below:
1. Click REGISTER
2. Click CHECKOUT
3. Provide your name and email
4. Click COMPLETE REGISTRATION