Description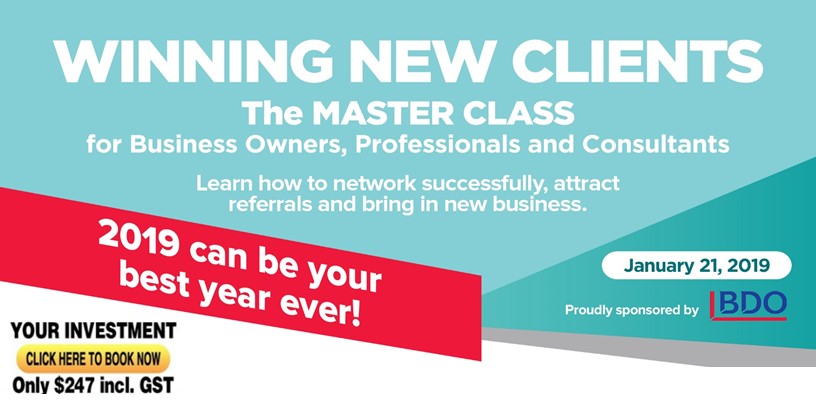 Monday January 21, 2019
2pm to 5pm (registration and networking from 1:30pm)
BDO offices, 38 Station Street, Subiaco
FREE networking drinks at 5pm for master class attendees
The purpose of this master class is to help you get more clients. Simple as that.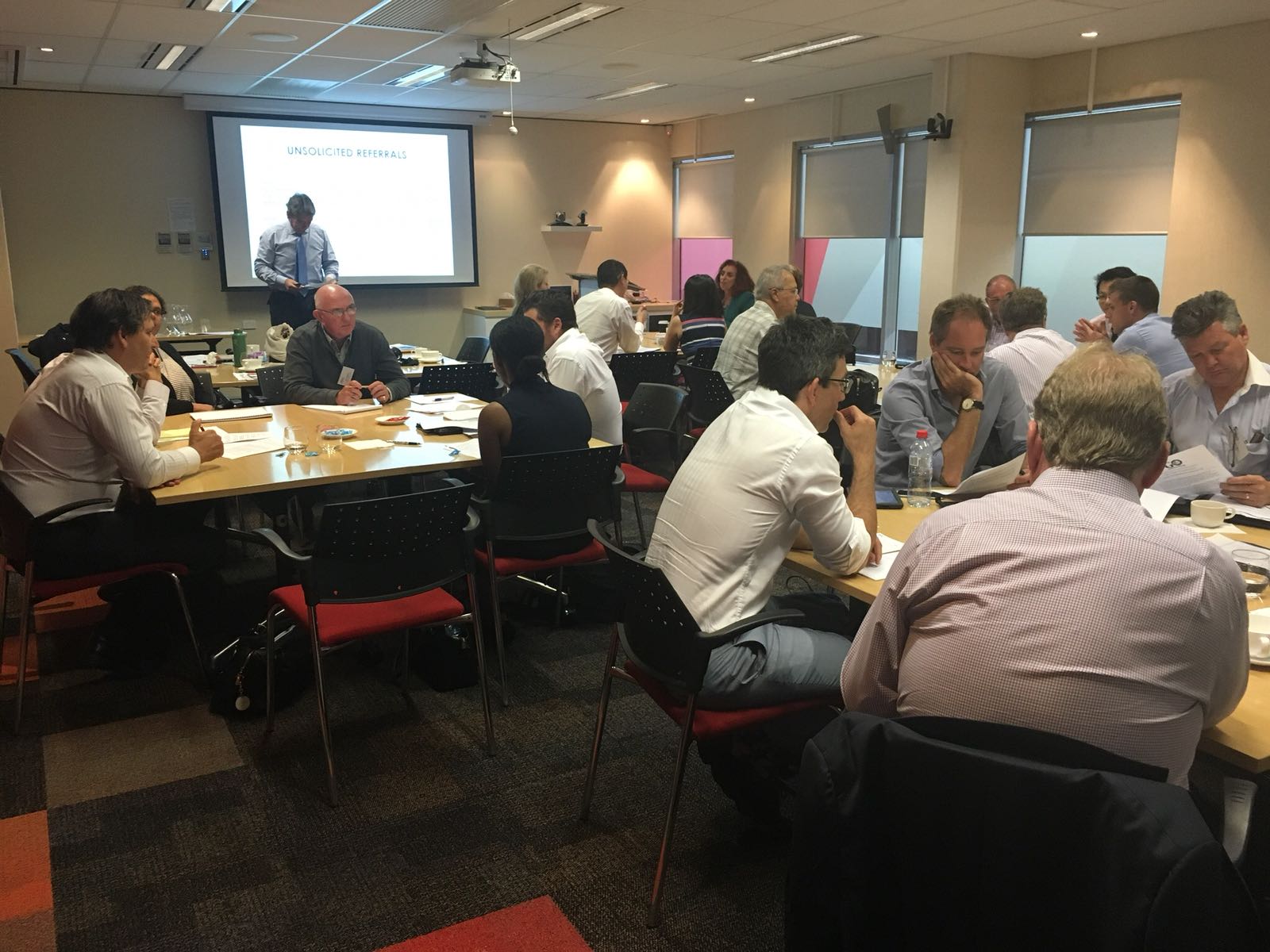 "Ron is the absolute best in this field."
Catriona Macleod. Director. Cullen Macleod Lawyers.
If you are trying to grow your business; if you are a professional with a practice to grow; if your role has a focus on sales and business development, THIS MASTER CLASS IS FOR YOU!
It is also for you if you are in a business that requires connections and networking and if you depend on referrals for new clients.
You will learn:
✔ How to confidently put yourself out there, make the right connections, and build a network which regularly delivers new business — so you never have to suffer the pain and anguish of 'feast and famine' again.
✔ How to initiate contact and establish an early rapport with likely clients and referrers — so you're on your way to building trust and turning all that hand-shaking into new business.
✔ How to generate real business-building opportunities from your networking activities — no more turning up to events and leaving empty-handed and no more wasting time on networking coffees, meals and great conversations which go nowhere.
✔ How to turn your network contacts into clients — start, maintain and keep the faith in a reliable, consistent and effective prospect-to-client conversion routine.
✔ How to ask for the business and close more deals
✔ The best networking and business development practices of ultra-successful professionals — so you know how to make the most of the limited amount of time you have for business development.
"We can attribute tens of millions of dollars in additional revenues
and new business to the networking and business development
training programs Ron Gibson has run for our people."
Norm Roberts, General Manager, Mobile Lending Perth CBD. ANZ Banking Group.
✔ How to get clients to refer new clients to you, without asking
✔ The right (and wrong) way to ask for referrals
✔ Why you don't get more referrals and what you need to do about it
✔ How to get recurring referrals from other professionals and businesses that actually result in new clients — no more chasing after weak leads; have clients come to you rather than you have to go after them.
✔ How to find the most promising referral sources and start the relationship on the right footing — no more wasting time on non-referrers.
✔ Why others refer you once or twice and then disappear and what you can do to keep the referrals coming
✔ What you can give when you can't give referrals — so you keep your referrers happy and loyal.
✔ How to give yourself the best chance of converting referred prospects into clients
✔ Unlocking the secret to endless referrals — it's not about asking and it's more than simply delivering the goods.
✔ A systematic and reliable approach to following up and following up on your follow-up all the way to new clients and referrals — no more opportunities falling through the cracks; no more black holes.
Ron Gibson's client acquisition and referral marketing systems are
logical and straight forward and can be used by anyone who
wants to be more effective and more successful in this
critically important area of business life."
Brian Aitken, Senior Adviser, BDO Perth.
✔ A simple step-by-step "keep-in-touch" action plan to achieve top of mind status and remain there, without being bothersome — so you don't accidentally drift away from your contacts and you'll be their first call when they or their friends need help.
✔ How to talk about you and what you do to pique buyers' interest, be remembered and be referred — no more vague, confusing, boring and forgettable descriptions about your offering.
✔ A 3-step framework for acing your one-on-one lunch and coffee meetings — because 'winging it' just won't cut it.
✔ The secrets to making networking referral groups pay off quickly
✔ The almost-perfect business development marketing action plan — so you have a methodical, systematic, disciplined approach to winning new clients and not merely haphazard meetings and casual chat.
This master class solves the one problem that is keeping you up at night — staying busy with clients who can afford you.
You may also be interested in this other master class on the same day….
9:30am to 1:00pm: "WINNING NEW BUSINESS with LINKEDIN" Master Class — with Linda Le. CLICK HERE FOR DETAILS