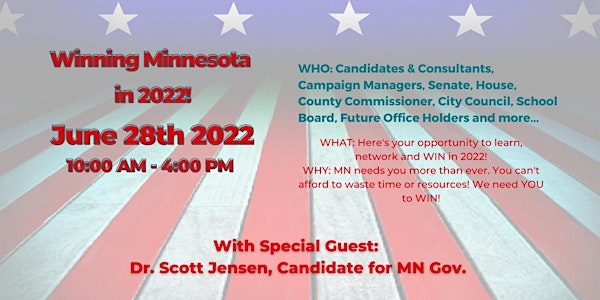 Winning Minnesota 2022
Winning Minnesota in 2022. It's time to turn MN RED!
When and where
Location
Sheraton St. Paul Woodbury Hotel 676 Bielenberg Drive Woodbury, MN 55125
About this event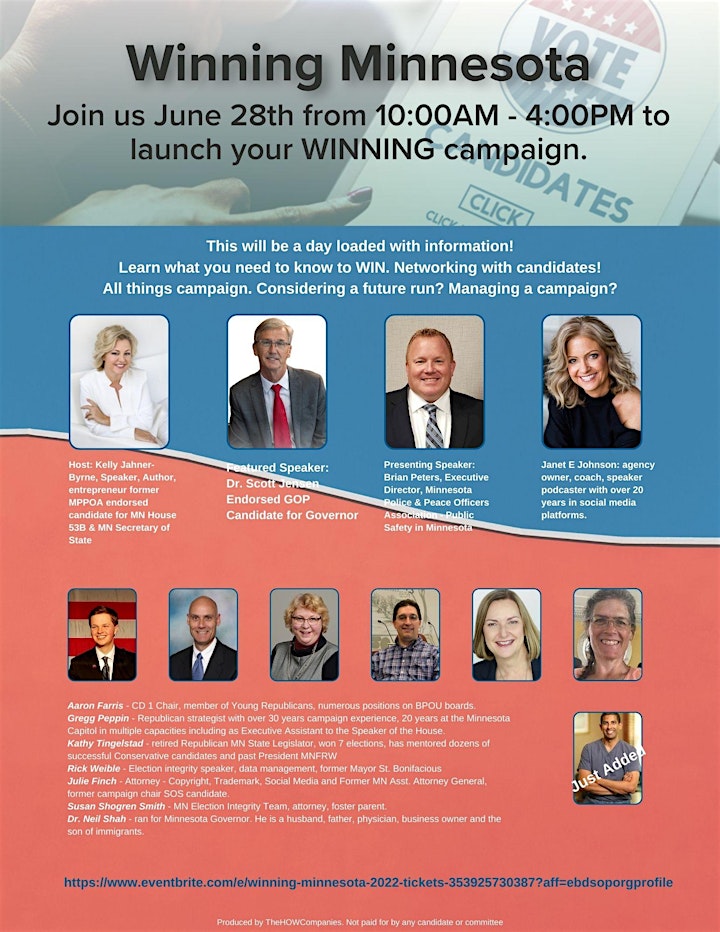 Join us June 28th from 10:00AM - 4:00PM to launch your WINNING campaign. It doesn't matter if you are an incumbent or a first time candidate, you need a team and a plan to WIN this election cycle. 2022 is a pivotal year for Republicans and we want to equip you with the tools necessary to achieve that goal. This is your opportunity to meet panelists, vendors, candidates and others that can help you win and take the guess work out so you can put the time in meeting potential voters!
Featured Speaker: Dr. Scott Jensen - Endorsed GOP Candidate for Governor
Presenting Speaker: Public Safety in Minnesota - Brian Peters, Executive Director, Minnesota Police & Peace Officers Association
Janet Johnson - Social Media Strategist , worldwide speaker aand podcaster.
Aaron Farris, CD 1 Chair and member of Young Republicans.
Julie Finch, Attorney - Copyright, Trademark, Social Media and Former MN Asst. Attorney General
Gregg Peppin - Strategist, marketing communications for nonprofit, trade and political candidates. Formerly with MN House in many roles.
Susan Shogren Smith - MN Election Integrity, attorney, foster parent, disability advocate
Kathy Tingelstad - Former MN House 49B and past President MNFRW
Rick Weible - Election integrity speaker, data management, former Mayor St. Bonifacious
Dr. Neil Shah - ran for Minnesota Governor. He is a husband, father, physician, business owner and the son of immigrants.
Host: Kelly Jahner-Byrne, Speaker, Author, Entrepreneur, Former Endorsed Candidate for MN House 53B & MN Secretary of State candidate
Learn from our Expert Panelists: Print, legal, data management, digital, finance, fundraising, volunteer growth, media, campaign management, scheduling and timeline management, campaign brand creation, website development and networking.
Exhibitor: Meet Minnesota Federation of Republican Women, Politicaal Vetting Systems, Bayport Priting House, Campaign Portraits by Charlotte Smith
This will be a day loaded with information! We will address questions like...What events should a candidate attend? How do you engage on social media? How do you budget? How many volunteers do you need? How can I find more volunteers? Can you manage your campaign on your own? How much money do you need to raise? What are your campaign "must have's"? How do I create my stump speech? How much lit do we print? How do I manage my data? How do I become a better speaker? How can I do video for social? You'll get answers to these questions and many more!
Need a campaign headshot? No problem! We will have an onsite photographer to capture a winning shot. And caapture some shots throughout the day.
Photographer: Time to get a campaign shot, headshot for your upcoming and ongoing social media, speaking and marketing needs. (included in ticket price)
REGISTRATION INCLUDES: 1 attendee ticket to conference, materials, morning networking coffee break and delicious lunch. (Complimentary photo headshot option for those that register by June 24th.) Photographer available onsite.
Virtual ticket option - online conference only.
Dress code: professional
USE PROMO CODE: 2022 to save $40 until June 26 (apply at cart before checkout)
There's another event at the hotel...Join the LAUNCH of WINPAC from 4:30PM to 6:30PM, featuring Matt Birk, Endorsed GOP Candidate for Lieutenant Governor .
Click Attend WINPac! Click here to register or see for details. https://www.eventbrite.com/e/winpac-2022-fundraiser-tickets-354320200257
www.WINPac.org
Traveling from outside the metro? A special room rate has been negotiated for conference attendees. Please call the hotel to book directly at (651) 209-3280 and use booking code WIN MINNESOTA
https://www.marriott.com/event-reservations/reservation-link.mi?id=1654267302867&key=GRP&app=resvlink