SAVANNAH! Get ready for the INAUGURAL and EPIC Wings of Strength Lenda Murray Savannah Pro-Am!!!
About this Event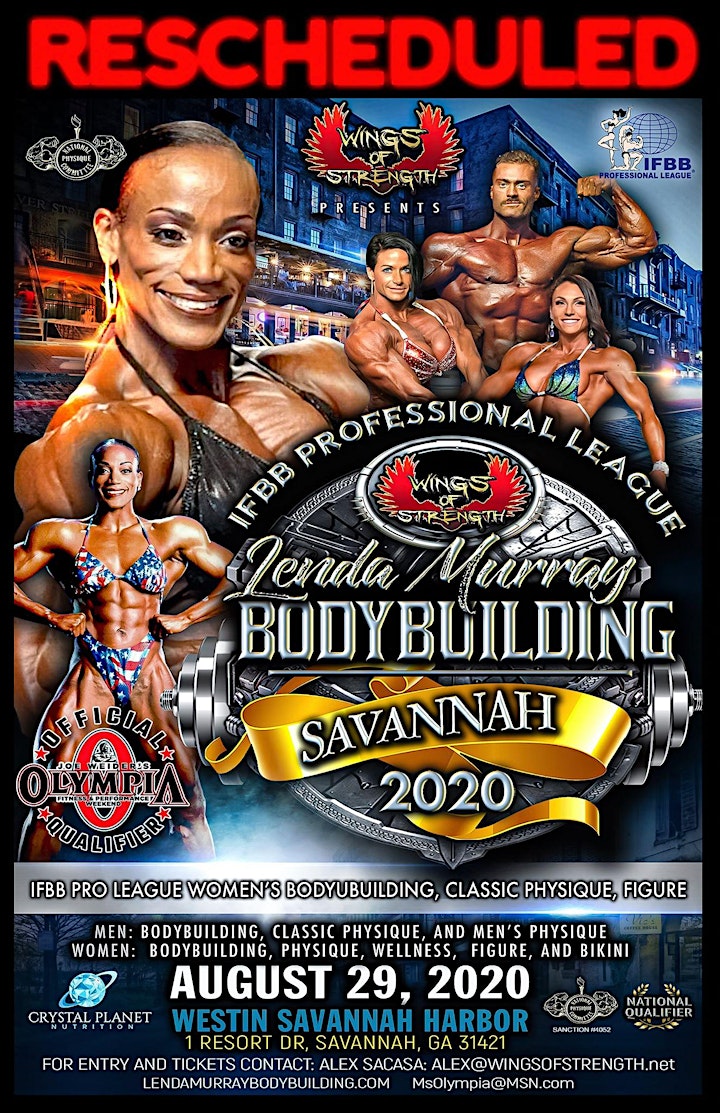 SAVANNAH!
Get ready for the INAUGURAL and epic IFBB Professional League Wings of Strength Lenda Murray Savannah Pro-Am in the beautiful Savannah, Georgia!
This show is a National Qualifier and Olympia Qualifier!
For more details, read below or visit: https://wingsofstrength.net/event_schedule/2020-lenda-murray-savannah-pro-am/
NPC NATIONAL QUALIFIER DIVISIONS:
-Men: Bodybuilding, Classic Physique, Physique
-Women: Bodybuilding, Physique, Figure, Fitness, Wellness, Bikini
-Master, Novice, and True Novice all divisions
HOST HOTEL:
The Westin Savannah Harbor Golf Resort & Spa
1 Resort Drive, Savannah, GA 31402
RESERVE YOUR DISCOUNTED ROOM TODAY: https://book.passkey.com/event/50070050/owner/3958/home
Or call (912) 201-2000 and mention "Wings of Strength" for your discounted room. Limited rooms available.
VENUE:
The Savannah Convention Center (adjacent to Host Hotel)
1 International Drive, Savannah, GA 31402
"Chatham Ballroom," on second level.
ELIGIBILITY:
-Eligibility is open to all competitors from all countries.
-All NPC athletes must have their NPC competitor's card. If you don't have it, visit the NPC registration (https://www.npcregistration.com/).
-If you registered online for an NPC Card and did not get it through your email, please visit www.npcregistration.com, sign-in with your user account and click the print box. This will allow you to print out a copy of your registration and/or save a screenshot.
BACKSTAGE PASSES:
-In order to obtain a backstage pass, you must purchase both prejudging and evening finals tickets…AND you must have a current NPC card & identification.
-These can be purchased at the NPC Check-In on Friday April 10th, from 4:00pm-7:00pm.
-NPC Cards may be purchased in advance online here: https://www.npcregistration.com/.
IFBB PRIZE MONEY: $16,000
-Women's Bodybuilding: $6,000
-Men's Classic Physique: $5,000
-Women's Figure: $5,000
PROMOTER CONTACT INFO:
Promoted by Wings of Strength, LLC.
Contact Alex Sacasa (VP of U.S. Operations) for any questions:
(480) 747-7401
Alex@wingsofstrength.net
TANNING:
-Liquid Sun Rayz is the official tanning, hair & makeup company!
-BOOK YOUR TANNING ONLINE:
https://liquidsunrayz.com/pages/class
Location: Chatham Ballroom C (inside Savannah Convention Center)
HAIR AND MAKEUP:
-Maximum Beauty is the official hair & makeup company!
-BOOK YOUR APPOINTMENT ONLINE:
https://maximummusclereport.com/bodybuilding-competition-makeup/
Location: Chatham Ballroom C (inside Savannah Convention Center)
WEEKEND SCHEDULE
FRIDAY AUGUST 28th
Location: Savannah Convention Center (adjacent to Host Hotel) @ Chatham Ballroom on second level
POSING SEMINAR:
With 3x MS OLYMPIA FIGURE CYD GILLON @ 3:00pm
(FREE to attend!!)
MANDATORY ATHLETE CHECK-INS:
IFBB Athlete Check-ins @ 4:00pm – 5:00pm
NPC Athlete Check-ins @ 5:00pm – 7:00pm
-Receive all show info
-Register & weigh-in for the competition
-Pick up badge + competitor number
-Purchase NPC Card
-Purchase Backstage Passes (must have NPC card as well)
-Pick up free goody bag and t-shirt
SATURDAY AUGUST 29th
Location: Savannah Convention Center | Chatham Ballroom
PREJUDGING:
7:30am..….Venue Open to ALL COMPETITORS
8:30am..….Doors Open to the PUBLIC
9:00am……IFBB Professional League Prejudging Begins
11:00am…NPC Prejudging Begins
FINALS:
4:00pm..….Doors Open to ALL COMPETITORS
4:30pm..….Doors Open to the PUBLIC
5:00pm..….IFBB Professional League Finals Begin
7:00pm…...NPC Finals Begin (or immediately after IFBB Finals end)