Location
Women in Military Service For America Memorial
Arlington National Cemetery
Arlington, VA 22211
Description
Please join us for our 2nd annual fundraising event weekend for the Wings for Val Foundation, a non-profit organization created in memory of Navy LT Valerie Cappelaere Delaney. Valerie acheived her dream of earning her "Wings of Gold" in February 2012, but then lost her life at the age of 26 when the Navy EA-6B Prowler jet she was piloting crashed during a training mission in eastern Washington State on March 11, 2013. The overwhelming response from the sisterhood of female military aviators after she died prompted Val's family to start this Foundation as a way to carry on her amazing legacy, inspiring the next generation of female leaders. Our vision is that women will become empowered leaders who reach forward for mentorship, who reach back to support and inspire those behind them, and who approach any obstacle with the mindset to "adapt and overcome" (as Val would say). Funds raised during this event will go towards our memorial scholarship program through Women in Aviation, International for young women pursuing careers in aviation and towards the development of other female leadership programs. We had an amazing kick-off event last year (view blog post here), but we have an even more exciting program planned for this year, so we hope you'll join us!

Part 1: Saturday's Program & Reception will be held at the Women's Memorial at Arlington National Cemetery* from 3-6pm, where the "Wings for Val" exhibit on female military aviators is on display.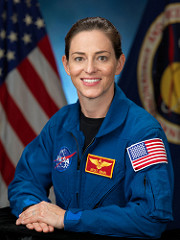 We will have a program from 3:30-5pm in the auditorium with remarks from Val's family, along with an incredibly inspiring keynote speaker: Nicole Mann, US Marine Corps LtCol and NASA Astronaut!!! For her full bio: http://www.jsc.nasa.gov/Bios/htmlbios/mann-na.pdf
We will also highlight a few of our partner organizations, including the Travis Manion Foundation, Warrior Canine Connection, and Navy's Gold Star Program.
After the program, Mission BBQ will be providing a full complimentary barbeque dinner buffet in honor of our fallen heroes.

No uniforms required. Dress is business casual/casual.
*Paid parking is available for the Women's Memorial at the visitor center parking lot for Arlington National Cemetery. The rates are $1.75/hr for first 3hrs and then $2.50/hr after that. If you need a handicap parking pass, please let us know and we can arrange that. The cemetery is open until 7pm and the lot is open until 8pm.
Part 2: On Sunday 9/11, we will have a Wings for Val team participating in the Travis Manion Foundation's 9/11 Heroes 5k Run/Walk in Annapolis. Our goal is to have the largest team of over 100 runners and raise $10,000 from the race alone.
The race starts at 2pm from the Navy-Marine Corps Memorial Stadium in Annapolis.

To register to run as part of the Wings for Val team, you will register through TMF's site. Here is the direct link to our W4V team page:https://www.classy.org/checkout/register?eid=81556&ftid=8542

There is a special coupon code you will enter to receive the negiotiated discounted registration cost anytime between now and deadline of 8/31. The code is: WINGSFORVAL2016.

Proceeds raised through registrations via the W4V team race registration page will go towards both organizations. If you wish to do additional fundraising specifically for W4V, you can use and share our unique fundraising page on Classy: https://www.classy.org/annapolis/events/wings-for-val-team-travis-manion-annapolis-9/11-heroes-run/e83763 and click the "Donate now" button. This is different than the personal fundraising page that will be automatically set up for you when you register through TMF, but all donations go towards great causes!


If you want to register as a virtual runner, please email Allison Righter for specific instructions (acrighter@gmail.com).
We hope you can join us for one or both of these events. If you are unable to join but would still like donate to the Foundation, you can do so by contributing to our team fundraising efforts here: https://www.classy.org/annapolis/events/wings-for-val-team-travis-manion-annapolis-9/11-heroes-run/e83763.
If you have any questions, please email Allison Righter (Val's sister and President of the Foundation) at acrighter@gmail.com. We look forward to seeing you!