Description
On Saturday, January 19, 2019 (weather date Saturday, January 26, 2019) Pine Plains Memorial Hall (PPMH) in conjunction with the New York Theatre Organ Society and the Central Hudson Valley American Guild of Organists will be hosting "Wings and Music", a free public event to be held at the Pine Plains Free Library and Community Center.
Doors open 1:30. Program begins 2:00. There will be one intermission.
Wings and Music will bring together an incredible silent movie from 1927, Wings, with a live performance of its original score on the NYTOS Touring Allen Organ. The organist, John Baratta of the New York Theatre Organ Society, in collaboration with the Mid Hudson Valley American Guild of Organists, will play the score along with the movie for the audience of approximately 150 guests. Mr. Baratta will play throughout the intermission and will entertain questions from the audience at the end of the screening.
Tickets will be offered free of charge. To see more information about PPMH and the film, scroll to below the poster image.
This is a free event. PPMH will provide fresh popped popcorn and offer refreshments. Donations will be accepted (but not required), and any proceeds will go to the PPMH capital campaign fund.
EVENT SPONSORS
This event is proudly underwritten by:
Stewart's Shops
Pine Plains American Legion
Pine Plains VFW
David Bisson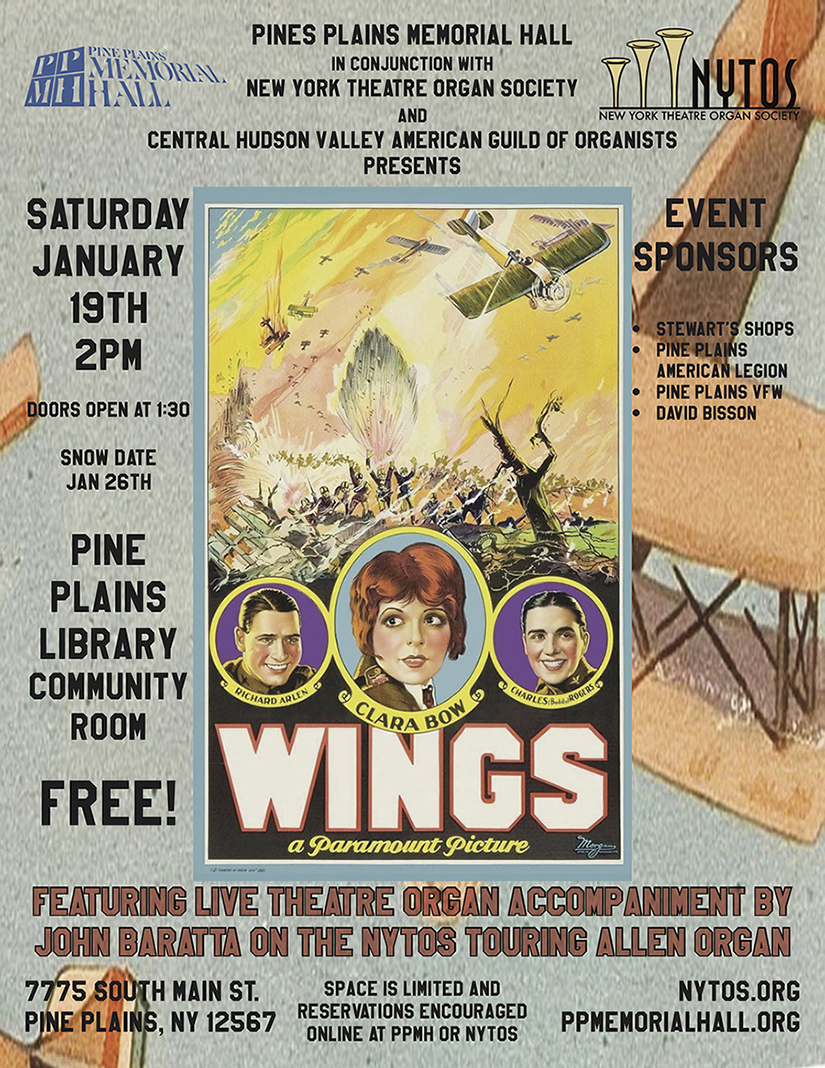 Brief History of Pine Plains Memorial Hall
Pine Plains Memorial Hall, Inc., a 501(c)(3) non-profit organization, is in Phase 1 of a three-phase capital campaign for the restoration and renovation of Pine Plains Memorial Hall. In 1915, the original Memorial Hall was constructed and given to the Town of Pine Plains in memory of John McIntyre and his wife, Elizabeth Hauver, and their children. After various iterations and decades of no use at all, this historic building is being brought back to its original beauty with functional additions to make it usable as a regional community and performing arts center. During the capital campaign, Pine Plains Memorial Hall continues to offer free community programming throughout the town.
PPMH's Mission and Goal
The mission of Pine Plains Memorial Hall is to foster community and economic development in Northern Dutchess County and surrounding areas through the transformation of Pine Plains Memorial Hall into a regional center for community-based civic and social programs, agriculture and arts education, and cultural performances, and as an incubator for local charitable organizations and entrepreneurs. The goal of the Memorial Hall project is to transform Pine Plains into a thriving tourist destination, to generate local economic revitalization, and to create a healthier and more vibrant community through the arts and civic programming.
About Wings and The New York Theatre Organ Society
Per Wikipedia, "Wings is a 1927 American silent war film set during the First World War produced by Lucien Hubbard, directed by William A. Wellman and released by Paramount Pictures. It stars Clara Bow, Charles "Buddy" Rogers and Richard Arlen. Gary Cooper appears in a small role which helped launch his career in Hollywood.
The film, a romantic action-war picture, was rewritten by scriptwriters Hope Loring and Louis D. Lighton from a story by John Monk Saunders to accommodate Bow, Paramount's biggest star at the time. Wellman was hired as he was the only director in Hollywood at the time who had World War I combat pilot experience, although Richard Arlen and John Monk Saunders had also served in the war as military aviators. …Hundreds of extras and some 300 pilots were involved in the filming, including pilots and planes of the United States Army Air Corps which were brought in for the filming and to provide assistance and supervision. Wellman extensively rehearsed the scenes for the Battle of Saint-Mihiel over ten days with some 3500 infantrymen on a battlefield made for the production on location…
Acclaimed for its technical prowess and realism upon release, the film became the yardstick against which future aviation films were measured, mainly because of its realistic air-combat sequences. It went on to win the first Academy Award for Best Picture at the first annual Academy of Motion Picture Arts and Sciences award ceremony in 1929, the only silent film to do so."
The New York Theatre Organ Society is a non-profit 501(c)3 organization furthering the appreciation, preservation, and use of the Theatre Pipe Organ. NYTOS serves the five boroughs of New York City as well as Long Island and Lower NY State. NYTOS owns and maintains four organs in their region and maintains three organs including the great Brooklyn Paramount (LIU) Wurlitzer. Under a charter granted by the American Theatre Organ Society, NYTOS became a chapter on June 11, 1964 and renewed on April 4, 1998.